Please wait while your request is being verified...
Kindergarten Sight Words (Free Printable Included)
As your child begins kindergarten, they will be expected to know a certain number of sight words.
This can be a daunting task for both you and your child. To help ease the stress, we have created a list of kindergarten sight words, as well as a free printable to use at home.
What are sight words?
Sight words are words that are recognized immediately by the reader without having to sound them out. They are also sometimes called "high-frequency" words because they often occur in the text.
Mastery of sight words allows the reader to focus on the meaning of the text rather than decoding individual words.
Sight words should be taught from as early as preschool . They have even been proven successful for students with disabilities.
Why are sight words important?
Sight words are an essential part of reading. They help your child to be able to read fluently and with comprehension.
When your child can recognize sight words quickly, they can focus on the meaning of the text rather than decoding each word.
Research has noted that students who struggle with reading during their early stages of education often encounter difficulties in their secondary education and adulthood.
Therefore, it is crucial to tackle any problems students may be having early and give them the time they need to develop their literacy skills.
Kindergarten Sight Words List
The following is a list of kindergarten sight words by educator Dr. Edward William Dolce. Dolce, the "father of sight words," published the Dolch word list in his book "Problems in Reading" in 1948.
Here is a list of 52 of the most common kindergarten sight words:
Kindergarten Sight Words Printables
We have created a printable PDF of all 52 Dolch sight words for you to use at home with your child. The list is broken down into four groups of sight words in alphabetical order.
Put it on your fridge or somewhere you can see it often. Go over the words regularly with your child and tick them off as you go. Soon they will be able to recognize them all!
You can download the PDF here: Kindergarten Sight Words PDF Download
How to Teach Sight Words to Kindergarten Students
Here are some tips when teaching kindergarten sight words:
Start with a smaller list of words first, one or two words to get started
Don't introduce visually-similar words at the same time as it can cause confusion
Keep practicing and revising previously learned keywords
Make use of visual stimuli, such as magnetic letters, letter stamps, and tiles
Allow students to write or make words in different ways, for example, with chalk, sandboxes, or whiteboard markers
Sight Word Activities and Games for Kindergarten
There are many different ways to teach sight words to your child. Here are a few ideas:
Read Books Together
Read books together that contain a lot of sight words. As you come across a word, point it out and have your child read it with you.
Here are some kindergarten books you might be interested in.
Flashcard Drills
Use flashcards multiple times to practice identifying the sight words. You can make your own flashcards or purchase a set.
This is a great way to help your child learn their words in a fun and interactive way. The flashcards should be clearly printed and easily read.
Have your child read them aloud. They could also say the letter names sequentially.
Once they have mastered one set of cards, move on to the next set.
Sight Words Tracing
Write the words in different colors and have your child trace them. You can also have them write the words on their own.
Children may also enjoy tracing the words using sand, shaving cream or salt trays.
For English Language Teachers or Those Looking to Get Started…
Teacher tips, new teacher checklist, teacher planner, and notes. Subscribe for ESL News, jobs, and more!
Sight Word Scavenger Hunt
Hide the sight words around the house or classroom and have your child go on a scavenger hunt to find them. This is a great way to get them up and moving while learning.
Sight Word Memory
This is a classic game that can be played with any words. Write the words on cards and place them facedown. Take turns flipping over two cards at a time.
If they match, remove them from the board. If not, flip them back over and try again. The winner is the one with the most matches.
Silly Sentences
Make up silly sentences that contain the sight words, or allow your child to put some flashcards together to make their own silly sentences.
These silly sentences will help your child remember the words and their meaning.
Sight Word BINGO
Bingo is a great game for larger groups. Have each child choose 5-10 words from the list and write them in a grid on their piece of paper.
Call out the words one by one. If they have that word on their sheet, they can cross it off. The first one to get a BINGO wins!
Is sight word teaching effective?
The short answer is yes!
A lot of research has been conducted on the effectiveness of sight word instruction, and the results are positive.
According to the research study "The Effects of Sight Word Instruction on Students' Reading Ability," it was found that sight-reading instruction:
Improves students' overall reading ability
Improves students' reading confidence
Reduce students' frustration associated with learning to read
However, sight-reading instruction needed to be used in combination with other early-literacy skill instruction in order for it to be beneficial.
Students should practice reading sight words in isolation before reading them in the context of stories.
How to Teach Sight Words Effectively
Sight words should follow these criteria in order to be effective:
Can already recognize letters
The children need to be able to recognize letters and have some idea of the sound-letter relationship (also known as the alphabetic principle).
If children are still having trouble with letter sounds, Leapfrog Letter Factory teaches the sounds in a fun and memorable way.
Emphasis on the child's pronunciation
To teach sight words effectively, it's advisable to focus on the letters within the word, their order, and the child's pronunciation of the word.
Repetition and Feedback
Sight words should be repeated often, and the child should be given feedback on their progress.
The kindergarten student should say the words until they can recognize and pronounce them reliably without errors.
Criticism of Sight Words Memorization
Some critics argue that memorizing sight words does not promote true reading fluency or comprehension.
They believe it stops students from practicing basic decoding techniques.
Phonological decoding is an important part of becoming a skilled reader. This involves breaking down the word into letters or clusters of letters within the word itself.
They also believe it can be "labor-intensive." According to research, whole-word memorization requires an average of 35 trials per word.
Some educators believe that the list can still be useful if the students are taught the relationship between the sounds and the letters, groups of letters, or syllables in a word.
In Conclusion
There are lots of different ways to teach sight words to your child. With a bit of creativity, you can come up with games and activities that are both fun and educational.
Just remember to keep it simple and make use of visual aids and the things around you.
With a little practice, your child will be reading sight words in no time!
Useful Links
How Many Letters Are In The Alphabet? Consonants & Vowels
103 Common Nouns List in English You Should Know (Alphabetized)
Months of the Year with Pictures and Worksheet
3D Shape Names in English (Beginner Friendly)
41 Flower Names in English with Pictures (Flower List)
30 Examples of Verbs in Sentences
Online Teacher Toolkit
Be in the know.
Get the latest jobs, news, and opportunities delivered directly to your inbox by joining my exclusive community. Grab my teacher planner, teacher checklist and tips now. Sign up here.
GEt Certified
Start your teaching journey and get certified now. Watch my YouTube video about how I got started, or read about my experience here: The TEFL Academy review.
START Your First Teaching JOb
New to the world of online teaching or just want to fill some hours in? Curious if this is a career you want to pursue? Check out Cambly to get started. Read the Cambly review.
Highest-Paying Online Teaching Jobs
In my post, I cover a list of some of the highest-paying online teaching jobs . Alternatively, use the curriculum online and find your own students. It's easier than you think!
ACCEPT PAYMENTS ONLINE and Save money
Use Wise to accept payments from overseas. Wise has the lowest exchange rates that I am currently using right now. Get Wise.
I'm an Irish tutor and founder of TPR Teaching. I started teaching in 2016 and have since taught in the UK, Spain, and online.
I love learning new things about the English language and how to teach it better. I'm always trying to improve my knowledge, so I can better meet the needs of others!
I enjoy traveling, nature walks, and soaking up a new culture. Please share the posts if you find them helpful!
Leave a Comment Cancel reply
Save my name, email, and website in this browser for the next time I comment.
I'm an English teacher, writer, and MSN publisher with bylines on the AP wire. I come from an Irish farming background, and when not crafting words, you can usually find me drinking Guinness or exploring different cultures through travel.

14 Sight Word Activities For Kindergarteners – 2023 Round-up

Let's be honest—sight words are one of the foundation blocks of your kid's pre-school education. Making them fun to learn can be the difference between your child enjoying their further studies or hating them for all eternity.
Kindergarten teachers who know how to gamify the learning process get instant "street cred," and the parents turn into the coolest ones in the child's eyes. This article aims at making you one of those two.
Choose the activities from our list, but don't bind yourself with the rules. Sight word games need your affection and creativity to stay fresh!
Review of the Best Sight Word Activities for Kindergarten
This article focuses on various sight word activities for kids of all ages and knowledge levels. In addition to teaching new words, these games can help you activate other essential aspects of your child's education.
The presented activities cover fine-motor and sensory skills, which help students learn communication and teamwork. Some exercises even promote interest in science , mathematics , and so much more!
It's usually quite hard to keep the activities fresh with all the repetition required for learning sight words. However, there are so many ways to tweak each exercise that it would be hard for you and your students to get bored.
Plus, you'll hit the correct balance of moderate context change, which will nudge them to see a word in different places and grasp its independence from the game it was introduced in. 
1. Primer Sight Word Mini-Books

When learning sight words, repetition and variety are key components. These sight word mini-books are fun and easy to create. Kids can color the black and white versions or use the color versions to practice all the sight words on the primer Dolch list. Whether this is their first introduction to these words or a fun follow-up activity, this activity will give them plenty of ways to practice reading, writing, and using all 52 sight words on this list. Children will increase their recognition of the word by finding, tracing, reading, writing, and using the word in a sentence of their own. Each word has its own book and will provide lots of opportunities to keep kids learning and increase their knowledge of some of the most common words they'll see in print.
Check out this activity on Education Outside for more information and to print this fun activity.  
2. Primer Sight Word Playdough Mats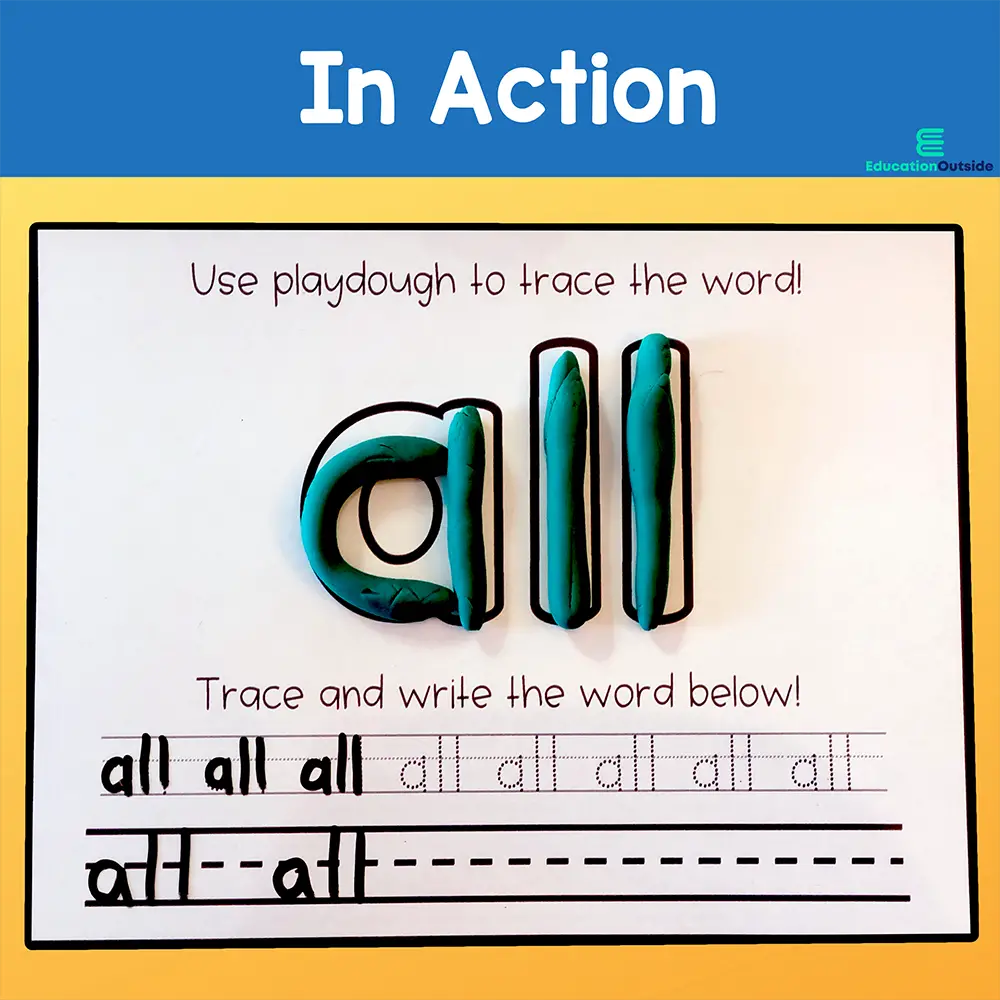 Being able to read common words even when they don't follow the "rules" is essential to a child's success in reading. And what better way to practice than with playdough? These playdough mats allow children to manipulate playdough into letter shapes to spell all 52 sight words from the Dolch primer list. Each mat features one word and lets the child read, form, and trace the word to increase comprehension and word recognition. Giving students a tactile way of spelling words is a sure-fire way to teach and reinforce the words students will see over and over again in reading. This tool lets a child see, feel, and create a word picture for each sight word. Children learn by doing and with this activity from Education Outside , students can practice over and over anywhere, anytime. 
3. Primer Sight Words Coloring Worksheets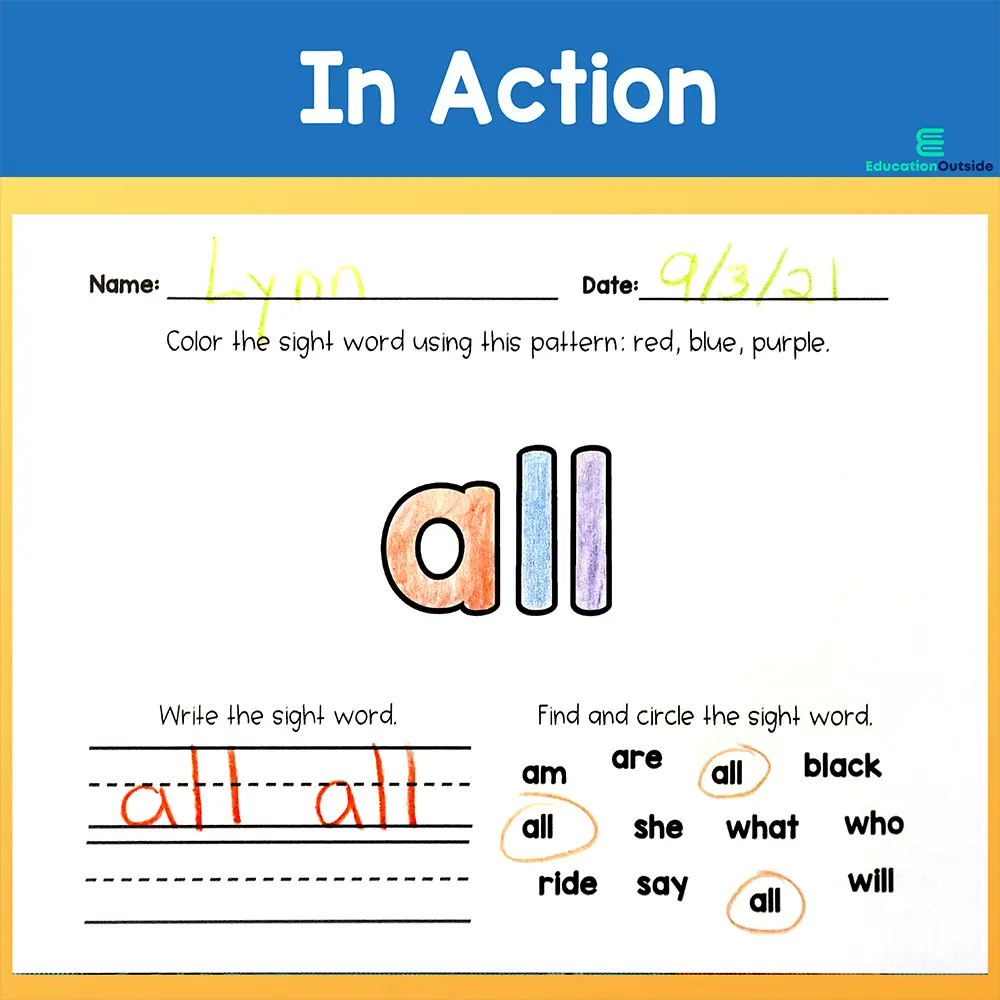 Practice makes you better and these fun bubble letters use a coloring pattern to keep young minds active and interested. Using specific colors also practices color identification. With one page for each sight word, you can target one word at a time or work on several words at a time. After coloring each letter in the word, children can practice writing the word independently and then search for the word in a jumble of other sight words to increase word recognition. This activity is great for introducing or reinforcing these commonly used words to make reading easier for children. Have students practice reading each letter aloud and then slide their fingers across the word to emphasize that the letters combine to make a unique word. Sight words are one of the foundational skills for reading and these coloring worksheets from Education Outside will provide excellent practice. 
4. Dolch Primer Sight Words Activity Mats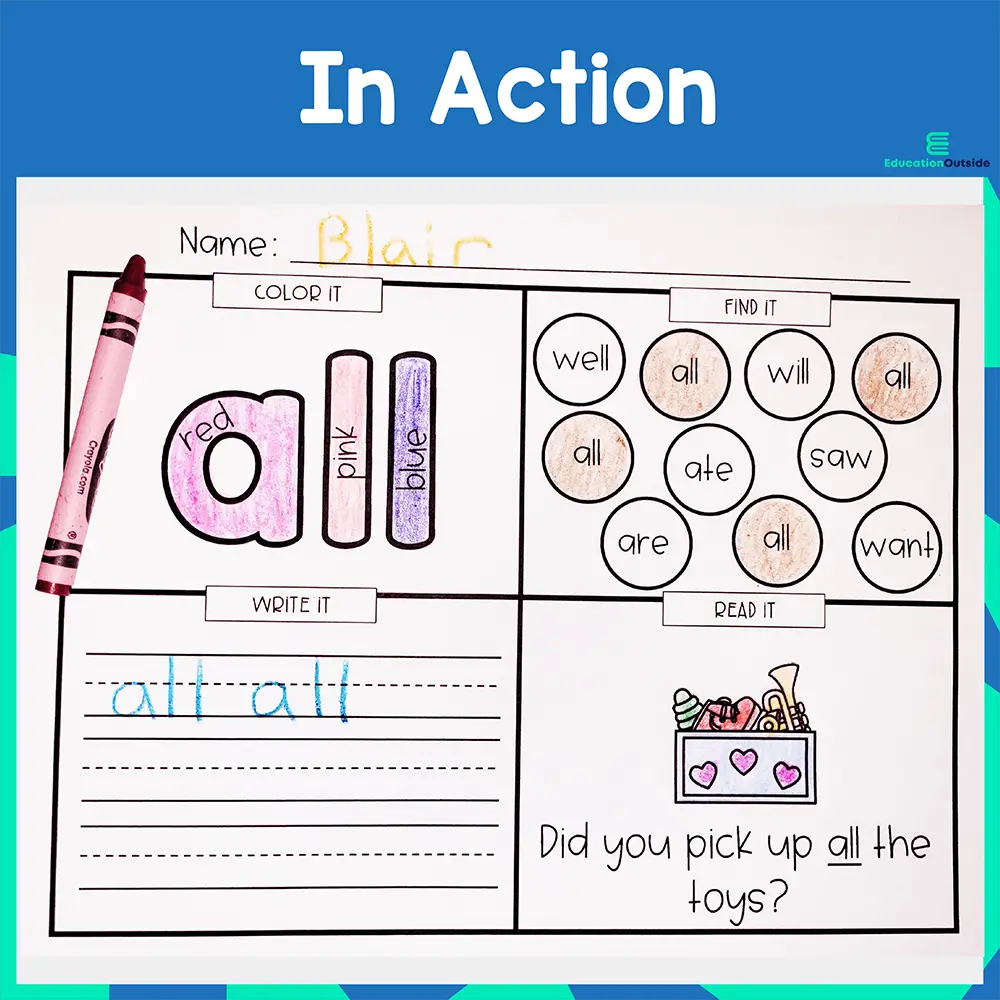 Need a quick activity to occupy kids while still practicing reading skills? These easy printables give students four different activities to practice the most common sight words on the Dolch primer list.  This activity includes one sight word per page to practice and keeps kids working and learning. Children start by coloring each letter of the word a different color which is printed inside the letter, creating a colorful way to remember the letters. Visual clues are a great way to remember letter order and position.  Next, children search among other sight words to find the target word. In the write it section, they can practice writing the word as many times as will fit, and finally, a sentence with a picture clue is provided to allow them to use the word in context.  These activity mats from Education Outside will surely provide hours of practice to help children learn, read, and recognize the included sight words. 
5. Primer Sight Word Flashcards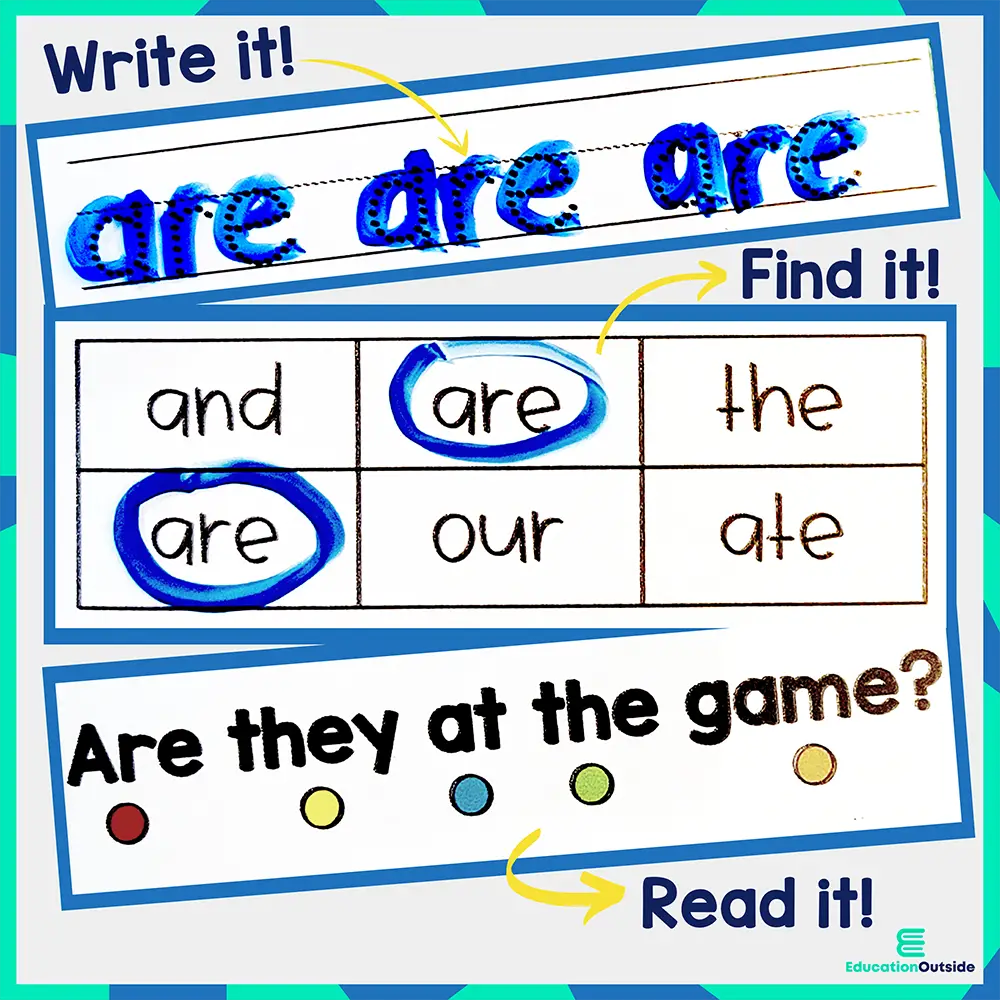 Want something a child can take anywhere to practice sight words? These flashcards are small enough to bring along in the car, doctor's office, or anywhere, giving students a quick way to practice the Dolch primer sight word list.  These do require laminating to be used again and again but are great for quick, easy practice. The first section allows students to trace the word multiple times. Next, a sentence with follow-along colored dots reinforces print concepts by having the child point to each word as they read, a vital skill for reading. Students can then search the boxes for the correct word and circle or color the correct target word.  You get 52 individual cards and can punch holes and make a set to carry around. Challenge children to read as many as they can in a minute or go head to head with a friend to see who can read them first. This can keep kids busy and learning while on the go.  These flashcards from Education Outside are a great activity for introducing new words or practicing ones they have already learned and can be used anywhere. 
6. Letter Beads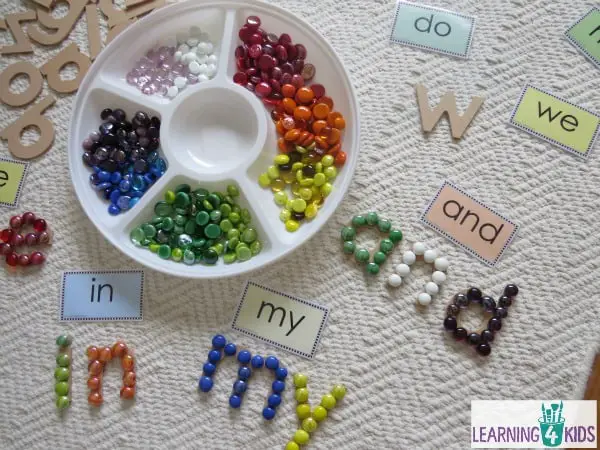 Sight words are usually exceptions from the rule, so using separate letters to make words is a widespread method to teach irregular spellings. Most of these words are also short, so it won't take too much time for the kids to make them. Using letter beads encourages fine motor skills development. This exercise works best with children three years or older. At this age, children have a basic understanding of separate letters coming together in one word. Keep in mind that kids also need to be mature enough not to swallow the beads. Let the children pick yarn and put the beads on it to form words. You can also use other small objects like alphabet pasta and letter cubes to put together words. There are many other fun activities for the same age group and skill level in ThePrintablePrincess.com , a blog that claims to "help teachers captivate little learners."
7. Sight Word Soccer 
This one is a nice activity if your kid is more of an outdoor type and likes sports. It requires more individual attention to the student, so it's more convenient for parent-child afternoon time. Still, teachers can use this exercise to prompt social activities. You can try a few variations of this game. You're going to need a few cones, word cards, and a soccer ball for each kid. Attach words to the cones with scotch tape and arrange them. Firstly, to get acquainted with the words, the child can dribble around the cones and read them aloud. You might also need a soccer goal or a marked area where the child will shoot the ball once they're familiar with all the words. You can continue the gamification by spreading the cones in the field and reading out the words randomly. The child should run to the word and dribble the ball for a while. For a group activity, you can choose to assign one cone per student. Starting with one child and using only one ball, call out words from the list. The person who has the ball should kick it in the direction of the other student with the word. TheKindergartenConnection.com also has many other entertaining indoor ideas.
8. Get into the Rhythm!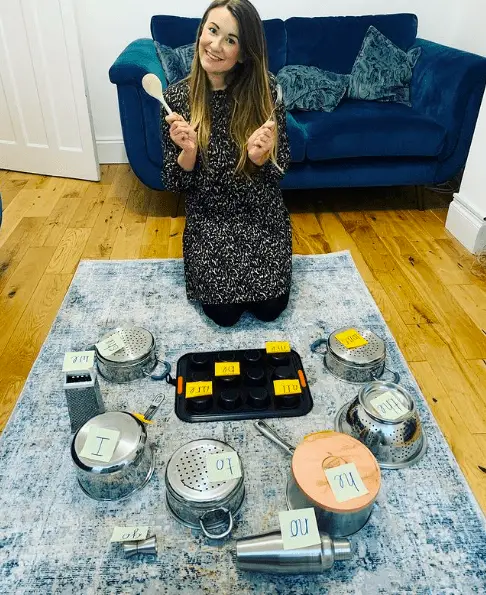 You're most probably familiar with the fly swatter game, where the students should smash the word you read with a clean fly swat. Our choice from weareteachers.com is a more sophisticated, creative, and loud version of that activity. It's appropriate for children in the pre-reading stage when they can recognize shapes and words. Here is how to play. Find pans, turn them over, and attach flashcards (or strictly notes) onto each one's bottom. Put the setup on the table or floor for easy access. Instruct the student to hit the pan with a kitchen utensil like a spoon or a fork when you read a certain word. Once the child is familiar with the words, play with different tempos and rhythms. You can even introduce the concept of whispering the word and reading it aloud, asking the students to match the sound level. Yes, it's loud, but it offers space for exploration and creativity.
9. Sight Word Cup Tower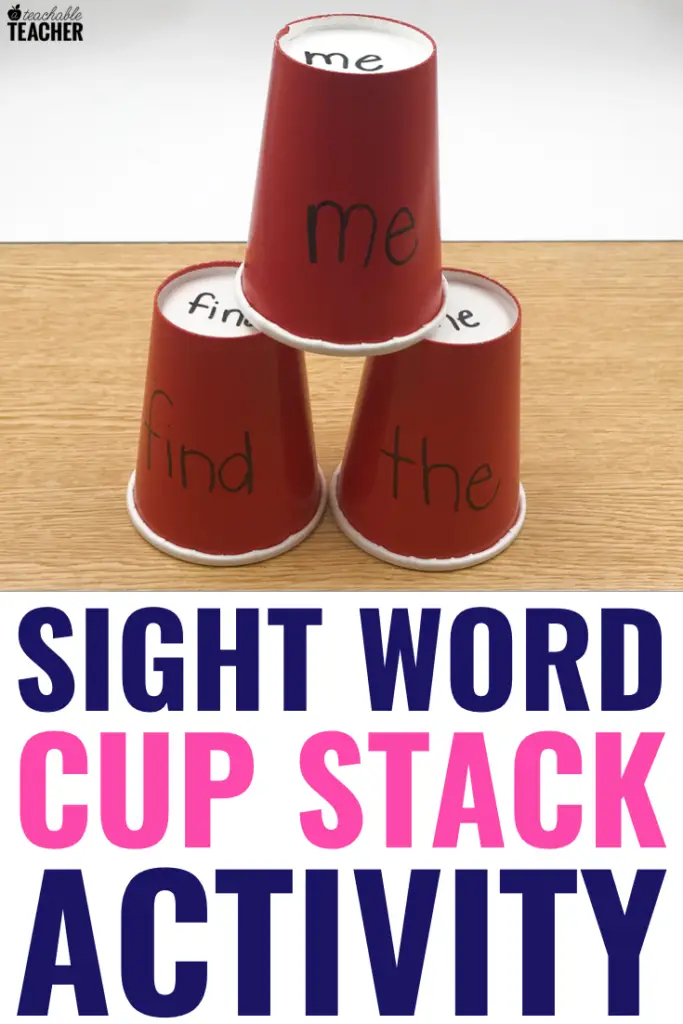 Showing kids the importance of social activities and making something as a team is one of the top priorities of pre-school education. Games that promote communication are a necessary building block. The activity we've chosen from ATeachableTeacher.com is a nice partnership game where kids build a tower together. You'll need a sight word list, cards with the same words, and paper cups to match. Player one draws the flashcard from the pile, reads the word, and finds the cup, placing it where the tower should go. Then, player two repeats the same action, drawing another card and building the tower's foundation. The players draw and place cups on top of each other until the stack of cards ends. You can also switch the activity. Player one reads the word they drew from the pile, and player two finds and places the cup.
10. Sight Word Memory Cards
Your child is probably already tired of the classic flashcard method. If you're also bored, diversify the approach. This memory game is a nice, refreshing take that adds a complicated layer to an otherwise familiar exercise. For this activity, you'll need your usual flashcards (they can also be DIY). Arrange the cards face down into a grid layout (on the table, floor, or another surface for easy reach). The objective is to make the kids memorize the words and where the card belongs. Once the children have everything memorized, they can match the same words from the grid-like in the classic game. This method trains memory and helps the child learn the words. SightWords.com has more details on this game.
11. Sight Word Spelling with Clothespins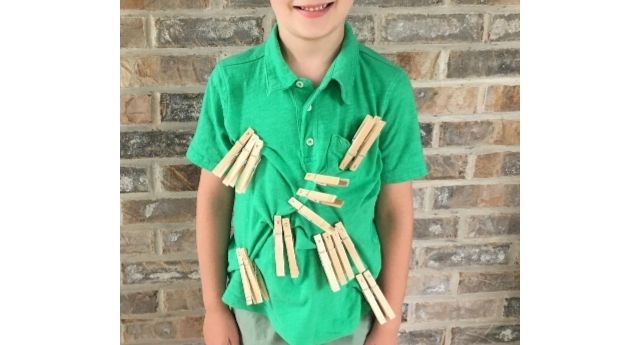 Like alphabet beads or letter stamps, attaching letters to clothespins is another exercise to promote correct spelling. Instruct your students to pin them in the right order, then read the words aloud. They can pin the words on anything: a dedicated clothing line in the classroom or on the side of a magazine. Some teachers even ask the kids to attach the clothespins to their clothes. There are many spelling activities; however, this one is superior. It layers the basic skill with the extra fine motor effort of using a clothespin. It also strengthens the child's "writing fingers." Otperspective.com offers many other interesting activities for developing fine motor skills.
12. Sight Word Search
Is your child more of a curious, active type? You can introduce a certain level of mental challenge into the learning process. Lipglossandcrayons.com suggests hiding the words around the house for the child to find them. However, it can be more fun if you use clues and directions to enhance the gameplay. If you have time for this fun activity, all the family can get involved, and it can turn into a large "treasure hunt." The best thing about this approach is that the children get absorbed in the game and don't even realize it's a learning session. Let everybody's imagination run wild, creating settings where the participants have to: 1. Find the pirate treasures 2. Escape the adversary by finding the clue words 3. Save the princess from a tower by finding the password Use other gamification ideas to immerse the child into the gameplay. We assure you that the whole family will have tons of fun, and your children will love learning new sight words.
13. Roll the Die to Find the Word
Rolling a die is an inseparable part of many board games, so why not use it to teach sight words? This is another amazing sight word activity with an underlying skill: maths. For the right setup, you'll need a printable with die numbers and corresponding blank rectangles.  Fill in the boxes with the words children are learning. Instruct the student to roll the die, find the word under the number he got, read the word aloud, and color it with a pencil or a marker. This game can be as simple as separate rounds with six words (usual dice have numbers from one to six). However, you can also practice with a few lines, where each column denotes one number. If the die lands on the same number more than once, the child should color the next word in the same column. You can tweak the game to accommodate the number of students involved. NoTimeforFlashcards.com blog mentions that the marker color can denote a certain player. However, if playing solo, you can add an instruction to color-code the words under one number.
14. Christmas Lights Sight Words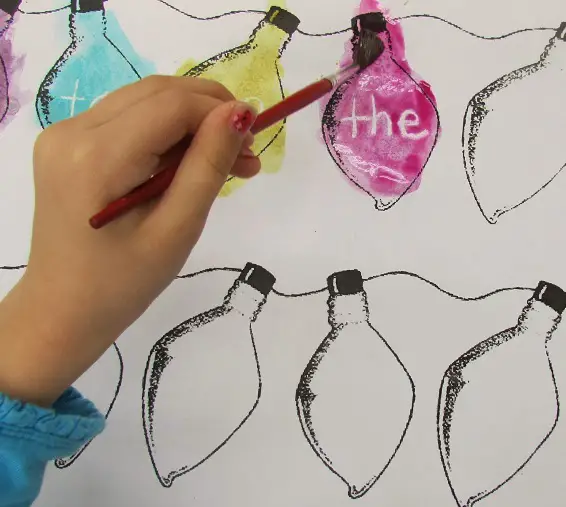 Christmas is probably children's most favorite time of the year. There are so many fun activities and gifts that they forget everything they've learned during the semester. Smart parents know this and get ready to tackle spaced repetition. They involve thematic games and activities to help the children to keep their knowledge fresh. One project we absolutely love comes from TheEducatorsSpinOnIt.com , a blog about learning games and activities. It involves a printout of Christmas tree lights. To prepare the activity, use a white crayon to write the selected sight words on each light bulb. Instruct the children to color the bulbs with watercolors, "revealing" the word. Here is some Christmas magic! If your child is particularly interested in how "the magic" works, this activity can turn into a science lesson. You can explain that the crayon's oily structure can't mix with water and show other fun hands-on experiments.
What Supplies are Needed for These Activities?
You can arrange most of the described activities without much preparation and special equipment. Let's consider a few essential supply categories that you should already have in your stationery cabinet.
The flashcards method might be dull and repetitive, but you will need them for most of our list's fun activities.
Whether you're using the memory cards method, playing sight word soccer, or drawing words for the cup tower, paper is the main material you're going to need. In most cases, it doesn't matter if it's white or red. Still, kids love colors, and they can add to the fun.
Besides, adding color-coding to your activity in a meaningful way will also train your child's analytical capabilities.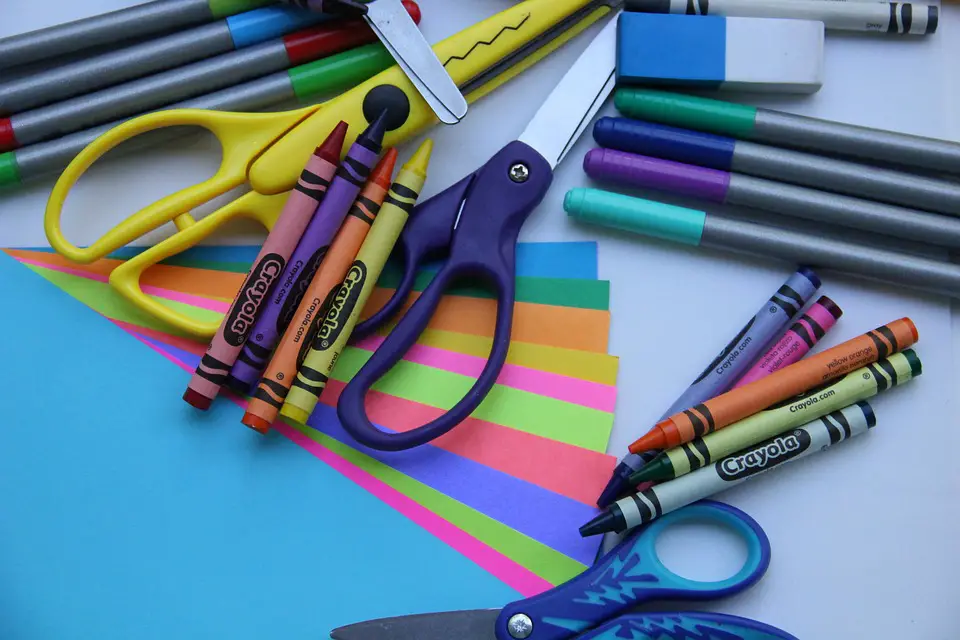 Coloring Supplies
Markers, watercolors, and crayons make the learning process more fun and add a note of creativity. For some activities, markers are necessary for game setup. In other games, the students need them as a part of the gameplay. 
Glue or Scotch Tape
Whether you're preparing for a "sight word band concert" or a "soccer match," you're going to need scotch tape to stick the word cards on whatever equipment you're using.
Glue might be handy if you're getting ready for a word-building exercise with popsicle sticks or clothespins. While alphabet stickers are a more convenient option, printed letters and glue can easily do the trick.
Gamification and spaced repetition are the two pillars of kindergarten education. The first unites study and playtime, and the second keeps the child's knowledge fresh.
Studying can be so much fun, and children should learn that at an early age. Well-selected methodologies and activities shape the student's curiosity and essential skills like analytical thinking and interpersonal communication.
Find more activities and learning tips on our website and return for more in the future.
People Also Ask
As you can see from the article above, sight words are a large part of kindergarten and pre-school education. To help you better understand their significance, we've answered the most important questions below.
What's a Sight Word?
Sight words are a few hundred frequently used words that don't have a concrete image representation connected to them. They also have irregular spelling and phonetics (they don't sound as they're written). Thus, they require a different teaching approach. Once memorized, they're easy to notice and understand.
Why Are Sight Words Important to Learn?
Knowing sight words frees up cognitive space for children to focus on less familiar and more confusing notions. Plus, the kid can recognize the meaning of a sentence only by reading the sight words.

Home » Classroom Activities » Kindergarten Activities » 14 Sight Word Activities For Kindergarteners – 2022 Round-up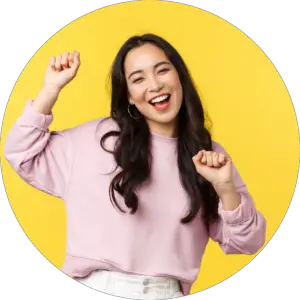 Hi, I'm Amanda! Welcome to Education Outside! Im passionate about educating young minds and helping parents/teachers by providing easy and effective teaching resources. Check out all of my teaching resources on my Teachers Pay Teachers store .
Be the first to know
Subscribe to our newsletter and receive updates about new products, promotions, bundles, and more. 

Copyright © Education Outside
Privacy Policy | Return Policy
Shop Worksheets
Long Vowels
Short Vowels
Sight Words
Classroom Activities
Alphabet Tracing
Kindergarten Activities
Number Tracing
Long Vowel Practice
Short Vowel Practice
Sight Word Practice
Fry Sight Word List
Pre-primer Sight Word List
Primer Sight Word List
1st Grade Sight Word List
2nd Grade Sight Word List
3rd Grade Sight Word List
Amazon Books
No products in the cart.

Free Printable Kindergarten Sight Word Worksheets
Need more ways to practice the kindergarten sight words list with your students? These free printable kindergarten sight words worksheets offer many fun and meaningful opportunities to practice those high frequency words!
Kindergarten Sight Word Worksheets
These kindergarten sight word worksheets are the perfect way for your students to practice and master sight words all year long! These worksheets allow kindergarten students to work with each word in a variety of ways. Each worksheet has 7 sight word activities for students to complete, giving them a lot of exposure to each word.
They will get to practice reading the word, writing the word, spelling the word, and more on each printable sight word worksheet.
These activity sheets are so quick and easy for teachers to prep. All you have to do is print and go! These worksheets are the perfect addition to your morning work routine, literacy lessons, or independent practice time. Plus, they follow the same instructions for each word, so students will know exactly what to do each time.
Prep In Seconds
These printable worksheets are a no-prep wonder! All you have to do is print and go! No cutting, stapling, or laminating required.
The sight word worksheets come in black and white, so you can use them even if you don't have access to colored copies.
Differentiated Sight Word Activities
These kindergarten sight word worksheets are so easy to differentiate because there are 51 different words included. You can easily assign the word or words that your students need to work on most.
You can have all students complete the worksheet for the word they are being introduced to that week. Down the road, if you notice a student or a small group of students struggling with that word, you can reassign it to them to reinforce the learning.
For students who are ready for more of a challenge, you can assign more difficult sight word worksheets for them to practice reading and writing.
Each worksheet follows the same pattern of activities, so you only need to teach them how to use it one time and they'll be set to successfully complete the rest of the worksheets.
These sight word worksheets take typical sight word practice, like flash cards, to the next level by incorporating a variety of activities to work with each word.
If you want to make it even more fun, let your students complete the worksheet using a colored pencil, crayon, or marker!
Using the Sight Word Worksheets
To use the printable kindergarten sight word worksheets, students will begin by reading the sight word. Next, they will work on writing the word by tracing it, following the arrows to ensure proper writing technique. Then they will write the word independently on the line.
Students get to use their creativity to decorate the word written in bubble letters. They also get to be word detectives by finding and circling the sight words hidden in the word search.
After that, the students will look at the letters of the alphabet and color in the letters that spell the sight word. Lastly, they will fill in the missing letters in the words at the bottom of the worksheet to spell the word correctly.
These sight word worksheets can even be assigned via Google Classroom or Seesaw. You can upload the PDF to the digital learning platform and have them complete it on their device. Another option is to have them complete it and submit a picture. Either way works great!
As you can see, they are getting to work with and manipulate each word in various ways, helping them retain the word more effectively.
These sight word worksheets are the perfect addition to any kindergarten classroom and will help your students become sight word masters. They'll be well on their way to reading fluently after completing these sight word activities!
Click the button below to get the Kindergarten Sight Word Worksheets for your students! I hope you enjoy them!
Do you need these sight word worksheets for other levels? Get them below!
These sight word worksheets pair perfectly with our Superhero Sight Word Mats for Google Slides and Seesaw ! Use the mats online and then add the worksheets for extra practice!
Here are some more sight word activities!
Editable Sight Word Activities
Editable Sight Word Games Bundle
Paperless Superhero Sight Word Mats
Free Printables Page