Who we are About the TTF Committee History Members Our mission Secretariat
What we do Advocacy COVID-19 Reponses Country Support Knowledge Sharing and Creation
Knowledge Hub
Working Space
Or are you looking for:
About the TTF
Our Mission
Secretariat
Country Support
Knowledge Sharing and Creation
News & Events
The International Task Force on Teachers for Education 2030 (TTF) members range from national governments representing different parts of the world to intergovernmental organizations at global, regional or sub-regional levels, international non-governmental organizations, global civil society organizations and global teacher/school leaders representative organizations, bilateral and multilateral international development agencies, and global private sector organizations and foundations.
Members of the TTF meet once a year to review progress and discuss the TTF's future direction.
New members may join the TTF partnership upon agreement of the Steering Committee. Countries and organizations must submit their request to the Secretariat.
Please consult the Terms of Reference of the Teacher Task Force and contact the TTF Secretariat (teacherstaskforce[at]unesco.org).
As of April 2022, the TTF is composed of 161  members, including 1 associate member:
National governments represented by designated officials: 100
Intergovernmental organizations at global, regional and subregional levels and United Nations agencies: 20
International non-governmental organizations, civil society organizations and global teachers' organizations: 28
Bilateral and multilateral international development agencies: 4
Global private sector organizations and foundations: 9
Each member of the TTF appoints a focal point to represent their country/organization. This focal point is responsible for interactions between the TTF and their respective country/organization. An information guide on the role of focal points is available for download .
International non-governmental organizations, civil society organizations and global teachers' organizations
Intergovernmental organizations at global, regional and subregional levels, and United Nations agencies

Texas Schools
Health, Safety, & Discipline
Teacher Vacancy Task Force Overview
Task force final report.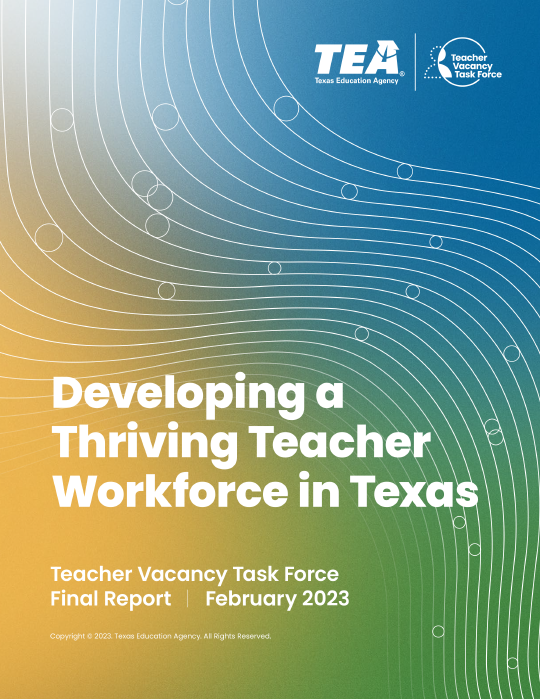 The Teacher Vacancy Task Force's (TVTF) final report, Developing a Thriving Teacher Workforce in Texas , includes policy recommendations to address teacher vacancies throughout Texas. 
Through examining research and evidence, considering the perspectives of educators across the state, and continuous stakeholder input, the TVTF developed recommendations focused on support for teachers in the key areas of teacher compensation, training and support, and working conditions. In order for these recommendations to be implemented and expanded, the TVTF recommends that they not only be offered as options for districts, but that additional funding be allocated at the level necessary for successful implementation.
The TVTF was established in March 2022 by Governor Abbott to examine teacher retention and recruitment challenges across Texas. The TVTF met from March 2022 to February 2023 with the primary objectives of understanding challenges school systems are facing related to teacher vacancies and developing recommendations for regulatory or other policy changes for the Texas Education Agency, the Texas legislature, and local school systems.

Task Force Regional Representation
The Task Force was comprised of teachers and school system leaders in public education hailing from a variety of districts and geographies, and serving student populations that are representative of the diversity of Texas.

Meeting Dates, Slide Decks and Notes
The Task Force met from March 2022 through February 2023, with Commissioner Morath and agency leadership regularly facilitating discussions with Task Force members, while including insights gathered from experts and additional education stakeholders throughout the State of Texas. 
If you have any questions or comments related to the work of the Teacher Vacancy Task Force, please contact us at: [email protected] .
resource_parent
The international task force on teachers for education 2030, content section.

Building peace in the minds of men and women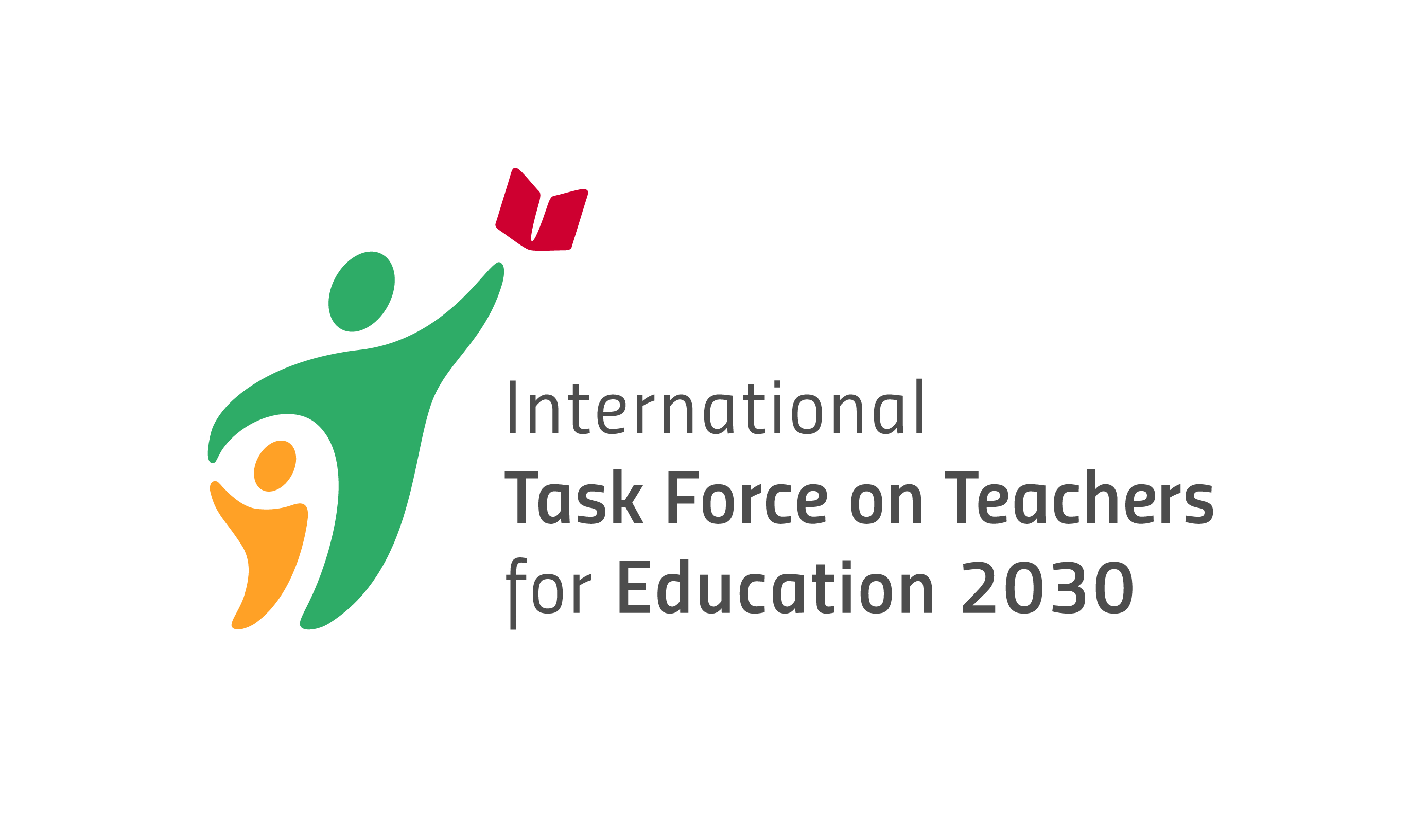 We pledge to advocate for teachers and education support staff to be supported, protected and recognised during and in the aftermath of the COVID-19 crisis.
International Task Force on Teachers for Education 2030
Paris, france, network or association, established : 2008, education and covid-19 response.
https://teachertaskforce.org/what-we-do/covid-19-reponses
We commit to support teachers through advocacy, knowledge generation and sharing and country support and engagement. The Teacher Task Force has been working in collaboration with the members of its network to provide resources for governments and the teaching community as part of the COVID-19 crisis, including a Call for Action on Teachers, Guidelines for policy-makers and a Toolkit for school leaders as part of back-to-school efforts. We have also provided data and analysis on the digital divide and its implications for teacher preparedness in distance education. Further studies will look at the consequences on teacher salaries for a cross section of teachers, in particular in poor countries.
Regional Focus
Member video.
The vision of the International Task Force on Teachers for Education 2030 is clear: teaching should be a valued profession and every learner should be taught by qualified, motivated and empowered teachers within well-resourced, efficient and effectively governed systems. To achieve this vision, the TTF's mission is to mobilize governments and other stakeholders for the advancement of teachers and quality teaching, acting as a catalyst of global, regional and national efforts through advocacy, knowledge creation and sharing, and country support and engagement. The Teacher Task Force has been working in collaboration with the members of its network to provide resources for governments and the teaching community as part of the COVID-19 crisis, including a Call for Action on Teachers, Guidelines for policy-makers and a Toolkit for school leaders as part of back-to-school efforts.
Action areas
Learner wellbeing, advocacy and communication.
Primary Contact
Mr. peter wallet.
Senior Contact
Ms. leila loupis.
International Task Force on Teachers for Education 2030
About the Department
About our Executive Team
About our Strategic Improvement Plan
NDE Directory
Meeting Materials
Advisory Council for Family Engagement
Charter Audit Committee
Commission on Educational Technology
Commission on Professional Standards
Council to Establish Academic Standards
English Mastery Council
ESSA Advisory Group
High School Graduation Committee
Nevada Advisory Commission on Mentoring (AB144)
Nevada Early Childhood Advisory Council (ECAC)
Nevada Educator Code of Ethics Advisory Group-AB124
Statewide School Safety Task Force
Teachers and Leaders Council
Title I Committee of Practitioners
Task Force on Educator Professional Development (Advisory)
NDE Rulemaking Workshops and Public Hearings
Public Meetings
Public Record Requests
Accessibility Information (ADA)
Grant Information
Legislative Session Updates
Employment Opportunities
Frequently Asked Questions
Newsletter Subscriptions
Family/Community
Agriculture & Natural Resources
Arts, AV Technology, and Communications
Architecture and Construction
Education and Training
Government and Public Administration
Information and Technology
Program Resources
Guidance & Counseling
CTE Assessments
CTE College Credit
CTE Accountability
Grants Administration
Federal Compliance
Health Science
Hospitality and Tourism
Human Services
Law Public Safety Corrections and Security
Manufacturing
Science Technology Engineering and Mathematics
Transportation, Distribution and Logistics
Middle School
Work based Learning
Career and Technical Student Organizations (CTSOs)
Educator Effectiveness
Development & Support
Educator Licensure
Educational Technology
NV Academic Content Standards
NV Reading Week
Seal of Biliteracy
Standards and Instructional Support
Teacher of the Year Program
Teacher Shortage/Loan Forgiveness Program
Nevada Schools and District Information
Nevada High School Graduate College Enrollment Rates
Nevada Report Card
Public Records Requests
Education Records Requests
Student Data Privacy
Data Requests
Financial Reports
Advanced Placement
Adult Education
Career & Technical Education
Migrant Title I-C
Early Childhood Special Education
Foster Care
Homeless/Youths McKinney
Inclusive Education
Indian Education
Leadership Network
Migrant Education
Pupil Transportation
Purple Star Schools
Read by Grade Three
School Counseling
School Improvement
Secondary Transition
State Pre-K
Turnaround Grant
Victory Schools
21st Century
Governor's Proclamation Terminating Declaration of Emergency Related to COVID-19
Guidance for the End of the Declaration of Emergency
Nevada Local Education Agency Use of Funds
District Reopening Plans
Office of a Safe and Respectful Learning Environment
Office of Standards and instructional Support
Office of Student and School Supports
Office of Educator Licensure
Office of Family Engagement
Office of Inclusive Education
Office of Early Learning and Development
Office of Assessment, Data, and Accountability Management
Federal & State Plans
Teacher Recruitment and Retention Advisory Task Force
In 2019, Assembly Bill 276 created the Nevada State Teacher Recruitment and Retention Advisory Task Force to evaluate and address the challenges of attracting and retaining teachers throughout Nevada. The Task Force, consisting of teachers from each of Nevada's 17 counties, makes recommendations to the Joint Interim Standing Committee on Education (LCE) to address these challenges. A report is presented to the LCE in June of each even-numbered year and to the Director of the Legislative Counsel Bureau on or before February 1 of each odd-numbered year. The reports for each year may be found at the links below.
February 2023 Report
June 2022 Report
February 2021 Report
June 2020 Report
KellyLynn Charles 702.668.4330 [email protected] Kathleen Galland-Collins 702-668-4326 [email protected]
Task Force Members
2023 Meeting Materials
Archived Meeting Materials
2022 Meeting Materials
2021 Meeting Materials
2020 Meeting Materials
Texas teachers need raises, more training and better working conditions to fix shortages, state task force finds
The yearlong review also recommends increasing the funds schools get per student, a measure already favored by lawmakers looking how to spend a historic state budget surplus.
by Brian Lopez Feb. 24, 2023 Updated: 3 PM Central
Sign up for The Brief , The Texas Tribune's daily newsletter that keeps readers up to speed on the most essential Texas news.
Nearly a year after Gov. Greg Abbott ordered a task force to look at the state's teacher shortages, the group is recommending that lawmakers increase salaries, improve training and commit to respecting teachers' time.
"The Texas legislature, the [Texas Education Agency], and school systems should prioritize enacting and fully funding these recommendations to ensure that every Texas school is staffed with effective, supportive, and committed teachers," the task force said in a report released Friday.
The job of the task force — a mix of educators and school administrators — was to investigate why these shortages exist, recommend policy changes to the TEA and consider more flexibility in the teacher certification process. The report will be shared with the members of the House and Senate education committees and is available to the public online.
The recommendations come as state lawmakers looking at how to spend a historic $32.7 billion budget surplus are prioritizing teacher raises and increasing the base amount of money that school districts receive per student. Abbott said lawmakers are ready to have the report guide them as they work on improving the teaching profession in the state.
"We will develop and implement strategies that attract, retain, and support highly qualified educators to provide students across the state with even greater opportunities to learn and grow," he said.
While Texas and the rest of the country have dealt with teacher shortages for years, the pandemic exacerbated them. Shifting requirements on masking and the closure then reopening of schools have taken a toll on teachers. At the same time, schools have become the center of the state's culture wars, and teachers are caught in the crossfire.
Meanwhile, teacher compensation has stagnated. Texas ranks 28th in the nation for teacher pay, $7,652 less than the national average, according to the latest National Education Association report .
Zeph Capo, president of the Texas American Federation of Teachers, said the report echoes what his union has heard over the last several years and is hopeful lawmakers will enact its recommendations.
"I'm glad that they're recognizing and lifting up what we have been fighting and pushing for," he said. "What we've been hearing from members and educators across the state is this lack of respect."
Matthew Gutierrez, superintendent of the Seguin Independent School District, said the report is a good starting point for lawmakers to understand teachers' needs and hopes that the debate over voucher-like programs like education savings accounts doesn't derail any potential funding for school districts.
"I'm cautiously optimistic about additional funding coming into public education," he said.
Here are the report's findings.
Teacher should get raises
The task force recommends that the state increase the basic allotment, which is currently at $6,160 per student. State law requires that school districts must use 30% of any additional revenue they receive to increase employee salaries. The allotment has not increased since 2019, when lawmakers overhauled the school finance system.
"Salaries have not kept up with recent inflation, and pay disparities continue to exist across the state," the task force noted in the report.
The task force is also asking lawmakers to raise the percentage of the allotment that must go to teacher salaries, though it did not say by how much.
In addition, the group recommends increasing the minimum salary schedule, which is the minimum teachers should be making per year of experience. Currently, it would take at least 20 years of experience for teachers to make over $54,000 a year. While many school districts already pay more than the minimum salary, teachers at small and rural school districts earn the minimum amount or slightly more.
"The minimum salary schedule should be raised to reflect the impact of teachers and differentiated by factors that positively impact student outcomes such as tenure and certification pathways," the task force said.
Related Story
Texas legislature gears up to tackle long-standing and fresh issues in public education. here's what you need to know..
Feb. 2, 2023
The report said the total compensation teachers receive must also be increased as health care costs on average went up about 5% over the past 20 years, but the state and district's contribution to health plans remained the same.
Lawmakers have already filed some bills that would raise teacher pay. State Rep. Donna Howard , D-Austin, filed House Bill 882 , which would increase the basic allotment per student to $7,075 and would adjust it annually according to inflation. State Rep. James Talarico , D-Round Rock, filed House Bill 1548 , which would give all Texas teachers a $15,000 pay raise.
More training and support
While the task force believes pay is a top priority, it also called for a better employment pipeline and improved retention techniques to keep teachers in the field.
The group recommends expanding programs and pathways for high school students wanting to become teachers. It also said the state should establish and fund teacher residency programs that would pay would-be teachers to train for a year and work with an experienced educator in a public PK-12 classroom, similar to the medical field.
"Research shows that teacher residency models increase teacher retention, effectively place teachers in hard-to-staff areas, and positively impact student outcomes," the task force said.
The task force recommended expanding mentorship programs for teachers and helping them take more leadership roles. It also said teachers spend much of their time creating and looking for lesson plans and should have easy access to high-quality teaching materials to help them.
Better working conditions needed
In a task force survey, teachers said that an unsustainable workload is the No. 1 reason they leave the workforce. They also cited campus morale, discipline and lack of adequate mental health support as contributing factors to workplace stress.
The task force recommends that the Legislature fund a study of how teachers use their time to better understand their duties and how to streamline them. Administrators should also redesign their district's schedule to allow teachers more time for planning and development, the task force said. In addition, school systems and the TEA need to adopt better staffing plans so teachers don't get more work when a colleague is out and a substitute is unavailable.
The task force is also calling for more counseling staff to combat student behavioral issues and offer more effective disciplinary measures. School administrators should also receive training on best discipline practices and how to foster a positive learning environment.
"I am confident that state leadership will act upon these recommendations which are the result of nearly a year's worth of collaboration and hard work among district leaders, teachers, educational organizations, and other stakeholders," said Josué Tamárez Torres, task force chair and a 4th and 5th grade bilingual math teacher.
Quality journalism doesn't come free
Perhaps it goes without saying — but producing quality journalism isn't cheap. At a time when newsroom resources and revenue across the country are declining, The Texas Tribune remains committed to sustaining our mission : creating a more engaged and informed Texas with every story we cover, every event we convene and every newsletter we send. As a nonprofit newsroom, we rely on members to help keep our stories free and our events open to the public. Do you value our journalism? Show us with your support.