How to Use Excel for Task Management: Guide, Tips, and Tricks 2022
Monday, February 21st, 2022 / by ExcelHelp
A pioneer in data management and analysis, Microsoft Excel has been around for over 30 years. From inventory management to business analysis, performance reporting to project management, Excel helps millions of individuals and businesses stay on track with strategic goals, record keeping, and project management.
A simpler task within grander project management is task management, a function offered by countless project management tools out there like Asana, GitHub, Microsoft PowerApps, and Jira.
But many of these tools, while useful, are needlessly complex for the simple function of task management. When it comes to task management, it's best to return to the basics with a Microsoft Excel spreadsheet.
Today we'll cover the basics about using Excel for task management, tips, and tricks, and a few examples to help you check off every task within your upcoming project. You might even learn a few surprising things about Excel in the process!
How to Use Excel for Task Management
You can create a basic task tracker and lists of tasks within a short amount of time on Excel, even without a template. Here are a few steps to create and track your task list.
1. Add Headers to an Excel Spreadsheet
You don't need a fancy or familiar template to start your task list. Start by opening a regular Excel spreadsheet and add a few headers to organize your information. " Task " should be the first, left-hand header. Moving horizontally to your right, add more qualifiers like:
2. Fill in the Details for Each Task
Add some information into the tabs to outline your tasks. Fill in each area to allow for filtering when needed.
Here's an example:
3. Add a Filter to Your Task List
Each heading should have a drop-down menu so you can sort your tasks. Try sorting them by status to see which tasks are still outstanding. Or, sort them by the deadline to help you prioritize your work schedule.
4. Sort Your Tasks
Highlight a header, then click the Sort and Filter button at the top right corner. You may filter the tasks by the deadline (soonest to latest), status (ongoing, pending, complete), etc.
Tips for Using Excel for Task Management
Creating a task list is quite simple in Excel. But there are ways to make task management more efficient and tailored to your needs. Check out the tips below:
1. Export Tasks to Other Project Management Tools
We think Excel is a sufficient tool for task management. But if you want to see the tasks in the greater context of a project, you can always export your spreadsheet to Microsoft Teams or another app to continue your work.
2. Make it Pop
To-do lists are boring, and many people find Excel boring as well. Add some pizzazz to your task list by customizing colors for each tab. You might highlight all complete tasks in Green, for example.
3. Try Out a Template
If you don't want to start from scratch, there are plenty of Excel spreadsheet templates that you can use to organize your project's task management goals. Here are some examples:
Simple Excel Task Management Template
Daily Task List
Projects To-Do List
4. Keep Notes Organized
Task updates may come sporadically, but it's important to keep them organized. Make sure you input updates chronologically so that another team member can intuitively gather the lifecycle of a task.
5. Make Regular Updates to Status and Notes
Your team should be providing updates to your task list, but they may not always remember at the end of the day. Send emails, make phone calls, and host meetings to ensure the task list is as up-to-date as possible. And, ensure you have a regular schedule for sharing the task list with all relevant parties.
Why Use Excel for Task Management?
Tons of project management tools can handle task management, so why rely on Excel for your task lists? Here are a few benefits of using excel for task management:
Familiarity: Being around for 25 years has its perks. Most team members, young or old; recent or familiar; will know how to use Excel, especially with a function as intuitive as task management.
Reporting: Since Excel's to-do list templates have reporting tools, you can create charts, tables, and matrices to provide better visualization of the task data and inform strategic decisions.
Accessibility: Most of your team will have access to Microsoft Suite, making Excel an accessible option. If you introduce a new project or task management tool, it may delay progress with the learning curve.
Customizable: Despite its age, Excel has many customizable capabilities, from different headers, filtering, colors, and more.
Millions of people understand basic Excel functions, making the platform a superior choice for simple task management. With its customizability, wide usage, and accessibility, task management is a breeze on Excel.
Interested in learning more about Excel and how you can optimize it to its fullest potential? ExcelHelp supports thousands of businesses in optimizing Excel, be it through training, consulting, analysis, and more. Contact us today to find out more about your potential with Excel!
Schedule a Consultation
228 Park Ave S. #28801 New York, NY 10003 & Offices around the USA
Microsoft and Microsoft Excel are registered trademarks of Microsoft Corporation
Copyright 2022 eSoftware Associates Inc
Task List Templates
The Excel task list templates on this page demonstrate some of the many ways that you can track tasks using a spreadsheet, from simple to do lists to more advanced Gantt charts. These templates demonstrate using icon sets to display priorities, using conditional formatting to display a progress bar, creating a gantt using using a stacked bar chart, and using a check mark to cross out tasks when they've been completed.
Tell me what you think about these templates: Leave a comment on the related blog article " Add Cool Features to Your To Do Lists ."
This Page (contents):
Project Task List
Simple Task Tracker
Task List with Gantt Chart
Task Checklist Template
Printable task list templates, project task list template.
License : Private Use (not for distribution or resale)
Description
This spreadsheet demonstrates the use of conditional formatting to highlight the Priority column, to add a progress bar to the % Complete column, and to create a functioning check box via data validation. It also includes columns for entering budget and hours spent on each task.
Update 9/23/2019: Added the Google Sheets version - replaced the icon sets with in-cell checkboxes. Google Sheets does not yet have in-cell data bars (for the % Complete column).
Simple Task Tracker Template
This task tracker template demonstrates the use of custom icon sets via conditional formatting to show a priority rating of 1-4 with different color circles. It uses a similar technique for the checkbox in the Done column.
Project Task List with Gantt Chart
A gantt chart can be created from a task list using a stacked bar chart in Excel. This is a functional template that can be used for real project management tasks, but the primary purpose is to demonstrate how the data table is set up to create the gantt chart.
This task list template demonstrates how to create a checkbox using a data validation drop-down and how to use simple conditional formatting conditions to display HIGH, MEDIUM and LOW priority values. It also uses conditional formatting to change fonts to a gray strike-through when the checkbox is checked.
► How to Insert a Check Mark in Excel (on youtube)!
More Templates For Tracking Tasks
How to Use Conditional Formatting in Excel at vertex42.com
Create a Drop Down List in Excel at vertex42.com
Follow Us On ...
Related templates.
Project Management
Office Timeline Pro+ is here!
Align programs and projects on one slide with multi-level Swimlanes.
Task Management
Task Management Templates
Free Task Management Templates
Use free task tracker templates for Excel and PowerPoint to simplify your work and manage project tasks more efficiently.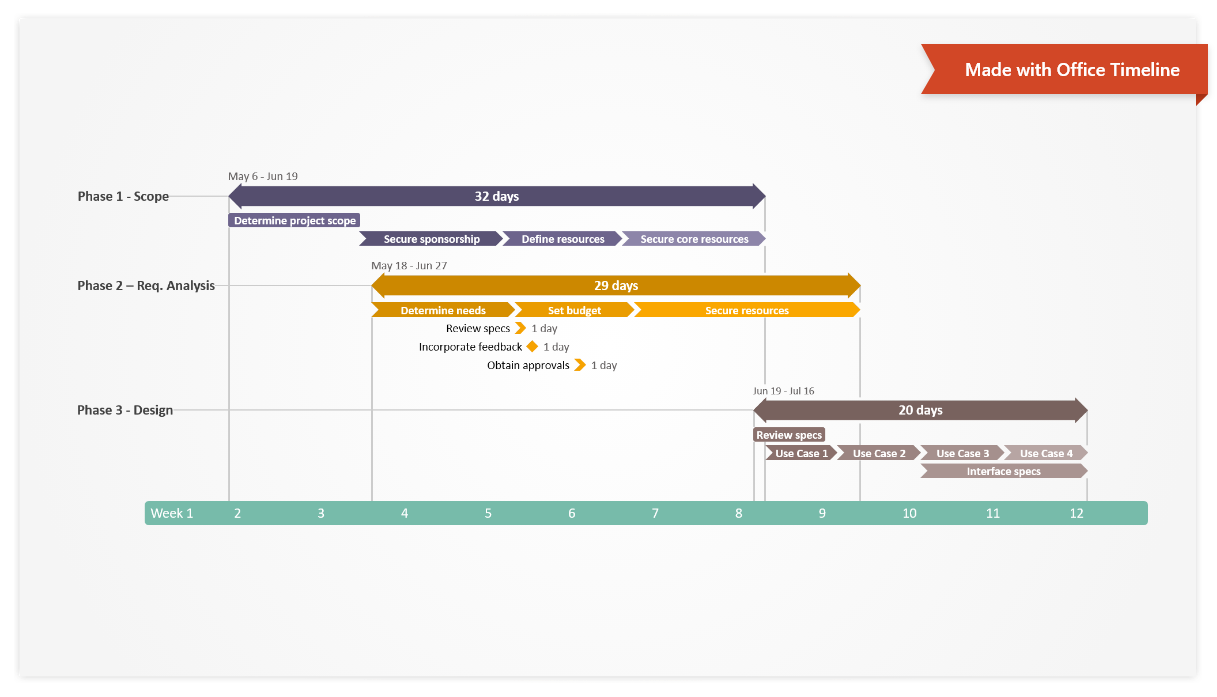 Using templates for task management and tracking
Project managers and team leaders working on small to mid-size projects can use pre-built templates to manage their team's tasks manage their team's tasks more easily. Task management templates provide a starting point that can be used again and again, saving you from having to reinvent the wheel every time you need to create a plan, track task progress, or report status to clients and execs.
On this page, we have collected a series of free task tracker templates for Excel and PowerPoint to help professionals get started faster. Browse through all of them or use the links below to jump straight to the template category that suits your needs best.
A) Free task management templates for Excel
B) Free task management templates for PowerPoint
Free task management templates for Excel
With its handy grid format, formulas, and data filters, Excel is commonly used for making schedules, analyzing data, and tracking task status. Although not ideal for advanced project management, task management spreadsheets provide a good framework for planning and monitoring small projects. They're compatible with other applications outside the Microsoft Office suite, which makes them easy to share and synchronize across task manager apps .
Below you can find a few Excel task tracker templates, from simple list-type spreadsheets to more complex visual tracking frameworks.
Project Management Task List Template
With so many variables in a project, a simple task list such as the one below can help professionals organize their work, prioritize it, and see at a glance when each individual task is due. The free project management task list template allows users to assign a status to each task, sort assignments into multiple categories, and see exactly who's responsible for what. It also calculates the tasks' planned and actual durations automatically, enabling teams to easily make comparisons and see if work is progressing as scheduled.

Excel Task Tracker Template
This Excel task tracker template was designed for project or task managers who wish to apply Scrum principles when planning and monitoring their team's tasks. The free task tracker spreadsheet splits tasks into short sprints for easier management and allows users to define priorities, see task status at a glance, and track assignments as they are completed. It also includes a simple Gantt chart that auto-updates whenever the data in the task list changes.

Task Management Spreadsheet Template
Effective task management requires precise knowledge of all assignments and the time remaining for completing them. A task management spreadsheet like the one below can help teams track their tasks by the hour and organize their work more efficiently. The template automatically calculates the hours left for finishing each task, shows the percentage of work already completed, and highlights the tasks that are overdue. In addition, this task tracker spreadsheet also estimates the assignments' start and end dates and displays them on a Gantt chart, providing an overview of the whole project.

Free task management templates for PowerPoint
Excel task tracker spreadsheets are good for ensuring clarity and alignment within the team, but, when communicating to high-level audiences such as clients or upper management, professionals may find that they need something more graphical. In such cases, PowerPoint task management templates might prove more efficient, as they can show summarized data on a single visual slide, in a manner that's easy to digest. Below you can find a few such templates to get you started.
Free Task Planner Template
This free task planner was built for professionals who need create an executive-level view of their project tasks for client meetings or project proposals. Designed as a simple Plan-on-a-Page, it is a Gantt chart that uses color codes to group tasks by categories or departments, making it easy to see key data at a glance. Download the free task planner template file and edit it manually in PowerPoint or use the Office Timeline PowerPoint add-in to automate the process and update it effortlessly.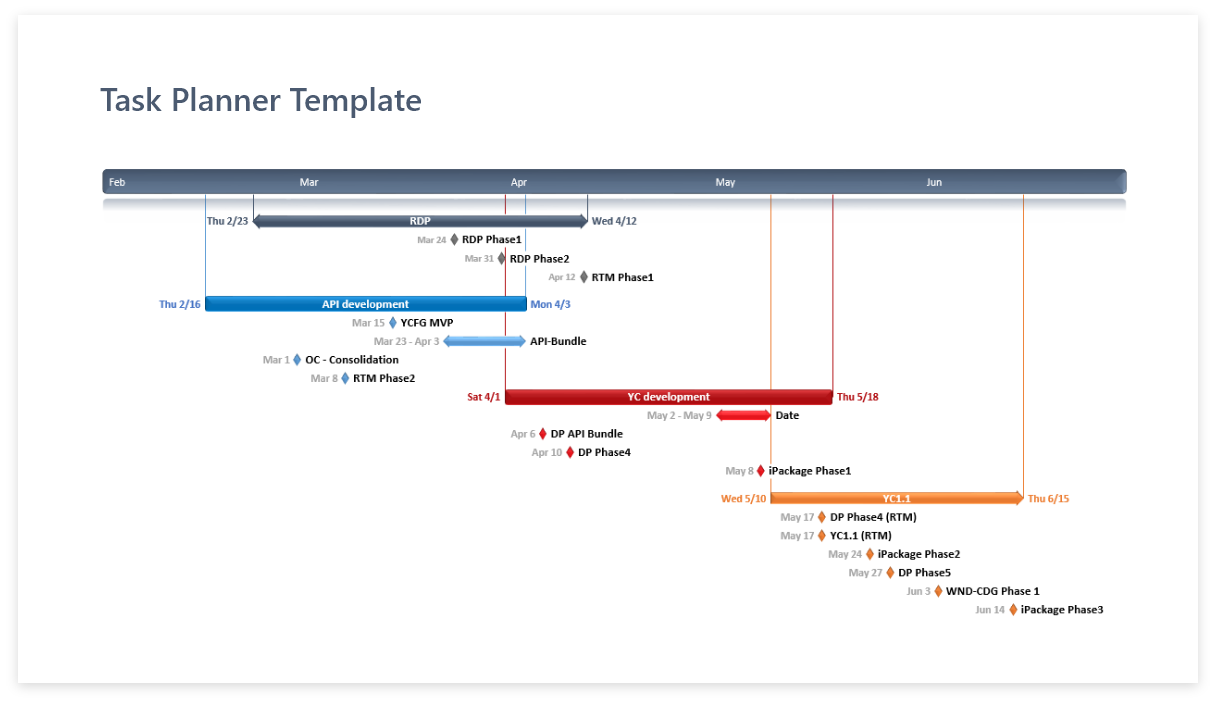 PowerPoint Task Tracker Template
Clients and execs usually don't have the time to read lengthy documents or untangle complicated task management spreadsheets to see how a project is progressing. To efficiently communicate task status to high-level audiences, project managers and team leaders can use a more familiar PowerPoint slide such as the one below. This task tracker template keeps things simple by providing only essential tracking information such as the due dates of key tasks, percentage complete, or important events along the way. The free task tracker can be downloaded and edited in PowerPoint and updated easily as plans change.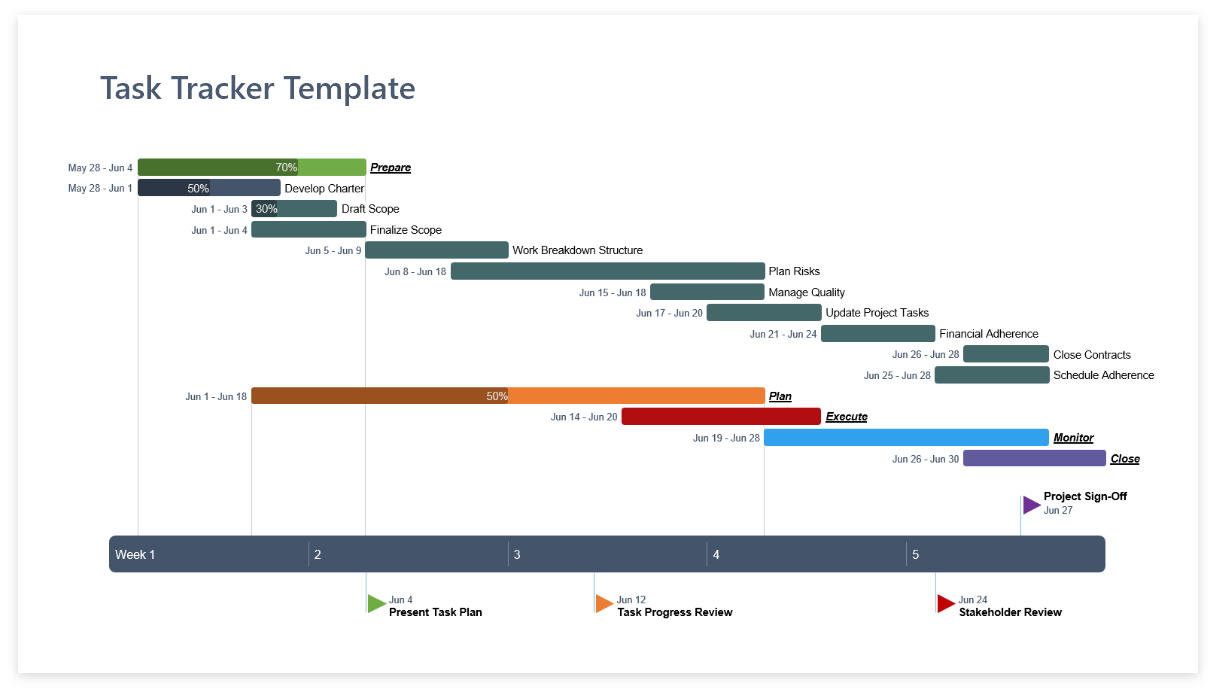 Agile Task Management Template
Agile task management is an iterative, incremental approach to managing projects, often used in software development. The methodology focuses on delivering work fast and in small increments, while incorporating feedback from customers in each iteration. This allows the team to easily adapt to changing requirements and ultimately deliver higher quality products that satisfy customers' needs better. This agile task management template is ideal for team and client communications, allowing you to effortlessly keep track of your project's tasks. Built directly in Microsoft PowerPoint, the template can be edited and shared easily with anyone who has the popular presentation tool installed.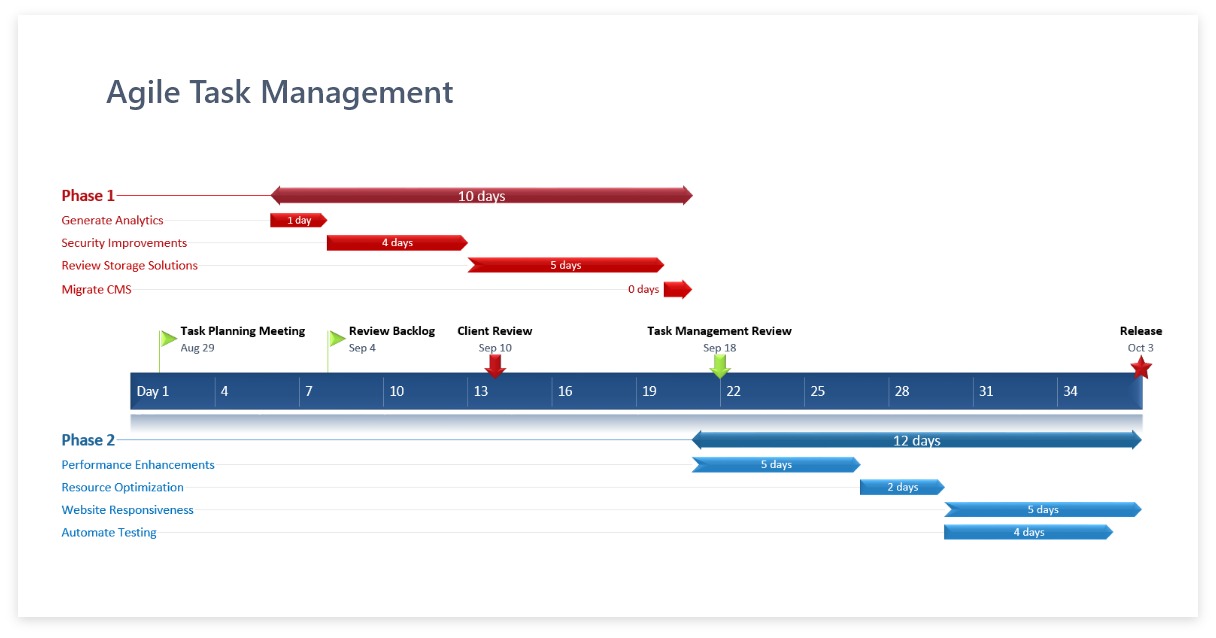 PowerPoint Task Manager App
For client and executive communications, managers and team leaders can use a free task tracker to manage their plans and schedules as PowerPoint visuals. The Office Timeline PowerPoint add-in integrates with Excel to import existing task data and convert it into easy-to-understand timeline and Gantt chart slides.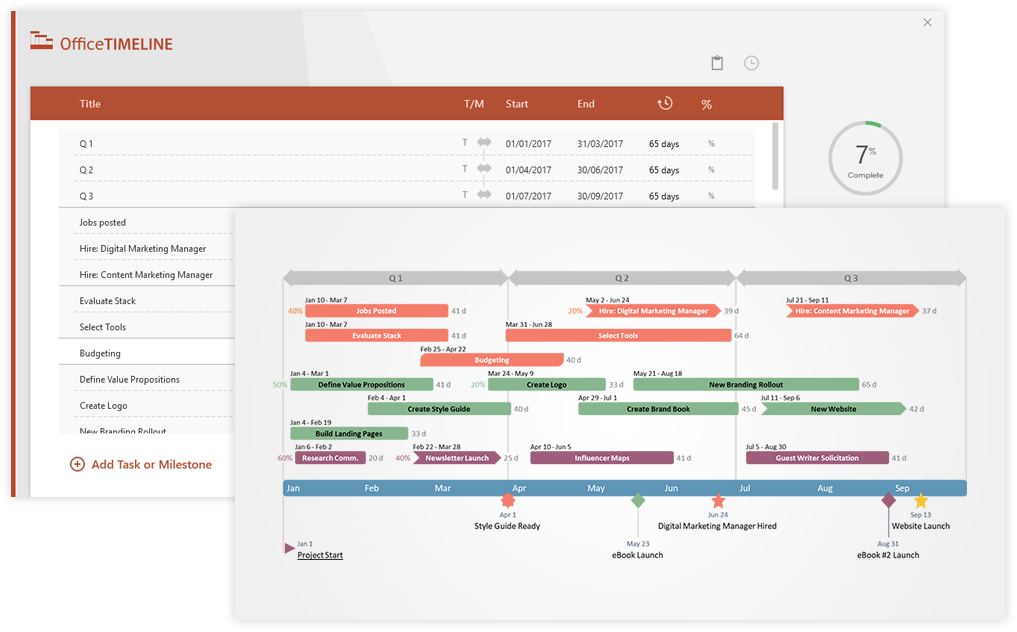 Get started for free
CRM and Sales
Project management
Software development
Construction
Finance & Accounting
Product updates
monday apps
monday workdocs
monday news
Comparisons
Task management
Productivity
Remote work
Keep track of your work with an Excel checklist template
We've all had those days when our to- do list seems endless and that was before we had an Excel checklist template. In the old days, we had whiteboards and sticky notes as our aids; we've since moved on to smarter methods to create a prioritized to-do list.
One of the earliest and most basic options for creating a to-do list was Microsoft Excel. In this article, we'll walk you through how to make a list in excel, and introduce you to a flexible alternative— monday.com Work OS.
We'll also look at an alternative option — monday.com Work OS — to see if we're any better or faster.
Get started with monday.com
What is the function of an Excel checklist template?
When you find yourself juggling multiple items in your head, it's incredibly difficult to assign priority to the tasks. A to-do list's purpose is to make sense of this information.
Download Excel template
The simple—and outdated—solution is to put pen to paper and then decide the order you should tackle each task. You check each off as you go, and then the note usually gets tossed in the bin.
There are some clear downfalls here:
1) If you assign the wrong priority to an item, all of these changes will result in some pretty messy paper and leaves literal room for notes, changes, and more.
2) Once you've crumpled the to-do list, you have no record of progress made against the list.
3) It's very difficult to share this list with others in a professional setting.
The world is your to-do list oyster— there is a wide array of apps and software out there who's aim is to help you organize your to-do list in a way that works for you.
Microsoft Excel is just one of them and it's sometimes favored because:
It's a familiar software, so almost anybody who has used Microsoft Office will be able to create a to-do list easily
Anyone can access an Excel list template and use features like conditional formatting that combine with reporting tools such as charts and matrices. Pivot tables can be used to customize data if required.
Let's get building.
Try monday.com
Easily track and organize every task, how to create a simple to-do list in excel.
This whole process revolves around using Excel's Filter feature to create an editable, trackable list that you can format according to your preference.
Step 1: open Excel and add column headers
Open a new Excel spreadsheet and enter new column headers.
I've added the following:
You could add additional columns as needed such as budget, owner, tools, etc.
Step 2: fill in task details.
Add your tasks in the column, the status of each, and a deadline.
In the table below you'll find:
Monthly report — ongoing
Confirm venue reservation — pending
Send thank you note to event attendee — done
Financial report — done
Note that you must fill out the tasks and status columns so that the filter can be applied. The other fields can be filled out at a later stage.
Get started
Step 3: apply a filter to your list.
To add a filter to your list, simply click on one of the headers and select Filter under the Sort & Filter icon on the top right corner of your Taskbar.
Once you save the file, Excel will remember this and the filter will be there the next time you open the file.
Step 4: sort your tasks using the filter.
You'll now be able to see tiny arrows on the headers of your column.
Click on the arrow to sort your tasks by status. You can select or deselect options to see lists of…
Your pending tasks
Your ongoing tasks
Completed tasks
Any combination of these
Step 5: done!
We've created a simple Excel to-do list that can help you keep track of all your tasks.
You can edit fields, add as many columns as you want, or add custom colors and fonts to make it reflect your needs.
We recommend something different, however.
If you just want a basic, free (if you already have Microsoft Office) way to organize and manage your day-to-day life, Excel is fine.
The advent of project management software has enabled us to get creative, whether you want to build a simple daily or monthly to-do list, or if you prefer sortable, drop-down lists.
Despite being more complicated than it should be, it does the job. And it's free — if you have Microsoft Office.
When you're working on even slightly more complicated tasks or projects, you'll find that you need additional features to manage your master list.
You'll need the ability to, at the very least, share tasks with other people. You'll need to add due dates, visualize your progress, upload project information and share files easily and communicate with your team.
For all of these and more, you'll need a versatile task management system that can help you juggle multiple to-do lists with ease and convenience.
monday.com Work OS is a visual workflow platform that helps teams manage and track any kind of work in a single place.
Here's how you can create a  to-do list on monday.com .
Step 1: Create a board
A board is a central location to organize your work, in this case, your to-do list.
Step 2: Choose one of our pre-loaded templates
For a to-do list, we have the "weekly to-do list" template, as well as hundreds of other customizable options  to choose from.
Step 3: Create your groups
Each board consists of groups that can indicate different phases of a project, whether it's weekly iterations or interview processes.
Step 4:  Add your columns.
This can include options such as task, owner, deadline, status update, dates, rating, or tags.
Step 5: Add your list of tasks on your board.
Simply assign tasks, update information and collaborate with team members — all within the same space.
It only takes a few clicks to get started with the easy and intuitive system. Once you visualize your workload with monday.com's stellar features, we promise you won't go back.
Here are just a few advantages of using the monday.com Work OS to-do list functionality:
The drag and drop functionality makes it super easy to organize your daily tasks
Communicate and collaborate better  with your team by adding comments, sharing updates, and uploading documents in real-time
Visually track your progress and manage your team with a bird's eye view
Automatically notify the next person responsible when a stage of a project is completed.
Make your workflow seamless with dozens of  integrations  with commonly-used apps and tools.
Check out our  weekly to-do list template  to get started.
How to import from Excel to monday.com Work OS
If you've decided to make the switch to monday.com, you've made a great choice!
It easy to get started and transfer your Excel data to monday.com Work OS:
Click your profile picture on monday.com Work OS and select Import data, then Excel:
Drag and drop your file into the screen (or browse and select it from your computer). You'll see a dialog box notifying you that it's done.
Select the row in your spreadsheet that will serve as the headings for your new board. Click Next.
Select the column in your file which will be the first column on your new board. Click Next.
If you need to, you can change the Column type by clicking the drop-down menu on each column.
Initially, you can import columns as status, number, date, email, or text column. You can update this only after you import your data.
Click Create Board .
You should now see your Excel data imported to the Work OS.
You've got some thinking to do
You can see that Excel can be a basic tool for task management that doesn't require much complexity or collaboration.
In contrast, monday.com can really make a difference when you want a more dynamic and intuitive experience across teams and priorities.
So go on, give the Work OS a go, you'll not only have an Excel checklist template, but much, much more.
Contact sales
Start free trial
20 Must-Have Project Management Excel Templates and Spreadsheets
Still using spreadsheets to manage your projects? Revolutionize how you manage your projects with ProjectManager. Plan, track and report with automated tools.
Before you can plan your project, you have to have the right tools to collect the data you need in order to formulate a strategy—and project management Excel templates are a great place to start.
Using Excel for Project Management
Think of all the things you have to process along the way to a successful project—scheduling, resource planning, defining tasks and milestones, etc. The days of Post-It notes and notebooks filled with scraps of paper are long gone. Thankfully, today project managers can use Microsoft Excel templates for project management.
Microsoft Excel does a lot of things well: mathematics, analysis, organization. But, it's not intuitive for project management due to its blank spreadsheet format. So, without using pre-built project management spreadsheets or templates, it's hard to execute project management on Excel.
Best Project Management Templates & Spreadsheets for Excel
Visit our templates page and you'll find Excel and Word templates for creating all the project documents you need to manage your project. But, if you just need free Excel project management templates and spreadsheets, then look no further.
Here are 20 essential project management Excel templates you can download and use right now. Transform your bland Excel spreadsheets into expertly-designed project management templates, and take your project management Excel processes to the next level.
1. Gantt Chart Template
A Gantt chart is a visual tool that helps you see at-a-glance the scheduling of tasks and their dependencies over the project timeline. That makes it a great project planner template.
While it's true a Gantt chart can be overly complex in Excel spreadsheets, especially when you are in need of more advanced scheduling features like task dependencies and resource allocation, they remain a vital part of any project manager's toolkit. That's why we recommend using  online Gantt chart software to help plan tasks and projects collaboratively with your team.
Online Gantt chart tools integrate into project management & planning software, so it can update in real time. This allows for easy drag-and-drop changes and can be color-coded to customize as you need. ProjectManager is a project management software that does all that and more. Try it for yourself today!
But to quickly make a Gantt chart from your task lists, download this free Gantt chart Excel template for an easy way to create a project schedule. Just add tasks and deadlines to this Excel spreadsheet and visualize how long your project will take.
2. Project Status Report Template
The need for a project status report is obvious. If you don't have good intel on what is happening in the project, then you are managing blind. You have no idea if you're on track or if resources are being blocked.
With this free Excel project status report template, you have a tool to greatly improve your project communications, both with stakeholders when you're delivering a presentation, but also with team members.
It's up to you to decide on the frequency of the reports. But with a project status report template a lot of the busy work that can pull you away from a project is already done, giving you greater access to the information you need.
3. Work Breakdown Structure Template
A project is made up of deliverables and those deliverables are created by tasks. The work breakdown structure (WBS) is a way to visualize the project deliverables, the tasks, and the subtasks, which are necessary to make them.
ProjectManager has a free WBS template that structures the process of breaking down the large project into smaller and smaller tasks, in a hierarchical visual that allows you to see the entire scope of the project work.
This is a key element of project planning, but it is also critical to estimating project costs and setting up a realistic schedule. Better still, because our WBS free template is an Excel spreadsheet, it can then be uploaded into the ProjectManager software to initiate a project, assign tasks to team members and monitor and track progress once the project is executed.
4. Action Plan Template
A project is initiated to complete the realization of a goal. But to achieve that objective requires a strategy and then the steps to implement that strategy successfully. In short, an action plan .
Projects are pragmatic and the action plan is a framework to collect your thoughts about executing the project plan in an effective and efficient way. With our free action plan template, you can just fill in the blanks to make sure that you've covered all bases and make your project start on the right foot. It's a great companion template to an overall project plan and project charter.
From prioritizing tasks to assigning and noting the status, timeline and resources, we have you covered. And, again, the action plan can be uploaded seamlessly into ProjectManager, so you can then use all our great features to visualize workflow with kanban boards and monitor progress with our real-time dashboard.
5. Project Tracker & Task List Template
Tracking the project is crucial to ensure that it remains on schedule. That means also keeping tabs on the work at a task-level.
This project tracker & task list template can help as a task to-do list, and it includes columns for the planned and actual duration of the project in order to know what's working and what needs more attention.
Once you integrate your project and task tracking template into a project management software system, you can then produce Gantt charts to get a clear visual on the project timeline, as well as get that data delivered to your dashboard to note project progress in real time. And, of course, you can import your Excel and Microsoft Project files seamlessly into ProjectManager. Our software can transform your static Excel files into stunning, dynamic project management tools.
6. Risk Register Template
Risk is a part of managing a project. The job involves being able to anticipate what risks are likely to occur and then formulating a response to get the project back on track. That's where this free Excel risk tracking template comes in.
First, it allows you to list all the possible risks you believe may happen over the course of the project. Next you can define how it will impact the project. You determine level of the risk and assign it an owner, so that someone is responsible to keep an eye out for it.
Now you have a plan in place to resolve that risk quickly, and a document that can be shared so risk is never given a chance to blindside a project.
7. Issue Tracker Template
Issues are when something is happening right now in your project. So, what do you do when this happens? You track those issues and resolve them with the help of this free issue tracker template.
The first thing, of course, is identifying those issues as they occur. This is the document in which you can collect that information. The issue tracking template serves you by making sure every step of the way, from identifying to resolving the issue, is documented.
Of course you will want to share the issue tracker template, and you can with this free Excel template, but only as a static document. In a project management software program, that information is easy to collect and share, as well as edit in real time.
8. Change Request Form Template
One thing that's constant in any project is change. Those changes, however, must be managed. That's where the change request form comes in.
Our free change request form template gives you the structure to identify, track and resolve those changes when they arise in a project. The free template has space to note what the change is, give a team member ownership to lead the task of resolving it and then get it signed off on.
When used in conjunction with ProjectManager, the change request form is more dynamic. It can act as a collaborative platform in which team members can communicate and attach relevant documents, even hand-offs and sign-offs. Keeping everything under one roof is something you'll not want to change.
Related: How to Run MS Project on your Mac step by step!
9. Project Budget Template
A project can have a great plan, but without the financial backing to pay for it nothing can happen. That's why a project budget, as tedious as it might be, is one of the most important phases of getting a project on track to a successful completion.
With this free Excel project budget template you can literally see when you're in the red, because it's color-coded. And this document, more than just one that is crucial to the start of a project, is also a way to track that budget across the lifecycle of the project.
This template has room to cover all your costs, from easy ones to collect — such as labor and materials — to ones that change or carry over from project to project. Budgets are estimates, but with this free template those numbers will be more accurate.
10. Project Timesheet Spreadsheet
Team members need to have a way to track their work through the tasks they are assigned, and a simple timesheet can provide an easy way to keep them on schedule as well as give you the needed information to know where they are in their tasks.
The free Excel timesheet can calculate cost per hour and includes vacation and overtime columns, to accurately note the time spent on and off the project. But project timesheets are useful for a number of different purposes, so this is a handy tool.
When you manage timesheets with online project management software , then the rubber hits the road. You'll be able to filter columns and customize reports, easily share in an email, PDF or Excel and CSV file. Plus your team can submit timesheets based on actual tasks in the system, and you'll get alerted by email when they do.
11. Project Dashboard Template
The project dashboard is what keeps you in the driver seat as you travel through the lifecycle of the project. It allows for you to monitor the project, tracking the task status, budget and more in one place.
From this free project management dashboard for Excel, you create graphs and charts that give you a visual and easily digestible look at your task and workload management, as well as cost. It's a sure way to stay on top of a project generally and know where you have to drill down into specifics.
You can add more power to your PM dashboards when you use online project management software. That way, when team members are updating statuses on tasks, the dashboards are populating with real-time data.
12. Project Plan Template
A project plan template has everything you need to map out your project once it's been approved. It has space for you to define your project goals, activities, tasks as well as all the resources you'll need to execute the work. You can begin to schedule your activities , tasks and the duration of each across a project timeline. There's even a place to identify task dependencies.
Project plans are tailored around your project and no two are the same. That's why this project management template has a place to add appendices.  Here is where you can attach a scope, cost and schedule management plan or a work breakdown structure (WBS) as well as your business case, feasibility study and project charter.. The more detailed your project plan, the more you position yourself and team for success when the project is executed.
13. Project Estimate Template
This free project estimate template for Excel will help you forecast a more accurate budget and realistic schedule. Before you can plan a project, you need to identify all the costs that will be associated with it. This free project management spreadsheet allows you to do a more detailed collection of what you'll need to spend on your labor, materials and project resources.
From a job description to estimate details, this project template is a great way not only to figure out your budget but collect the various vendors and contractors you'll be employing to help you execute the project. Create as many project phases as you require. Each is subtotaled and those subtotals are then tallied automatically for a final sum. Change is impossible to avoid when managing a project, but the more accurate your estimate, the more likely you'll deliver on time and within budget.
14. RACI Matrix Template
Using a RACI matrix template is an essential tool for organizing projects. Projects can be confusing, and if people aren't sure of their roles, problems are going to occur. The RACI template for Excel is a free tool to identify and define the various roles and responsibilities of everyone involved with the project.
This project management Excel template is broken up by project phase on the left and across the top all the various project positions are listed. Then in the corresponding box beneath the title is filled in with R, A, C or I to explain their relation to that specific point in the project. RACI stands for responsible, accountable, consulted, informed. Defining these roles with this Excel spreadsheet leads to smoother operations.
15. Change Log Spreadsheet
Try our free change log template for Excel and create a successful change management process. Change is going to happen in every project, whether requests from stakeholders or from external forces, such as weather or supply chain issues. Being prepared for change and how to respond to it is going to make or break your project.
This project management Excel spreadsheet allows you to number changes that you identify in the project to track them easier. There's a place to capture when the change was first discovered, who owns it and is tasked with dealing with that change. There's even space to note its status and set the priority so you know which changes should be dealt with first. Having a change log means you can manage change and not allow change to negatively impact your project.
16. Resource Plan Template
Resources are anything you need for a project. Our free resource plan template for Excel is the first step to managing your team and resources. You can use it to identify, list and organize all your project resources as well as figure out how much of each you'll need and what that will cost. You can use this project Excel template to integrate with your schedule and budget to track costs as you execute the project.
While you'll want to start your resource plan during the planning phase of your project, it should be a living document that is regularly updated as things change over the life cycle of the project. Once the project has been completed, you can save the template and use it when you are planning resources for future projects that are similar. Using this free project management template for Excel keeps everyone informed, which leads to a better running project.
17. Stakeholder Analysis Spreadsheet
Stakeholders are invested in the project and project managers have to keep them updated and manage their expectations. That's where this free stakeholder analysis template for Excel comes in. It helps you identify and manage all the stakeholders in your project. This free template is a cornerstone of any thorough stakeholder management plan.
The stakeholder analysis template gets you started with a project overview, which is followed by a list of all the stakeholders involved with the project. There's a dropdown menu to note if that particular stakeholder is of high, medium or low influence. That means, how much power do they have to impact the project. That information is crucial to how to manage them. Then you identify each stakeholder in the spreadsheet as they relate to the project. Note the frequency you need to communicate with each stakeholder and more to manage them and keep the project moving forward.
18. Gap Analysis Template
If you're looking to improve your business and stay innovative, then you need this gap analysis template for Excel. It's one of the tools you can use to get a strategic analysis of where you are now and how to get to where you want to be in the future. This project management spreadsheet will help you devise an action plan to move you from your current state of affairs to wherever you plan to take your organization in the future, whether that's an increase in marketshare or getting a product to market quickly.
This free Excel template has everything you need to start meeting your goals, from general information and the current state of your business to the future state you're aiming to achieve, what the gap percentage is and the actions necessary to close that gap. You can identify who in the organization can lead the initiative and even track the status. You have to start somewhere and a gap analysis is where it all comes together.
19. Cost Benefit Analysis Spreadsheet
Crunch the numbers to learn if your project is worth pursuing with our free cost benefit analysis template for Excel. You can see if the project can be delivered within a specific time frame and reasonable cost. This Microsoft Excel template allows you to compare what you expect to spend against the benefits or opportunity the project might provide. Therefore, from a cost perspective, you can see if the project is viable.
Whether a personal or professional project, our free cost benefit analysis template is a powerful and flexible tool. It can be used over and over again, collecting the project information, quantitative costs (indirect, intangible and opportunity) and then the quantitative benefits (direct benefits, indirect benefits, intangible benefits and competitive benefits). Adding up the three cost sections and the four benefits sections of the template provide a total cost to compare against total benefits. It's an essential analysis to undertake before committing to any project.
20. Weekly Work Schedule Spreadsheet
If you need help handling your human resources, get our free weekly work schedule spreadsheet for Excel. You can use it to manage your team's weekly work and the project's workflow. Note the days your team can work and collect the rate of pay and hours they work on their tasks. This flexible employee work schedule can apply to the regular nine-to-five work week or a more hybrid model.
Use this project management template for Excel to get info on your team members and their work schedule. You can add their name, tasks assigned to them and the project they're working on. There's space to list all the days they'll be working. This Excel template is a great place to capture data but it's a static document. If you want to update it, you have to do that manually. It can take time and pull you away from managing the project and your team's work.
Go Beyond Excel Templates & Spreadsheets with ProjectManager
Project management software can take you way further than Excel templates for project management ever could. ProjectManager , an award-winning project management software, is a comprehensive platform that lets you plan, track and report on your projects online. Because it's an online tool, you get live visibility into your project team and their tasks.
Plan your projects from start to finish with our Gantt chart feature. This feature allows you to map out all of your project tasks in phases, and then assign them to team members. You can even create dependencies and set milestones. Plus, you can import Excel files and Microsoft Project files into the Gantt chart, bringing your static templates to life. In addition, ProjectManager integrates with over 1000 third-party apps such as Google Drive, Slack and Microsoft Office 365 so that you can share your project with everybody on your team.
Team members (and managers) can choose to manage their own tasks in either the task list or kanban view. The kanban view is a favorite for visual workers who have a lot of different projects going on. The customizable columns on a kanban board allow a user to easily see their progress, or sort their tasks by project or department. Of course every view, whether it's the Gantt, List or Board, allows you to collaborate with other team members and get more work done than you ever thought possible. You'll wonder why you ever did project management Excel processes.
Get all the features of these Excel project management templates and more when you use ProjectManager . All of these tools are available in our award-winning project management software to help you plan, track and report on your project in real time. See what it can do for you by taking a free 30-day trial run .
Related Posts
4 Must-Have Project Dashboard Tools
Microsoft Project Viewer - View & Edit MPP Files Online
Sample Project Plan For Your Next Project
Deliver your projects on time and under budget
Start planning your projects.