We use cookies.
CAPTCHA is invalid. Please, try again.
Notification_Error
Starting a taxi business: guide for beginners in 2022
Need a handy guide on what you need to start a taxi business? Here you go! Check all the boxes, from how to write a sound business plan to what features your software needs. Plan now, thank us later.
What do you need to start a taxi business in 2022?
Entrepreneurship is more than just having a brilliant idea. It's also about making this idea work for you (and, needless to say, for your customers) sustainably, year after year. Setting up a taxi business is no different.
What do you need to start a taxi business that will change the future of transportation in your region? Here's the guide on how to start a taxi company in 7 steps. Check all the boxes and make sure you've got it all.
Start with your taxi service business plan
Setting up a taxi business begins with a taxi service business plan—and that's one hard pill to swallow for many aspiring entrepreneurs. We've broken the chunky concept of a business plan down to basic questions to make the planning easier for you.
Who are the customers of your cab business? Why will they use your services? Define the business opportunities of0 your future taxi cab company, the services it will provide, and its target audience.
What's the price segment of your taxi business? What will trips cost for different service types, locations, types of bookings, etc.? Knowing this is essential for planning your taxi business's financial perspectives.
What's the market for your services? Market research and analysis are crucial to understanding your competition and defining your cab business's unique selling proposition.
How will you promote the company? Knowing who your potential customers are will make it easier for you to find out how to reach out to these people efficiently. Answering this question is a great starting point for the future marketing plan of your cab business.
What resources (financial and human) do you need to start a taxi service? Financial planning is paramount: it allows you to evaluate various options for funding a private taxi company.
What are the potential critical risks and challenges? Two years into the pandemic, we know one thing for sure: try to think through even the unthinkable risks—it's the only way to make your taxi service business plan strong.
Your first step in creating a sound taxi service business plan is to give clear answers to all of these questions. A business plan makes pitching to potential investors, accelerators, and business partners easier and more convincing.
Need more assistance with it? Use this template to write a taxi service business plan.
Figure out the business model for your taxi cab company
It's time to think through a well-functioning financial model!
For a cab business, rides are the main source of revenue. Start with calculating the average cost for a ride with your taxi company. In your calculation, include salaries, taxes, rent, and all other fixed and variable costs your taxi business might have. Add initial marketing and promotion expenses, fleet-related investments, and other costs. With this calculation, you can now see how much funds your company will need to launch.
For a taxi business, it's normal to not be able to cover all the costs in the very beginning. To actually start making money, your cab business needs to grow a bit first. However, try and plan when your business can reach a breakeven. Consider factors like seasonality in your calculations.
Think of the software for your cab business
A plain taxi business is great for many places on Earth that need stable mobility services. However, it's smart to think of scaling your cab business from the start. One of the best ways to make your taxi cab company scalable from the outset is to power it with a strong technical infrastructure.
So make an inventory of the must-have features for the software that can boost your taxi business. Some of these are:
Passenger and driver applications for iOS and Android to attract more bookings and make drivers' work easier.
Possibility to preorder your services.
Cashless payments for an impressive turnover on your private taxi company's bank account.
Automated business processes such as driver billing.
Reports and statistics on your taxi business progress.
Features facilitating business partnerships (Web App, referral programs, custom location names).
Operation zones feature for easier management of rates and service types.
This isn't the ultimate list: you decide which features are essential to let your cab business grow. Depending on your business plan, you can choose whether to order custom software development, use a white-label solution , or go for a franchise ride-hailing service.
Get your paperwork done
Now your plans are all ready, time to register your cab business and make it official.
Depending on your local regulations, get your employer papers, required licenses and permits, and all the needed insurance contracts. In some countries, the taxi business is very regulated. Find out what the relevant requirements are to not be stunned with unpleasant surprises later. Do your research as to what papers are required from your employees, too.
This is also the time to check and double-check all the obligations you have towards your business partners, investors, and stakeholders.
Do the fleet and hardware check
Taxi meters, a dispatch system, pieces of equipment such as rooflight—these are just some hardware instances you need to keep in mind to prepare your cab business ready to launch. Some of these hardware pieces can be effectively replaced by good software, such as taxi meters and dispatch installations.
For most new taxi cab companies, fleet is the largest initial investment. Depending on your business planning, you can purchase vehicles based on deferred payment options (paying monthly fees until the total is paid off); look for used vehicles; invest in brand-new electric cars or scooters—the possibilities are endless, really.
Vehicle branding is important for young taxi cab companies, too: it allows your business to stand out and gain initial recognition. Keep in mind: your fleet should convey your brand message. For instance, selling "luxury rides" requires luxury vehicles, while "affordable rides" give you more freedom as to what vehicles to use and how to brand them. This thought brings us forward to the marketing part of the story.
Market your cab business professionally
To young cab businesses, marketing often seems a money-drainer. Nothing is less true. A marketing plan developed well and tailored to the available budget is the only way for a taxi cab company to survive beyond the launch.
Well-planned marketing campaigns help your private taxi company to get first loyal customers—so that later you can scale the user base with referral marketing, offline and online advertising.
You don't need a whole team of in-house marketing specialists at the initial stages of starting your taxi business: for the sake of money-saving, you can outsource expertise . For instance, we at Onde offer branding and marketing assistance to our business partners at any stage of business development.
How to plan marketing activities for a new taxi business? First of all, do some customer development and find out what drives your target audience. Think of where you can reach your potential customers and how to get their attention. Then check out our tips for every budget and pick ones that suit you most.
Dare to learn
As your taxi business develops, your team will learn more and more about the customers, their needs, and the local taxi industry. Gradually, your cab business will become better at responding to customers' needs. You'll discover new opportunities and maybe change the business model.
To do so, make sure there's enough space for your team to learn from what is happening out there in the wild. Listen to the feedback from customers, employees, and business partners. A cab business plan is never cast in stone because growth requires flexibility. Starting a taxi business is more about rethinking the future than looking for a one-size-fits-all solution or trying to become "a local Uber."
Aiming for the stars? Subscribe to get helpful guides and product updates in your inbox!
Related posts, 5 best youtube channels for ride-hailing entrepreneurs.
Feeling a bit smashed by the year we almost leave behind? Well, we see where that's coming from! So we thought, let's bring in some inspirational content. No pressure, but these five business YouTube channels are worth binging if you need real business insights and a pinch of bright ideas.
How to start a taxi business: initial costs
What is the total cost of starting a taxi business like Uber? Great question. The answer differs quite some depending on the market.
Electric vehicle: the future of app-based ride hailing
Is electric taxi even a thing? Yes! Check out our blog post on how plug-in electric vehicles are going to change the ride-hailing business.
Get started with Onde today
We earn commissions if you shop through the links below.  Read more
Back to All Business Ideas
How to Start a Taxi Business
Written by: Carolyn Young
Edited by: David Lepeska
Updated on March 2, 2023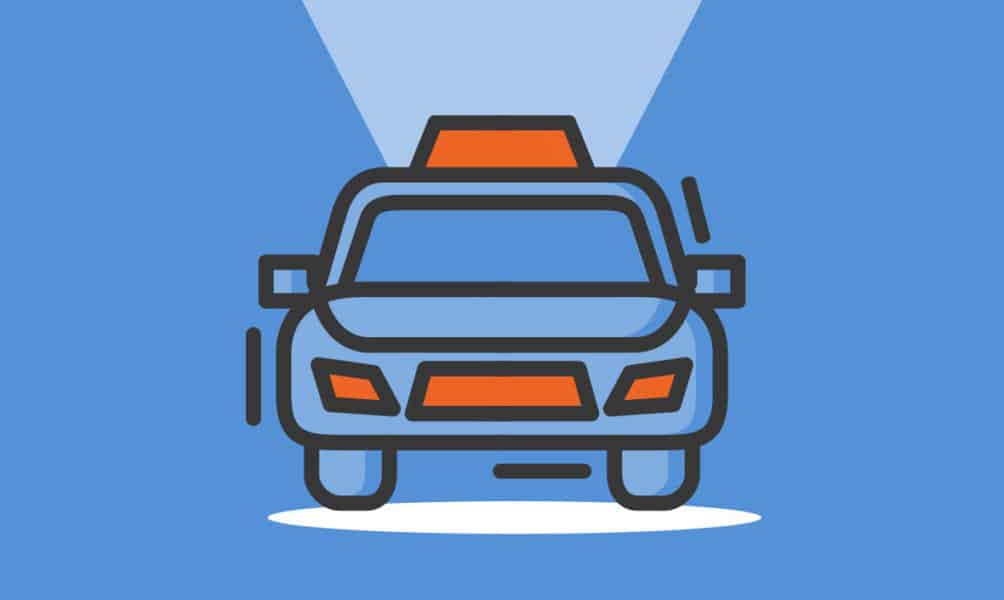 Investment range
$3,250 - $7,400
Revenue potential
$47,000 - $275,000 p.a.
Time to build
0 – 3 months
Profit potential
$38,000 - $55,000 p.a.
Industry trend
Decide if the Business Is Right for You
Hone Your Idea
Brainstorm a Business Name
Create a Business Plan
Register Your Business
Register for Taxes
Fund your Business
Apply for Licenses/Permits
Open a Business Bank Account
Get Business Insurance
Prepare to Launch
Build Your Team
Start Making Money!
Think taxis are a thing of the past? Think again! Rideshare services like Uber and Lyft have grabbed a large share of the market, but they have not made taxis obsolete. The US taxi industry is still worth $66 billion, so there's money to be made. You can start your own taxi business as a solopreneur, and eventually grow into a full-fledged company with a fleet of cars and drivers. All you need is one car and a taxi license to get started.
First, though, you'll need to understand the ins and outs of starting and running a business. Luckily, this step-by-step guide will provide all the information and insights necessary to get you on the road to taxi cab entrepreneurship.

Looking to form an LLC? Check out the Best LLC Formation Services .
Step 1: Decide if the Business Is Right for You
Pros and cons.
Starting a taxi business has pros and cons to consider before deciding if it's right for you.
Low Startup Costs – One car and you're off to the races
Flexibility – Pick your own hours, run the business from home
Large Market – Demand for taxis is still high, particularly in large cities
Tough Market – Compete with apps like Uber and Lyft
Long Hours – To make money, you need to be a workhorse
Taxi industry trends
Industry size and growth.
Industry size and past growth – The US taxi and limousine market is worth $66.6 billion in 2022 and has grown nearly 3% annually for the last five years.(( https://www.ibisworld.com/industry-statistics/market-size/taxi-limousine-services-united-states/ ))
Growth forecast – The global taxi industry is expected to grow an impressive 66% by 2026.(( https://www.mordorintelligence.com/industry-reports/taxi-market ))
Number of businesses – In 2022, 2,568,140 taxi and limousine businesses were operating in the US.(( https://www.ibisworld.com/industry-statistics/number-of-businesses/taxi-limousine-services-united-states/ ))
Number of people employed – In 2022, the US taxi and limousine industry employed 2,379,410 people.(( https://www.ibisworld.com/industry-statistics/employment/taxi-limousine-services-united-states/ ))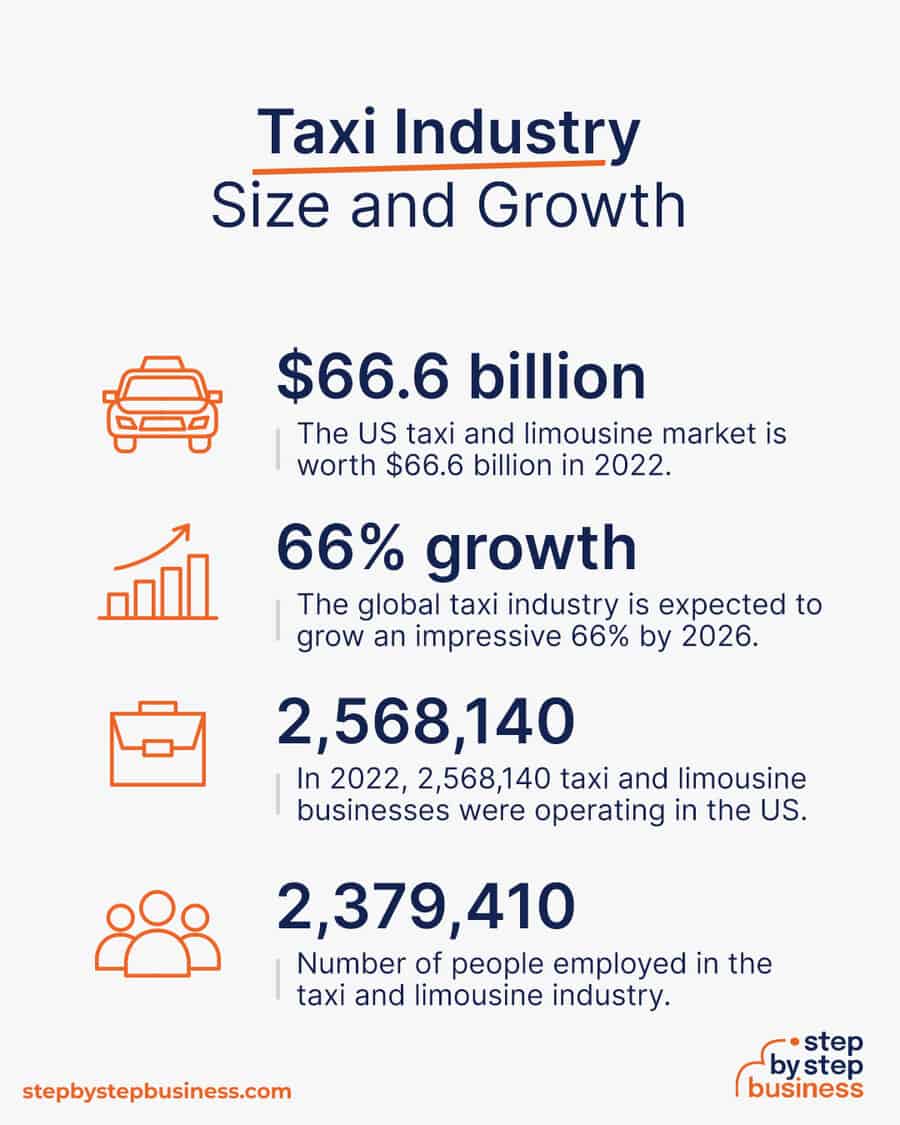 Trends and challenges
Trends in the taxi industry include:
Customers are seeking apps to book taxis, so taxi services need to embrace this trend to be successful.
Eco-friendly hybrid or all-electric taxis are also in demand. This presents a huge opportunity for an eco-friendly taxi business to differentiate itself.
Challenges in the taxi industry include:
A continuous challenge in the taxi business is finding and keeping good drivers who provide excellent customer service.
Rising fuel prices are cutting into the profit margins of taxi businesses.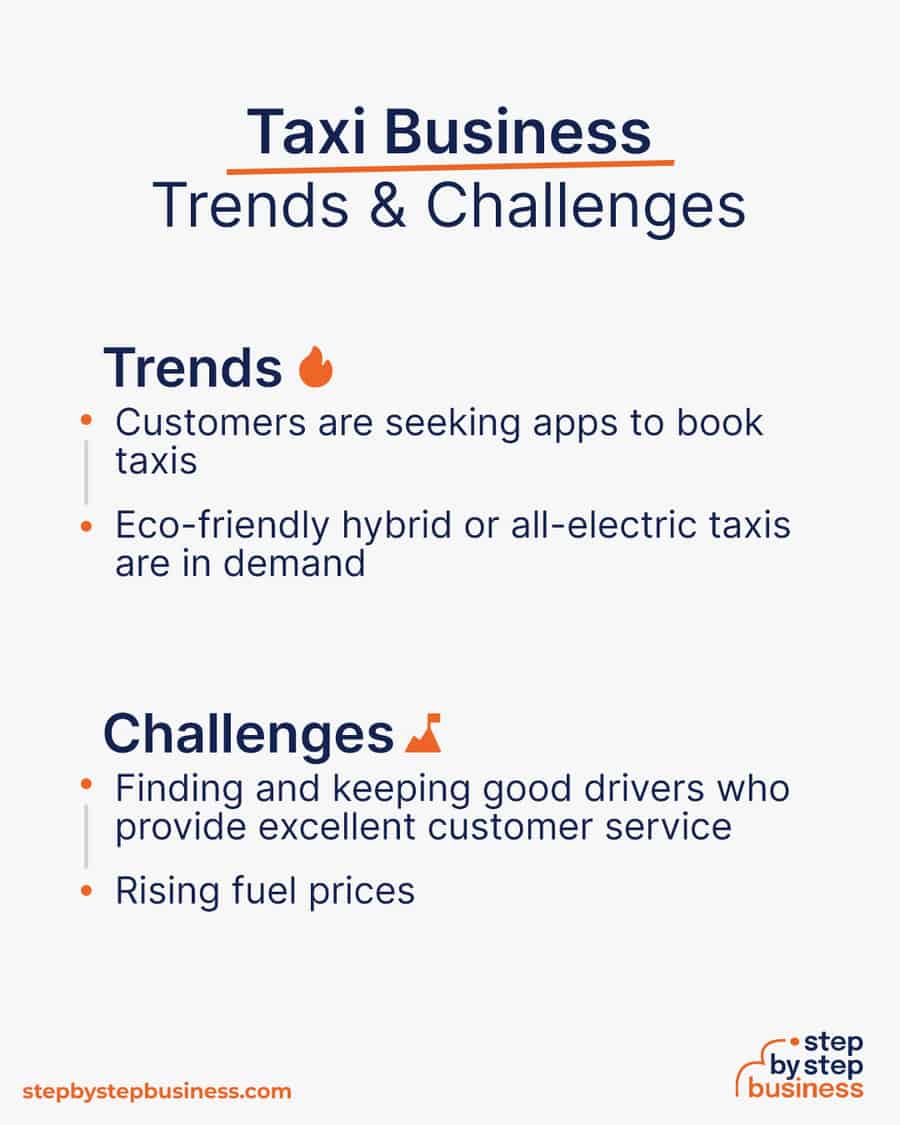 Demand hotspots
Most popular states – The most popular states for taxi drivers are Rhode Island, Connecticut, and New Hampshire.(( https://www.zippia.com/cab-driver-jobs/best-states/#rhode-island ))
Least popular states – The least popular states for taxi drivers are Colorado, Utah, and Montana.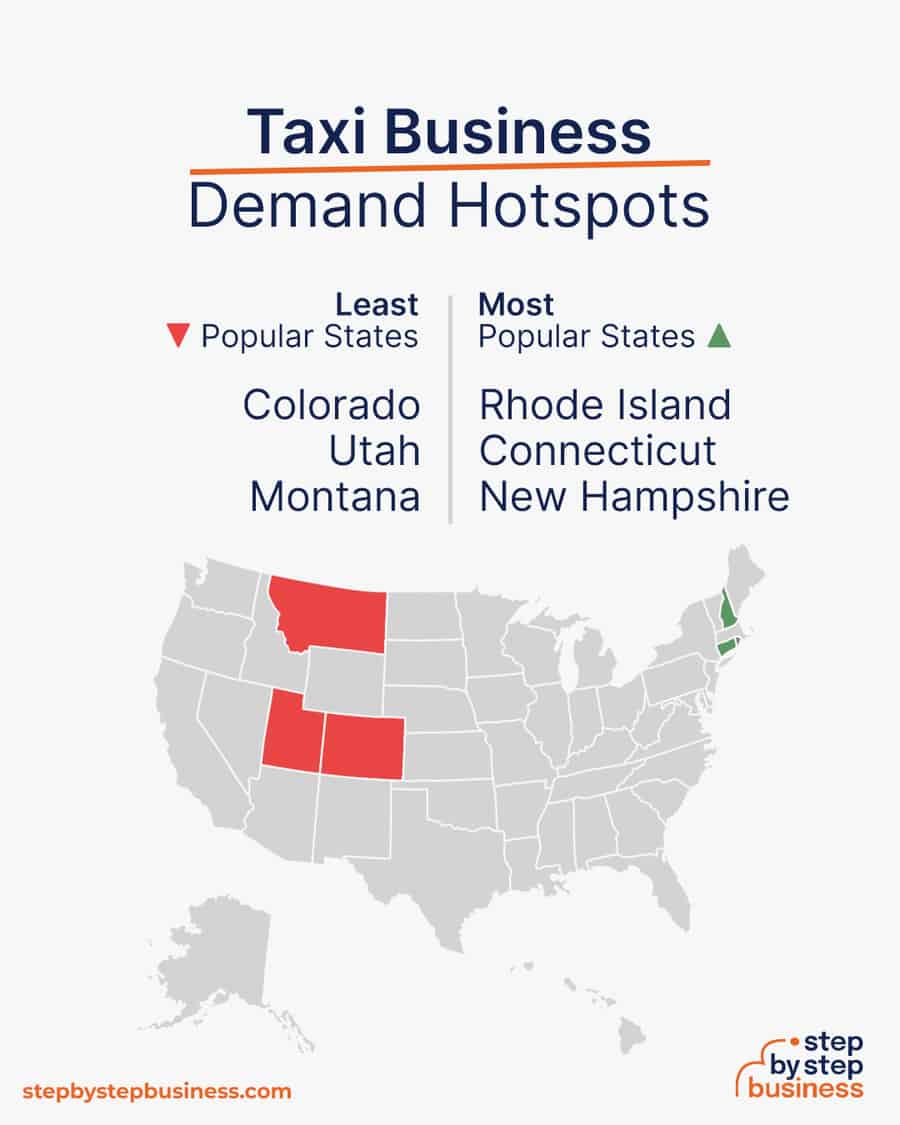 What kind of people work in taxi businesses?
Gender – 23.5% of taxi drivers are female, while 73.3% are male.(( https://www.zippia.com/taxi-cab-driver-jobs/demographics/ ))
Average level of education – The average taxi driver is high school educated.
Average age – The average taxi driver in the US is 48 years old.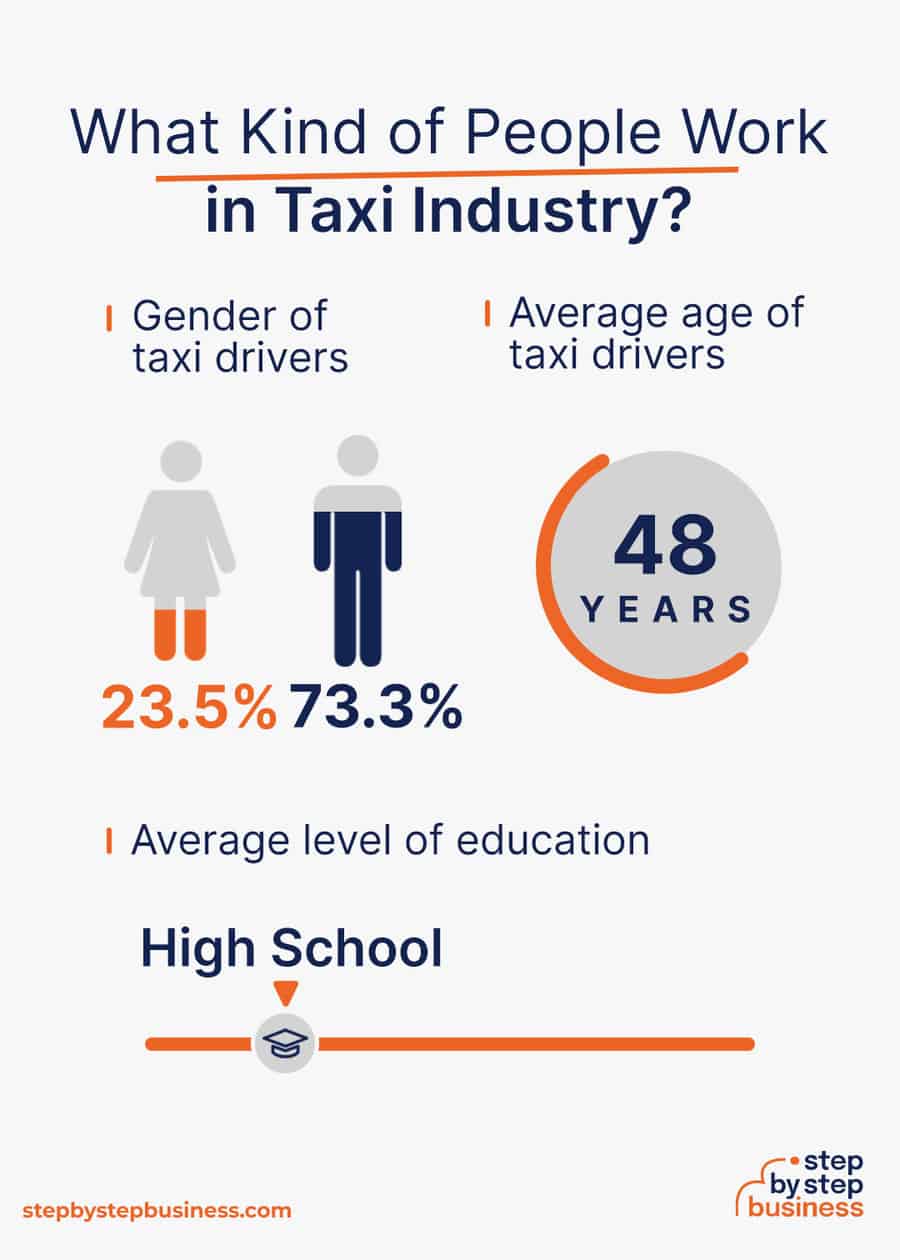 How much does it cost to start a taxi business?
Startup costs for a taxi business range from $3,200 to $7,400. Costs include a down payment on a vehicle and signage for the vehicle. You'll also need to get a car for hire license from your city. In some cities, this can be a significant cost. For example, in New York City a taxi medallion costs about $80,000, while in Columbus, Ohio it only costs a few hundred dollars.
How much can you earn from a taxi business?
Taxi fare rates vary by city but usually include a flat base charge, a charge per mile, and an hourly wait time rate. These calculations will assume that your average fare will be about $15. Your profit margin after fuel and insurance costs should be about 80%.
In your first year or two, you could work as a solopreneur and do 10 trips per day 6 days per week, bringing in $47,000 in annual revenue. This would mean nearly $38,000 in profit, assuming that 80% margin. As your brand gains recognition, you could have five taxis and hire drivers, and sales could climb to 50 trips per day 7 days per week. At this stage, you'd rent a commercial space and hire staff, reducing your profit margin to 20%. With annual revenue of almost $275,000, you'd make a tidy profit of more than $55,000.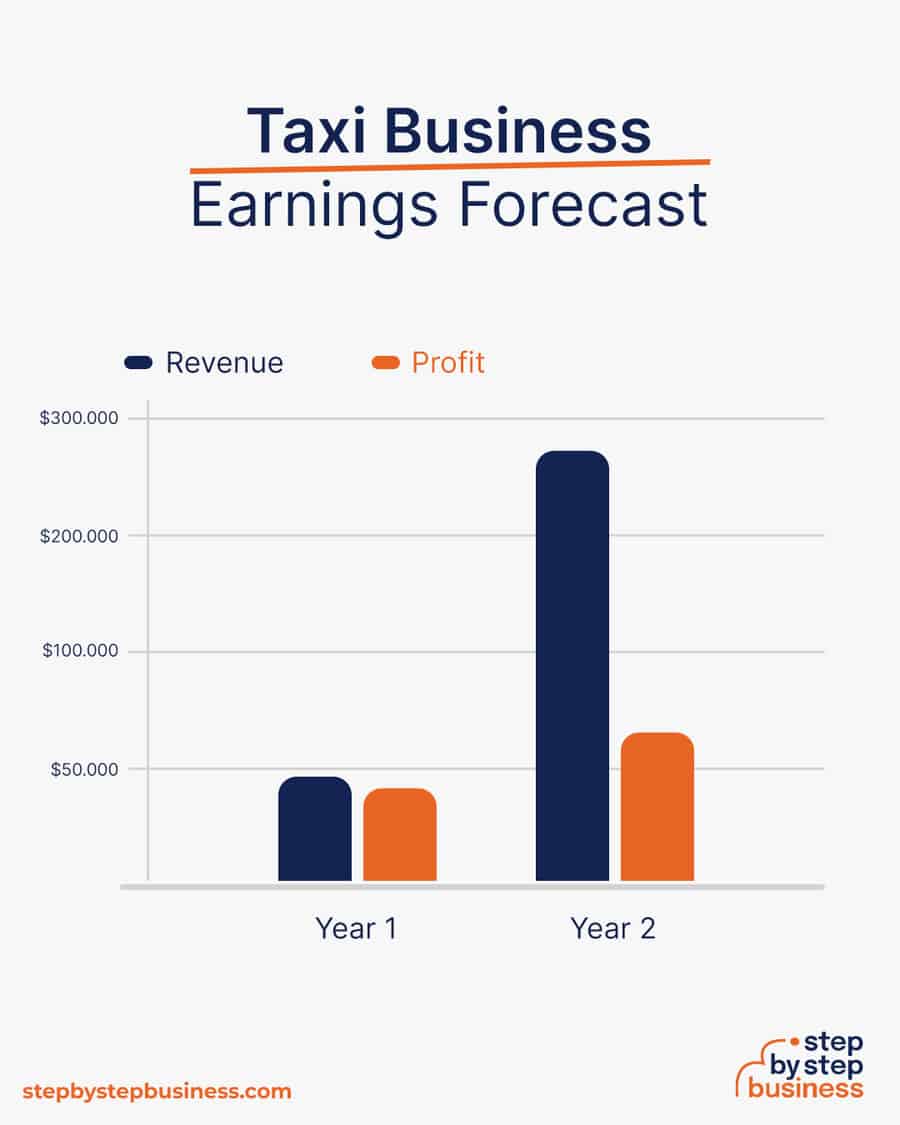 What barriers to entry are there?
There are a few barriers to entry for a taxi business. Your biggest challenges will be:
A clean driving record is required, and you may have to pass an exam
Competition from other taxis plus apps like Uber and Lyft
Related Business Ideas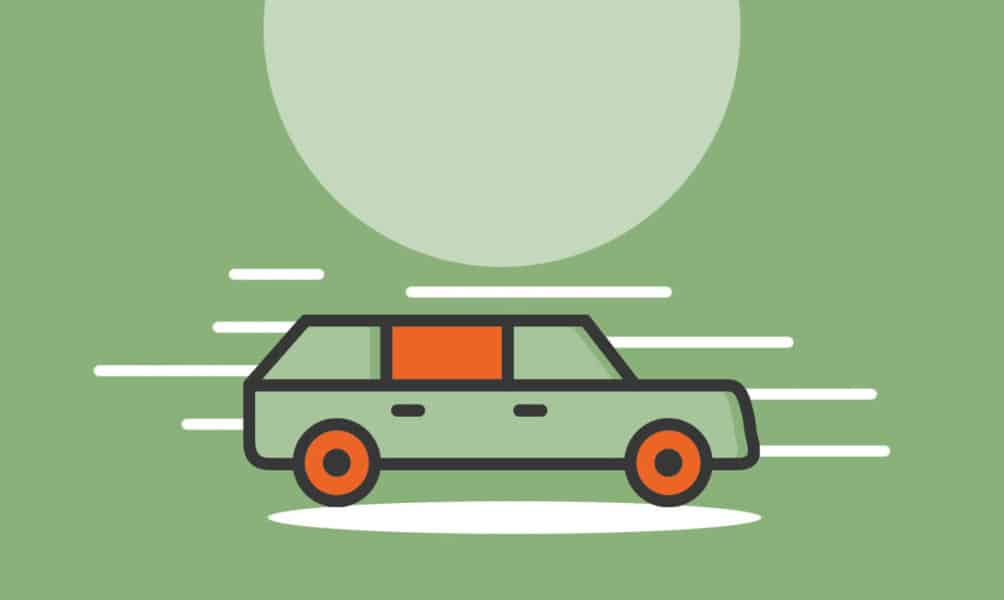 How to Start a Limo Business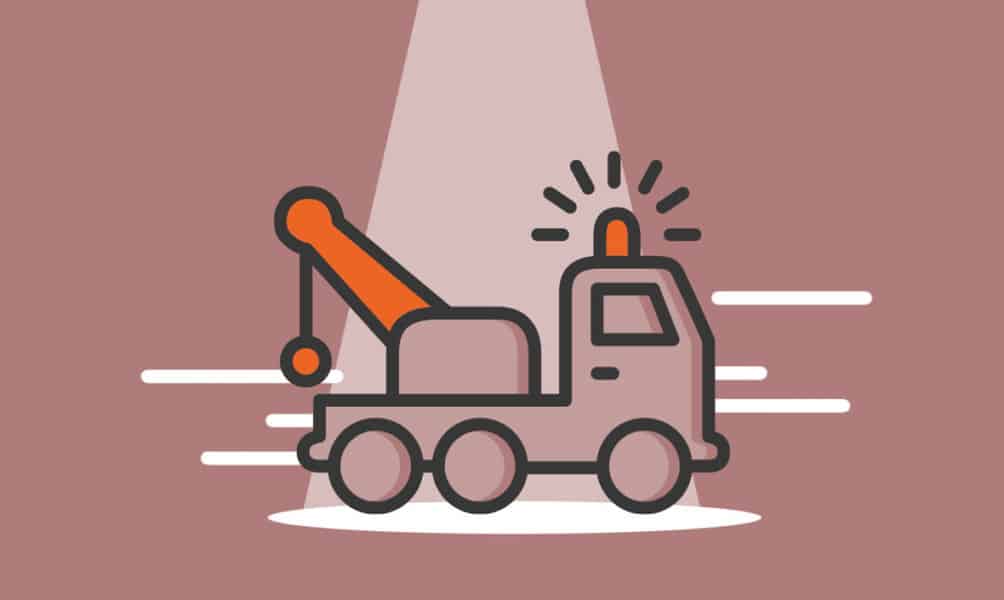 How to Start a Roadside Assistance Business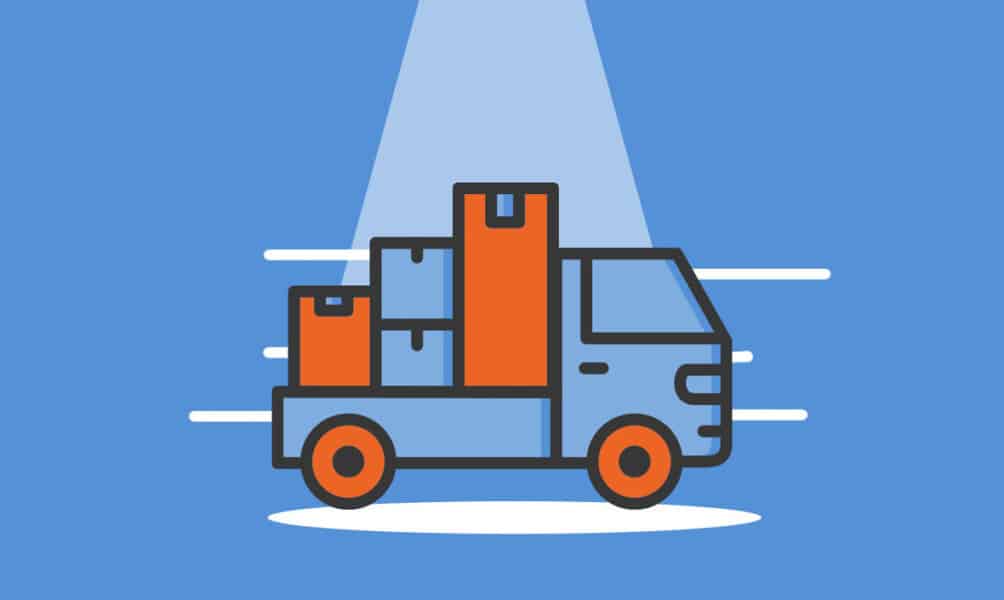 How to Start a Moving Company
Step 2: hone your idea.
Now that you know what's involved in starting a taxi business, it's a good idea to hone your concept in preparation to enter a competitive market.
Why? Identify an opportunity
Research taxi businesses in your area to examine their services, price points, and customer reviews. You're looking for a market gap to fill. For instance, maybe the local market is missing a limousine taxi service, or an electric taxi service.

You might consider targeting a niche market by specializing in a certain aspect of your industry, such as bike taxis in urban areas.
This could jumpstart your word-of-mouth marketing and attract clients right away.
What? Determine your products or services
You'll need to determine what kind of taxi service you want to have. You could have a limousine taxi service, a black car taxi, a minibus taxi service, an eco-friendly taxi cab, a bike taxi, or even a water taxi. You also need to decide if you want to have a taxi booking app.
How much should you charge for taxi fares?
Your fare rates will be dictated by the rates in your city. When you're working by yourself, your costs will be limited to fuel and insurance. You should aim for a profit margin of 80%.
Once you know your costs, you can use this Step By Step profit margin calculator to determine your mark-up and final price points. Remember, the prices you use at launch should be subject to change if warranted by the market.
Who? Identify your target market
Your target market will be very broad. You should market on sites like TikTok, Instagram, Facebook, and LinkedIn. It's probably also best to be close to airports and urban areas where taxis are often in demand.
Where? Choose your business premises
In the early stages, you may want to run your business from home to keep costs low. But as your business grows, you'll likely need to hire workers for various roles and may need to rent out an office. Find commercial space to rent in your area on sites such as Craigslist , Crexi , and Instant Offices .
When choosing a commercial space, you may want to follow these rules of thumb:
Central location accessible via public transport
Ventilated and spacious, with good natural light
Flexible lease that can be extended as your business grows
Ready-to-use space with no major renovations or repairs needed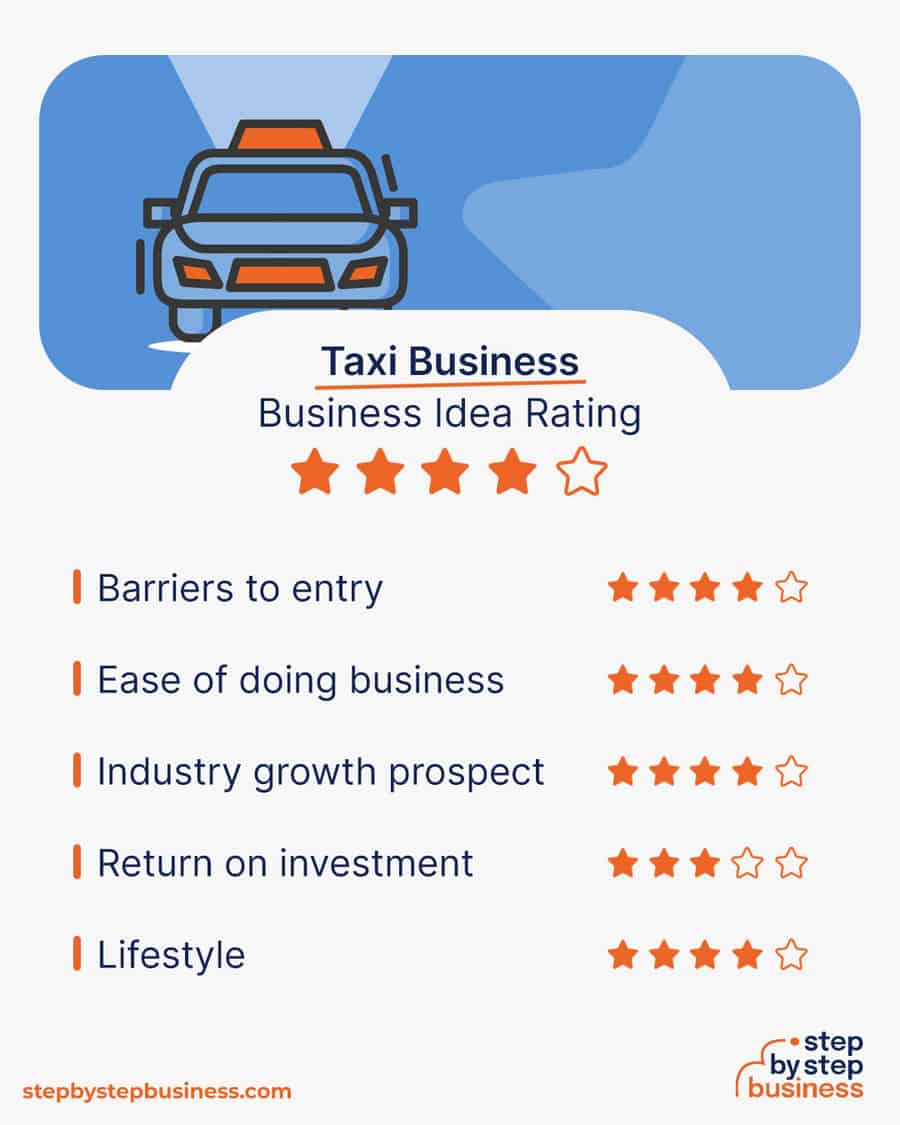 Step 3: Brainstorm a Business Name
Your business name is your business identity, so choose one that encapsulates your objectives, services, and mission in just a few words. You probably want a name that's short and easy to remember, since much of your business, and your initial business in particular, will come from word-of-mouth referrals.
Here are some ideas for brainstorming your business name:
Short, unique, and catchy names tend to stand out
Names that are easy to say and spell tend to do better
Name should be relevant to your product or service offerings
Ask around — family, friends, colleagues, social media — for suggestions
Including keywords, such as "taxi" or "taxi service", boosts SEO
Name should allow for expansion, for ex: "Jim's Bakery" over "Jim's Cookies"
Avoid location-based names that might hinder future expansion
Use online tools like the Step by Step Business Name Generator . Just type in a few keywords and hit "generate" and you'll have dozens of suggestions at your fingertips.
Once you've got a list of potential names, visit the website of the US Patent and Trademark Office to make sure they are available for registration and check the availability of related domain names using our Domain Name Search tool. Using ".com" or ".org" sharply increases credibility, so it's best to focus on these.
Find a Domain
Powered by GoDaddy.com
Finally, make your choice among the names that pass this screening and go ahead with domain registration and social media account creation. Your business name is one of the key differentiators that sets your business apart. Once you pick your company name, and start with the branding, it is hard to change the business name. Therefore, it's important to carefully consider your choice before you start a business entity.
Step 4: Create a Business Plan
Every business needs a plan. This will function as a guidebook to take your startup through the launch process and maintain focus on your key goals. A business plan also enables potential partners and investors to better understand your company and its vision:
Executive Summary : Brief overview of the entire business plan; should be written after the plan is complete.
Business Overview : Overview of the company, vision, mission, ownership, and corporate goals.
Product and Services : Describe your offerings in detail.
Market Analysis : Assess market trends such as variations in demand and prospects for growth, and do a SWOT analysis .
Competitive Analysis : Analyze main competitors, assessing their strengths and weaknesses, and create a list of the advantages of your services.
Sales and Marketing : Examine your companies' unique selling propositions (USPs) and develop sales, marketing, and promotional strategies.
Management Team : Overview of management team, detailing their roles and professional background, along with a corporate hierarchy.
Operations Plan : Your company's operational plan includes procurement, office location, key assets and equipment, and other logistical details.
Financial Plan : Three years of financial planning, including startup costs, break-even analysis, profit and loss estimates, cash flow, and balance sheet.
Appendix : Include any additional financial or business-related documents.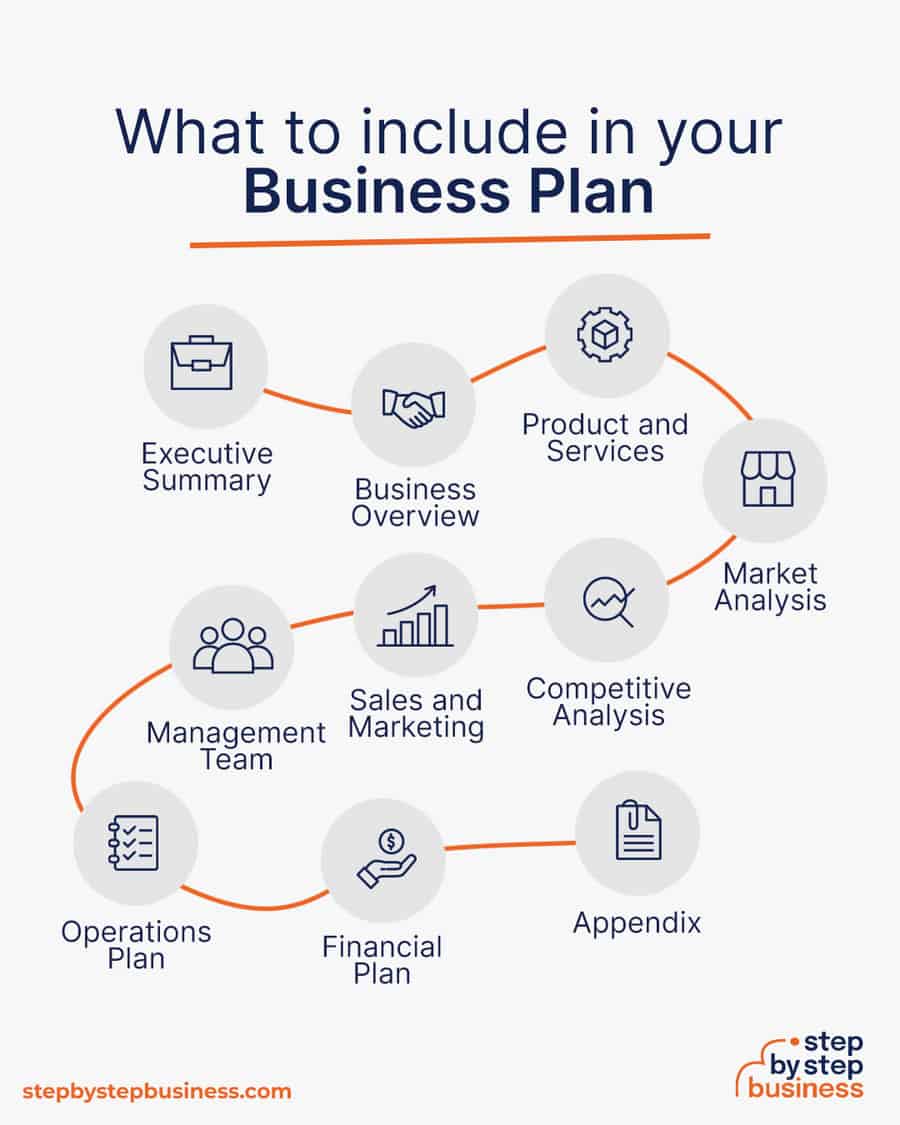 If you've never created a business plan, it can be an intimidating task. You might consider hiring a business plan specialist to create a top-notch business plan for you.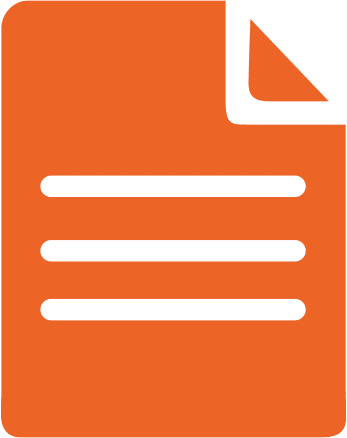 Step 5: Register Your Business
Registering your business is an absolutely crucial step — it's the prerequisite to paying taxes, raising capital, opening a bank account, and other guideposts on the road to getting a business up and running.
Plus, registration is exciting because it makes the entire process official. Once it's complete, you'll have your own business!
Choose where to register your company
Your business location is important because it can affect taxes, legal requirements, and revenue. Most people will register their business in the state where they live, but if you're planning to expand, you might consider looking elsewhere, as some states could offer real advantages when it comes to taxi businesses.
If you're willing to move, you could really maximize your business! Keep in mind, it's relatively easy to transfer your business to another state.
Choose your business structure
Business entities come in several varieties, each with its pros and cons. The legal structure you choose for your taxi business will shape your taxes, personal liability, and business registration requirements, so choose wisely.
Here are the main options:
Sole Proprietorship – The most common structure for small businesses makes no legal distinction between company and owner. All income goes to the owner, who's also liable for any debts, losses, or liabilities incurred by the business. The owner pays taxes on business income on his or her personal tax return.
General Partnership – Similar to a sole proprietorship, but for two or more people. Again, owners keep the profits and are liable for losses. The partners pay taxes on their share of business income on their personal tax returns.
Limited Liability Company (LLC) – Combines the characteristics of corporations with those of sole proprietorships or partnerships. Again, the owners are not personally liable for debts.
C Corp – Under this structure, the business is a distinct legal entity and the owner or owners are not personally liable for its debts. Owners take profits through shareholder dividends, rather than directly. The corporation pays taxes, and owners pay taxes on their dividends, which is sometimes referred to as double taxation.
S Corp – An S-Corporation refers to the tax classification of the business but is not a business entity. An S-Corp can be either a corporation or an LLC , which just need to elect to be an S-Corp for tax status. In an S-Corp, income is passed through directly to shareholders, who pay taxes on their share of business income on their personal tax returns.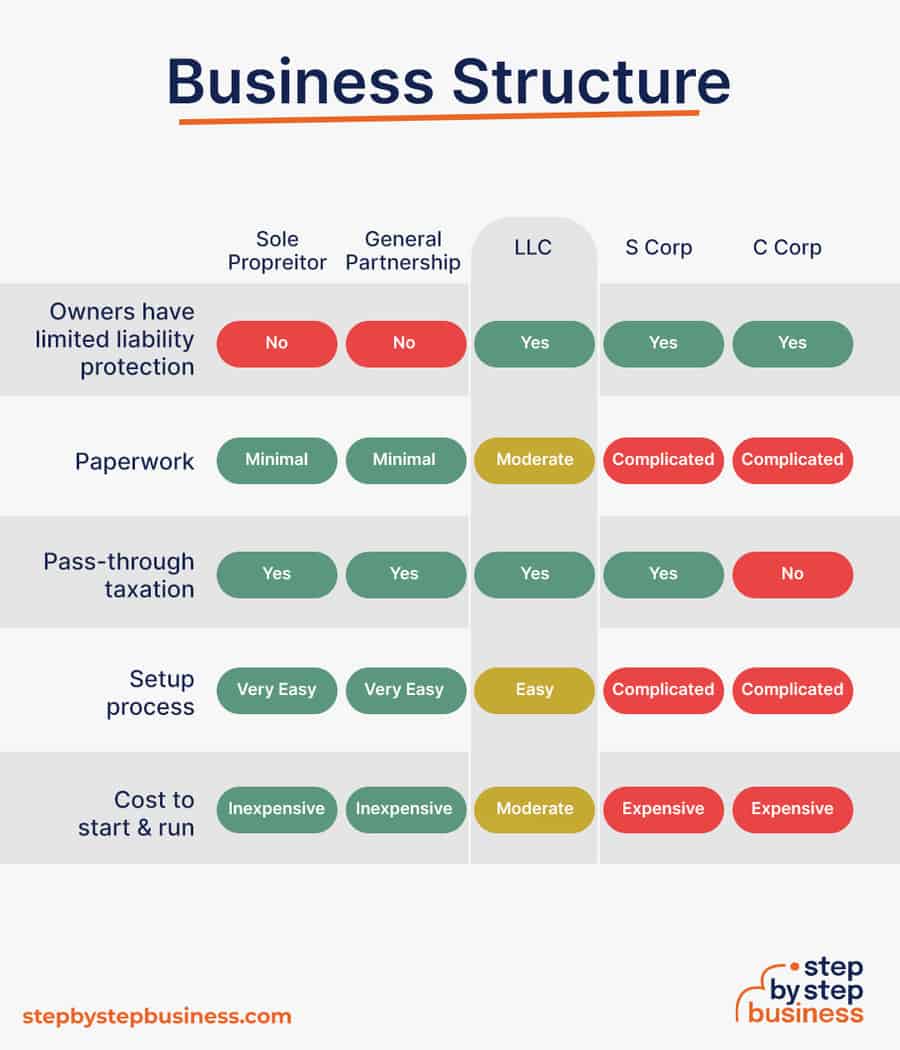 We recommend that new business owners choose LLC as it offers liability protection and pass-through taxation while being simpler to form than a corporation. You can form an LLC in as little as five minutes using Northwest Registered Agent's online LLC formation service . They will check that your business name is available before filing, submit your articles of organization , and answer any questions you might have.
Form Your LLC
Choose Your State
We recommend ZenBusiness as the Best LLC Service for 2023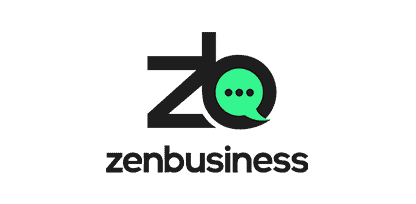 Step 6: Register for Taxes
The final step before you're able to pay taxes is getting an Employer Identification Number , or EIN. You can file for your EIN online or by mail or fax: visit the IRS website to learn more. Keep in mind, if you've chosen to be a sole proprietorship you can simply use your social security number as your EIN.
Once you have your EIN, you'll need to choose your tax year. Financially speaking, your business will operate in a calendar year (January–December) or a fiscal year, a 12-month period that can start in any month. This will determine your tax cycle, while your business structure will determine which taxes you'll pay.

The IRS website also offers a tax-payers checklist , and taxes can be filed online.
It is important to consult an accountant or other professional to help you with your taxes to ensure you're completing them correctly.
Step 7: Fund your Business
Securing financing is your next step and there are plenty of ways to raise capital:
Bank loans : This is the most common method but getting approved requires a rock-solid business plan and strong credit history.
SBA-guaranteed loans : The Small Business Administration can act as guarantor, helping gain that elusive bank approval via an SBA-guaranteed loan .
Government grants : A handful of financial assistance programs help fund entrepreneurs. Visit Grants.gov to learn which might work for you.
Friends and Family : Reach out to friends and family to provide a business loan or investment in your concept. It's a good idea to have legal advice when doing so because SEC regulations apply.
Crowdfunding : Websites like Kickstarter and Indiegogo offer an increasingly popular low-risk option, in which donors fund your vision. Entrepreneurial crowdfunding sites like Fundable and WeFunder enable multiple investors to fund your business.
Personal : Self-fund your business via your savings or the sale of property or other assets.
Bank and SBA loans are probably the best option, other than friends and family, for funding a taxi business. You might also try crowdfunding if you have an innovative concept.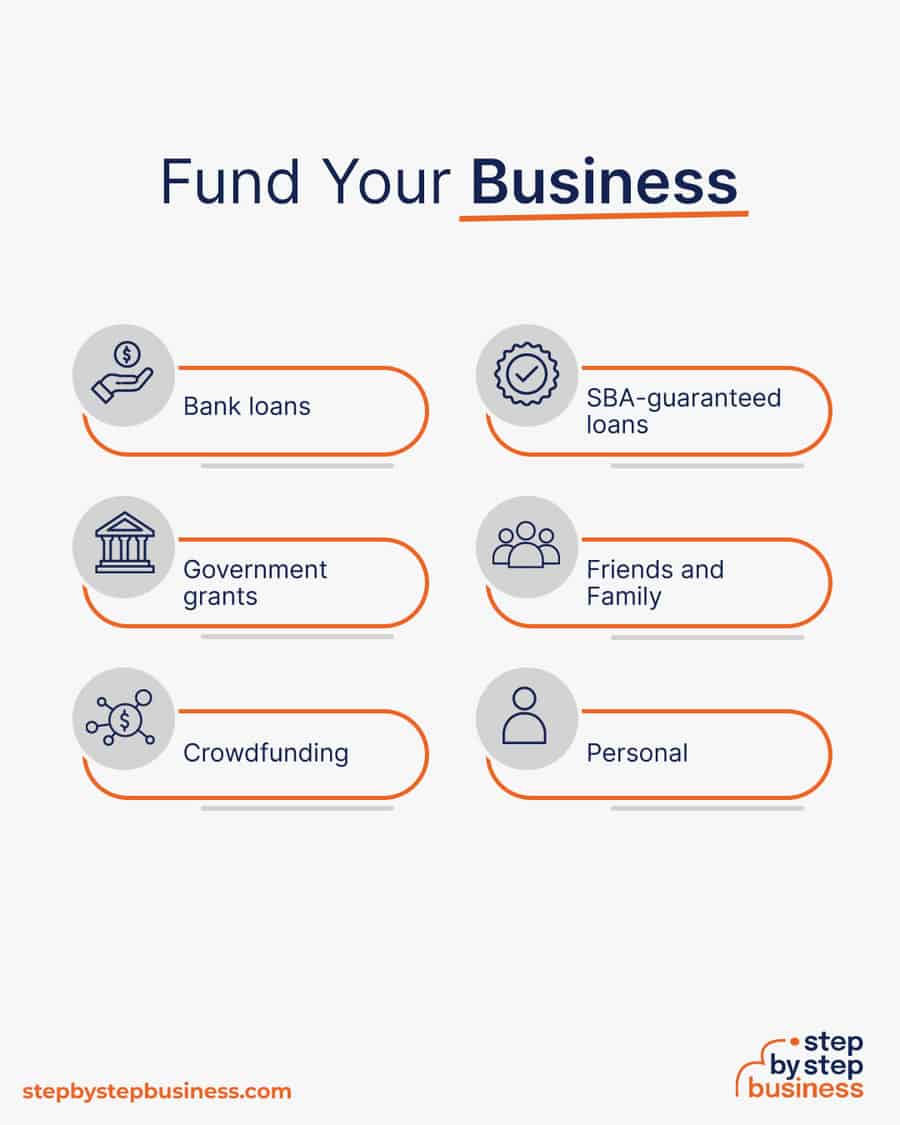 Step 8: Apply for Licenses/Permits
Starting a taxi business requires obtaining a number of licenses and permits from local, state, and federal governments. You'll need to get a car for hire license or taxi medallion from your city.
Federal regulations, licenses, and permits associated with starting your business include doing business as (DBA), health licenses and permits from the Occupational Safety and Health Administration ( OSHA ), trademarks, copyrights, patents, and other intellectual properties, as well as industry-specific licenses and permits.
You may also need state-level and local county or city-based licenses and permits. The license requirements and how to obtain them vary, so check the websites of your state, city, and county governments or contact the appropriate person to learn more.
You could also check this SBA guide for your state's requirements, but we recommend using MyCorporation's Business License Compliance Package . They will research the exact forms you need for your business and state and provide them to ensure you're fully compliant.
This is not a step to be taken lightly, as failing to comply with legal requirements can result in hefty penalties.
If you feel overwhelmed by this step or don't know how to begin, it might be a good idea to hire a professional to help you check all the legal boxes.
Step 9: Open a Business Bank Account
Before you start making money, you'll need a place to keep it, and that requires opening a bank account .
Keeping your business finances separate from your personal account makes it easy to file taxes and track your company's income, so it's worth doing even if you're running your taxi business as a sole proprietorship. Opening a business bank account is quite simple, and similar to opening a personal one. Most major banks offer accounts tailored for businesses — just inquire at your preferred bank to learn about their rates and features.
Banks vary in terms of offerings, so it's a good idea to examine your options and select the best plan for you. Once you choose your bank, bring in your EIN (or Social Security Number if you decide on a sole proprietorship), articles of incorporation, and other legal documents and open your new account.
Step 10: Get Business Insurance
Business insurance is an area that often gets overlooked yet it can be vital to your success as an entrepreneur. Insurance protects you from unexpected events that can have a devastating impact on your business.
Here are some types of insurance to consider:
General liability : The most comprehensive type of insurance, acting as a catch-all for many business elements that require coverage. If you get just one kind of insurance, this is it. It even protects against bodily injury and property damage.
Business Property : Provides coverage for your equipment and supplies.
Equipment Breakdown Insurance : Covers the cost of replacing or repairing equipment that has broken due to mechanical issues.
Worker's compensation : Provides compensation to employees injured on the job.
Property : Covers your physical space, whether it is a cart, storefront, or office.
Commercial auto : Protection for your company-owned vehicle.
Professional liability : Protects against claims from a client who says they suffered a loss due to an error or omission in your work.
Business owner's policy (BOP) : This is an insurance plan that acts as an all-in-one insurance policy, a combination of the above insurance types.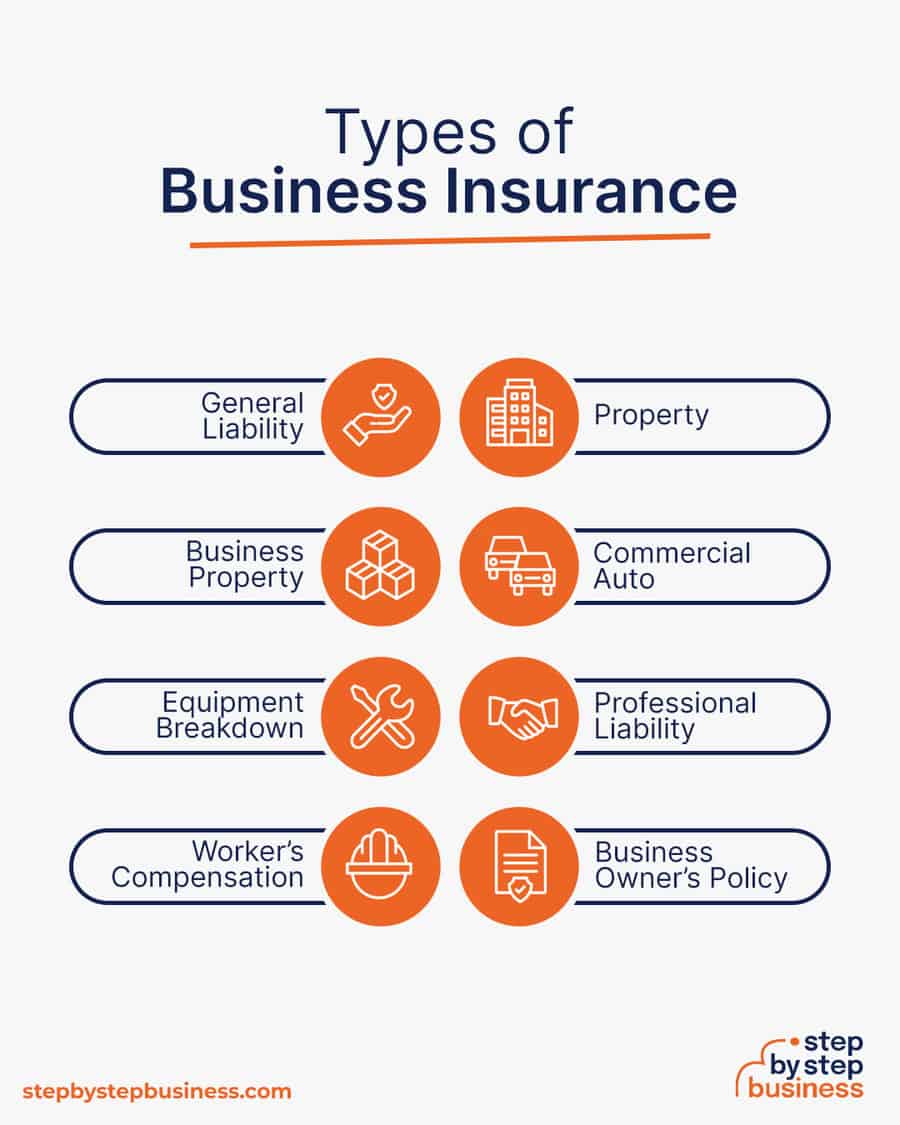 Step 11: Prepare to Launch
As opening day nears, prepare for launch by reviewing and improving some key elements of your business.
Essential software and tools
Being an entrepreneur often means wearing many hats, from marketing to sales to accounting, which can be overwhelming. Fortunately, many websites and digital tools are available to help simplify many business tasks.
You may want to use industry-specific software, such as Cab Treasure , EverTransit , or TaxiMobility , to manage your bookings, dispatching, fares, and payments.
Popular web-based accounting programs for smaller businesses include Quickbooks , Freshbooks , and Xero .
If you're unfamiliar with basic accounting, you may want to hire a professional, especially as you begin. The consequences for filing incorrect tax documents can be harsh, so accuracy is crucial.
Some of your business will come from the casual hailer or online visitors, but you should still invest in digital marketing! Getting the word out is especially important for new businesses, as it'll boost customer and brand awareness.
Once your website is up and running, link it to your social media accounts and vice versa. Social media is a great tool for promoting your business because you can create engaging posts that advertise your products:
Facebook : Great platform for paid advertising, allows you to target specific demographics, like men under age 50 in the Cleveland area.
Instagram : Same benefits as Facebook but with different target audiences.
Website : SEO will help your website appear closer to the top in relevant search results, a crucial element for increasing sales. Make sure that you optimize calls to action on your website. Experiment with text, color, size, and position of calls to action such as "Book Now". This can sharply increase purchases.
Google and Yelp : For businesses that rely on local clientele, getting listed on Yelp and Google My Business can be crucial to generating awareness and customers.
Kickstart Marketing
Take advantage of your website, social media presence and real-life activities to increase awareness of your offerings and build your brand. Some suggestions include:
Signage – Put up eye-catching signage on your taxi and website.
Paid ads on social media – Choose sites that will reach your target market and do targeted ads.
Pay–per-click marketing – Use Google AdWords to perform better in searches. Research your keywords first.
Influencer marketing – Pay people with large social media followings to promote your taxi service. You can find micro-influencers with smaller followings and lower rates.
Testimonials – Share customer testimonials about how your taxi services helped them.
Develop your website
Website development is crucial because your site is your online presence and needs to convince prospective clients of your expertise and professionalism. They are unlikely to find your website, however, unless you follow Search Engine Optimization ( SEO ) practices. These are steps that help pages rank higher in the results of top search engines like Google.
You can create your own website using services like Word P ress , Wix , or Squarespace . This route is very affordable, but figuring out how to build a website can be time-consuming. If you lack tech-savvy, you can hire a web designer or developer to create a custom website for your business.
Focus on USPs
Unique selling propositions, or USPs, are the characteristics of a product or service that sets it apart from the competition. Customers today are inundated with buying options, so you'll have a real advantage if they are able to quickly grasp how your taxi business meets their needs or wishes. It's wise to do all you can to ensure your USPs stand out on your website and in your marketing and promotional materials, stimulating buyer desire.
Global pizza chain Domino's is renowned for its USP: "Hot pizza in 30 minutes or less, guaranteed." Signature USPs for your taxi business could be:
Eco-friendly taxi service – all-electric cars
Bike taxis so you can see the sights of the city
24-hour limousines to travel in style anytime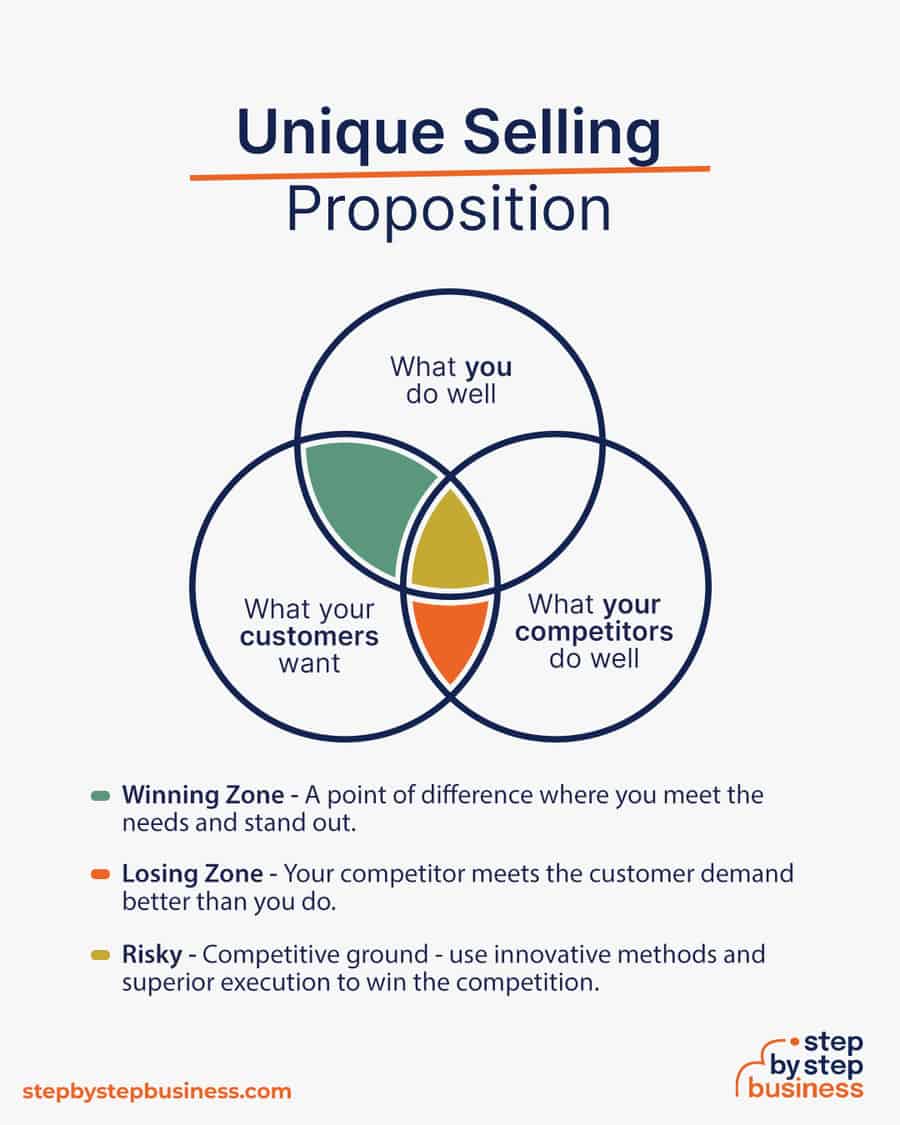 You may not like to network or use personal connections for business gain. But your personal and professional networks likely offer considerable untapped business potential. Maybe that Facebook friend you met in college is now running a taxi business, or a LinkedIn contact of yours is connected to dozens of potential clients. Maybe your cousin or neighbor has been working in taxis for years and can offer invaluable insight and industry connections.
The possibilities are endless, so it's a good idea to review your personal and professional networks and reach out to those with possible links to or interest in taxis. You'll probably generate new customers or find companies with which you could establish a partnership.
Step 12: Build Your Team
If you're starting out small from a home office, you may not need any employees. But as your business grows, you will likely need workers to fill various roles. Potential positions for a taxi business include:
Taxi drivers – take fares, customer service
Dispatcher – take bookings, dispatch drivers
General Manager – staff management, accounting
Marketing Lead – SEO strategies, social media
At some point, you may need to hire all of these positions or simply a few, depending on the size and needs of your business. You might also hire multiple workers for a single role or a single worker for multiple roles, again depending on need.
Free-of-charge methods to recruit employees include posting ads on popular platforms such as LinkedIn, Facebook, or Jobs.com. You might also consider a premium recruitment option, such as advertising on Indeed , Glassdoor , or ZipRecruiter . Further, if you have the resources, you could consider hiring a recruitment agency to help you find talent.
Step 13: Start Making Money!
A taxi business is probably one of the easiest kinds of businesses to start. You just need a vehicle, some signage, and a taxi license. You can make good money, even just working by yourself with one car, but you can also grow your company until you have a fleet of taxis.
Taxis are an industry worth over $60 billion, so why not grab a share of that fare? You understand the business side of things now, so go ahead and get on the road to entrepreneurial success!
Taxi Business FAQs
Yes! Believe it or not, the taxi industry is still worth over $60 billion in spite of competition from ride-sharing apps. If you market yourself well and provide great customer service, you can definitely make money with a taxi business.
Fares are typically set by the city or municipality where you're located. Rates include a flat base rate, a rate per mile, and an hourly rate for wait time. Check with your city for your local rates.
Featured Resources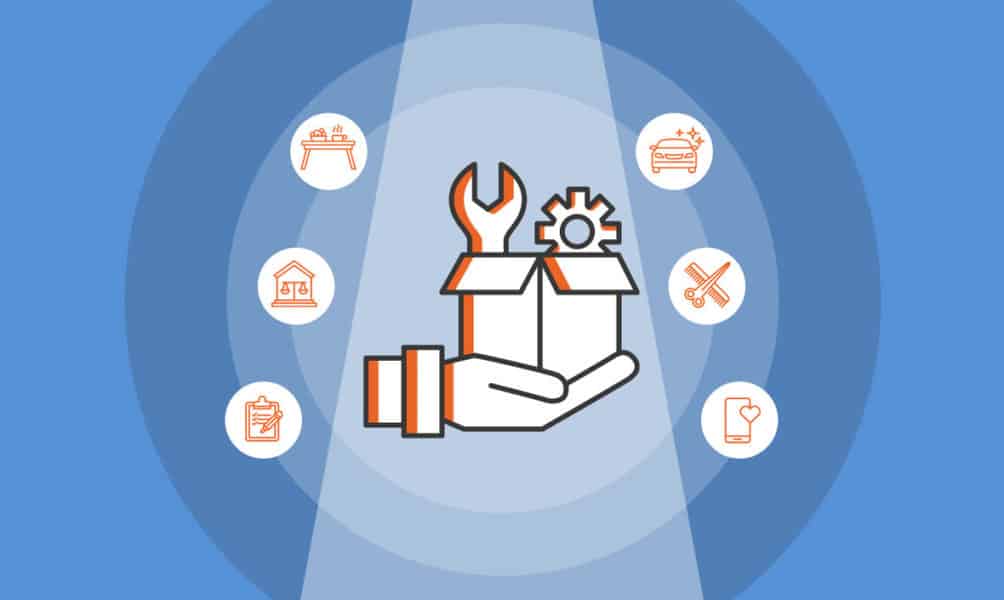 57 Best Service Business Ideas
David Lepeska
Published on December 1, 2022
The services sector is undoubtedly the biggest economic sector in the US as it accounts for nearly 70% of the country's gross domestic product. It ...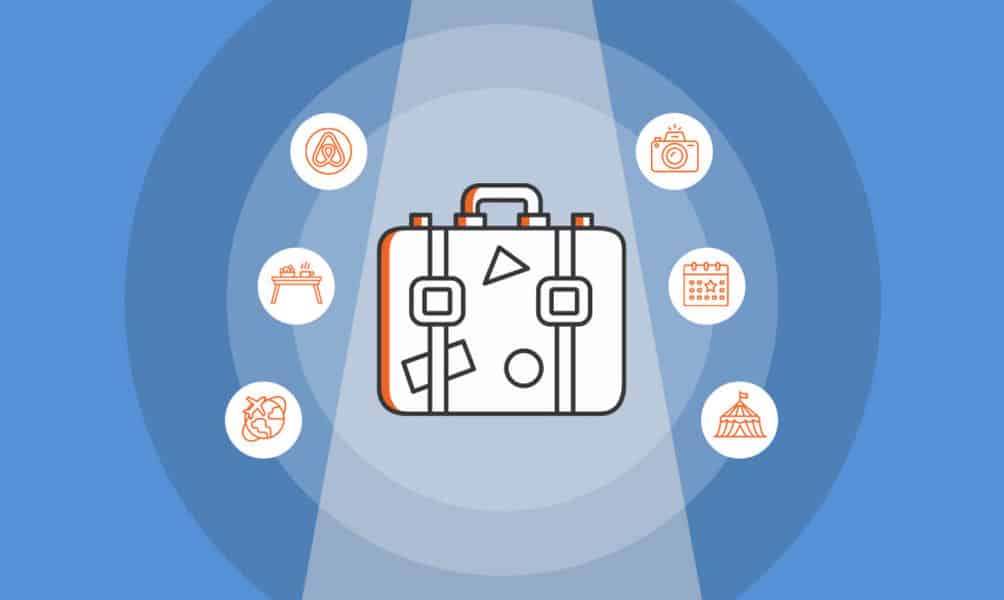 23 Travel & Hospitality Business Ideas
Carolyn Young
Published on July 21, 2022
Are you a big fan of travel, dining, and entertainment? Well then maybe that's the way to start your entrepreneurial journey. If you havea ...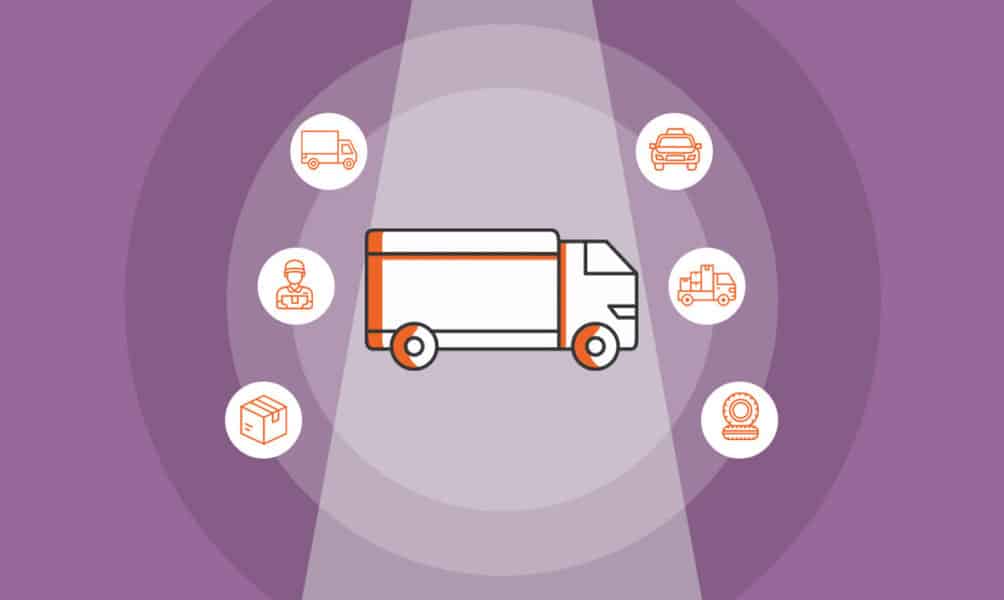 32 Logistics and Transportation Business Ideas
Published on July 14, 2022
Logistics is a crucial element of the economy — and much more than moving goods from one place to another. The industry also includespackaging ...
Privacy Overview
Strictly Necessary Cookies
This website uses cookies so that we can provide you with the best user experience possible. Cookie information is stored in your browser and performs functions such as recognising you when you return to our website and helping our team to understand which sections of the website you find most interesting and useful.
Strictly Necessary Cookie should be enabled at all times so that we can save your preferences for cookie settings.
If you disable this cookie, we will not be able to save your preferences. This means that every time you visit this website you will need to enable or disable cookies again.
Business Planning
Financial forecasting, see how upmetrics works →, strategic planning, entrepreneurs & small business, accelerators & incubators, business consultants & advisors, educators & business schools, students & scholars.
Business Plan Course
Strategic canvas templates, e-books, guides & more.
Customers Success Stories
Sample Business Plans
Transportation, Logistics & Travel
Taxi Business Plan
Are you thinking of starting a taxi business We have prepared a solid taxi business plan sample that guides you on every stage of your business plan writing
The taxi business is a thriving industry with tough competition from modern companies such as Uber, Ola, Lyft, and many more. Still, starting a new taxi business is viable and has potential in the current fast-moving world. But a solid and complete business plan is necessary to compete and build a successful taxi business.
If you want to start a new taxi business, the first thing you will need is a business plan. Use our sample Metro Cabs – Taxi Business Plan created using upmetrics business plan software to start writing your business plan in no time.
Before you start writing your business plan for your new taxi business, spend as much time as you can reading through some examples of transportation-related business plans .
Reading sample business plans will give you a good idea of what you're aiming for and also it will show you the different sections that different entrepreneurs include and the language they use to write about themselves and their business plans.
We have created this sample Metro Cabs – Taxi Business Plan for you to get a good idea about how perfect a taxi business plan should look like and what details you will need to include in your stunning business plan.
Taxi Business Plan Outline
This is the standard taxi business plan outline which will cover all the important sections that you should include in your business plan.
Introduction
Mission Statement
Vision Statement
3 Year profit forecast
Company Strategy
Past Performance
Value Proposition
Taxi Cab Services
Maintenance/Repair Services
Future Services
Customers and Target Markets
Customer Buying Criteria
Market Analysis
Competition and Buying Patterns
Sales Yearly
Detailed Sales Forecast
Marketing Programs
Strategic Alliances
Organization
Officers and Key Employees
Important Assumptions
Brake-even Analysis
Profit Yearly
Gross Margin Yearly
Projected Cash Flow
Projected Balance Sheet
Business Ratios
After getting started with upmetrics , you can copy this sample business plan into your business plan and modify the required information and download your taxi business plan pdf and doc file . It's the fastest and easiest way to start writing your business plan.
Business Planning Resources
We have plenty of free business planning resources available to help you with your planning. You can download our resources to learn all about business planning.
FREE TEMPLATES
Not found what you are looking for? Explore our 200+ sample business plans to find match for your business.
DISCLAIMER: The business plans, templates, and articles contained on upmetrics.co are not to be considered as legal advice. All content is for informational purposes, and upmetrics makes no claim as to accuracy, legality or suitability. The site owner shall not be held liable for any errors, omissions or for damages of any kind.
Plan your business in the shortest time possible
No Risk – Cancel at Any Time – 15 Day Money Back Guarantee
Please fill out the form below and we'll contact you shortly.
We care about your privacy. See our privacy policy
Download Your Template Now
We care about your privacy. See our Privacy Policy
Uber Business Plan Template
Written by Dave Lavinsky
Uber Business Plan
Over the past 20+ years, we have helped over 1,000 entrepreneurs and business owners create business plans to start and grow their businesses. On this page, we will first give you some background information with regards to the importance of business planning. We will then go through an Uber business plan template step-by-step so you can create your plan today.
Download our Ultimate Business Plan Template here >
What Is a Business Plan?
A business plan provides a snapshot of your business as it stands today, and lays out your growth plan for the next five years. It explains your business goals and your strategy for reaching them. It also includes market research to support your plans.
Why You Need a Business Plan
If you're looking to start an Uber business, or grow your existing business, you need a business plan. A business plan will help you raise funding, if needed, and plan out the growth of your business in order to improve your chances of success. Your business plan is a living document that should be updated annually as your company grows and changes.
Sources of Funding for Uber Businesses
With regards to funding, the main sources of funding for an Uber business are personal savings, and credit cards. Personal savings and bank loans are the most common funding paths for Uber businesses.
How To Write a Business Plan For an Uber Business
If you want to start an Uber business or expand your current one, you need a business plan. Below we detail what should be included in each section of your business plan.
Executive Summary
Your executive summary provides an introduction to your business plan, but it is normally the last section you write because it provides a summary of each key section of your plan.
The goal of your Executive Summary is to quickly engage the reader. Explain to them the type of Uber business you are operating and its status. For example, are you a startup, do you have a business that you would like to grow, or are you operating businesses in multiple markets?
Next, provide an overview of each of the subsequent sections of your plan. For example, give a brief overview of the Uber industry. Discuss the type of Uber business you are operating and your business model. Detail your direct competitors. Give an overview of your target customers. Provide a snapshot of your marketing plan. Identify the key members of your team. And offer an overview of your financial plan.
Company Analysis
In your company analysis, you will detail the type of business you are operating.
For example, you might operate one of the following types of Uber businesses:
Uber Green : this type of Uber uses electric vehicles.
UberX: this type of Uber provides rides for 1-3 customers in a car.
UberXL: this type of provides rides for groups up to 5 in a minivan or van.
Uber Delivery: this type of Uber provides local deliveries, of food ordered via the Uber Eats platform, or of packages under 50 pounds.
Uber Freight: this type of Uber hauls freight over long distances, choosing which loads to haul via the Uber Freight platform
In addition to explaining the type of Uber business you will operate, the Company Analysis section of your business plan needs to provide background on the business.
Include answers to questions such as:
When and why did you start the business?
What is your Uber business model? How will you make money using Uber?
What milestones have you achieved to date? Milestones could include the number of persons assisted, the prestige of clientele served, etc.
Your legal structure. Are you incorporated as an S-Corp? An LLC? A sole proprietorship? Explain your legal structure here.
Industry Analysis
In your industry analysis, you need to provide an overview of the Uber industry.
While this may seem unnecessary, it serves multiple purposes.
First, researching the Uber industry educates you. It helps you understand the market in which you are operating.
Secondly, market research can improve your strategy, particularly if your research identifies market trends.
The third reason for market research is to prove to readers that you are an expert in your industry. By conducting the research and presenting it in your plan, you achieve just that.
The following questions should be answered in the industry analysis section:
How big is the Uber industry (in dollars)?
Is the market declining or increasing?
Who are the key competitors in the market?
Who are the key suppliers in the market?
What trends are affecting the industry?
What is the industry's growth forecast over the next 5 – 10 years?
What is the relevant market size? That is, how big is the potential market for your Uber business? You can extrapolate such a figure by assessing the size of the market in the entire country and then applying that figure to your local population.
Customer Analysis
The customer analysis section must detail the customers you serve and/or expect to serve.
The following are examples of customer segments: individuals, groups, and manufacturers.
As you can imagine, the customer segment(s) you choose will have a great impact on your business. Clearly, your business structure would be far different for freight than for individual rides, for example.
Try to break out your target customers in terms of their demographic and psychographic profiles. With regards to demographics, include a discussion of the ages, genders, locations and income levels of the customers you seek to serve. Because most Uber businesses primarily serve customers living in the same city or town, such demographic information is easy to find on government websites.
Psychographic profiles explain the wants and needs of your target customers. The more you can understand and define these needs, the better you will do in attracting and retaining your customers.
Finish Your Uber Business Plan in 1 Day!
Don't you wish there was a faster, easier way to finish your business plan?
With Growthink's Ultimate Business Plan Template you can finish your plan in just 8 hours or less!
Click here to finish your business plan today.
Competitive Analysis
Your competitive analysis should identify the indirect and direct competitors your business faces and then focus on the latter.
Direct competitors are other Uber drivers.
Indirect competitors are other options that customers have to purchase from that aren't direct competitors. This includes individuals who have their own car, or drive a rental car, or independent trucking companies.
With regards to direct competition, you want to describe the other Uber drivers with which you compete. Most likely, your direct competitors will be Uber drivers located very close to your location.
For each such competitor, provide an overview of their businesses and document their strengths and weaknesses. Unless you once worked at your competitors' businesses, it will be impossible to know everything about them. But you should be able to find out key things about them such as:
What types of customers do they serve?
Do they specialize in specific services (i.e. luxury transportation, courier services, etc.)?
What is their pricing (premium, low, etc.)?
What are they good at?
What are their weaknesses?
With regards to the last two questions, think about your answers from the customers' perspective. And don't be afraid to ask your competitors' customers what they like most and least about them.
The final part of your competitive analysis section is to document your areas of competitive advantage. For example:
Will you provide a wider range of services?
Will you offer greater convenience, such as early morning and/or late night hours?
Will you provide any in-car amenities, such as mints or bottled water?
Will you offer better pricing?
Think about ways you will outperform your competition and document them in this section of your plan.
Marketing Plan
Traditionally, a marketing plan includes the four P's: Product, Price, Place, and Promotion. For an Uber driver, your marketing plan should include the following:
Product : In the product section, you should reiterate the type of Uber that you documented in your Company Analysis. Then, detail the specific products you will be offering. For example, in addition to cross-town trips, will your Uber business provide rides between cities?
Price : Document the prices you will offer and how they compare to your competitors. Essentially in the product and price sub-sections of your marketing plan, you are presenting the services you offer and their prices.
Place : Place refers to the location of your Uber business. Document your location and mention how the location will impact your success. For example, will your car or fleet be centrally located, to capture the greatest market share? In this section, discuss how your location will affect the demand for your services.
Promotions : The final part of your Uber marketing plan is the promotions section. Here you will document how you will drive customers to your location(s). The following are some promotional methods you might consider the following marketing campaigns:
Advertising in local papers and magazines
Reaching out to local websites
Signs and billboards
Social media marketing
Local radio advertising
Operations Plan
While the earlier sections of your business plan explained your goals, your operations plan describes how you will meet them. Your operations plan should have two distinct sections as follows.
Everyday short-term processes include all of the tasks involved in running your business, including getting regular oil changes, cleaning the interior after each customer, washing the exterior regularly, purchasing water/mints, etc.
Long-term goals are the milestones you hope to achieve. These could include the dates when you expect to complete your 1,000 th ride, or when you hope to reach $X in revenue. It could also be when you expect to launch in new markets.
Management Team
To demonstrate your ability to succeed, a strong management team is essential. Highlight your key players' backgrounds, emphasizing those skills and experiences that prove their ability to grow a company.
Ideally, you and/or your team members have direct experience in managing Uber businesses. If so, highlight this experience and expertise. But also highlight any experience that you think will help your business succeed.
If your team is lacking, consider assembling an advisory board. An advisory board would include 2 to 8 individuals who would act like mentors to your business. They would help answer questions and provide strategic guidance. If needed, look for advisory board members with experience in passenger transportation, or successfully running small businesses.
Financial Plan
Your financial plan should include your 5-year financial statement broken out both monthly or quarterly for the first year and then annually. Your financial statements include your income statement, balance sheet, and cash flow statements.
Income Statement : an income statement is more commonly called a Profit and Loss statement or P&L. It shows your revenues and then subtracts your costs to show whether you turned a profit or not.
In developing your income statement, you need to devise assumptions. For example, will you give 10 rides per day, or 20? And will sales grow by 2% or 10% per year? As you can imagine, your choice of assumptions will greatly impact the financial forecasts for your business. As much as possible, conduct research to try to root your assumptions in reality.
Balance Sheets : Balance sheets show your assets and liabilities. While balance sheets can include much information, try to simplify them to the key items you need to know about. For instance, if you spend $50,000 on building out your Uber business, this will not give you immediate profits. Rather it is an asset that will hopefully help you generate profits for years to come. Likewise, if a bank writes you a check for $50,000, you don't need to pay it back immediately. Rather, that is a liability you will pay back over time.
Cash Flow Statement : Your cash flow statement will help determine how much money you need to start or grow your business, and make sure you never run out of money. What most entrepreneurs and business owners don't realize is that you can turn a profit but run out of money and go bankrupt.
In developing your Income Statement and Balance Sheets be sure to include several of the key costs needed in starting or growing a business:
Office build-out including fixtures, construction, etc.
Cost of buying or leasing a company vehicle
Cost of office supplies such as software
Payroll or salaries paid to staff
Business insurance
Taxes and permits
Legal expenses
Attach your full financial projections in the appendix of your plan along with any supporting documents that make your plan more compelling. For example, you might include your car or fleet specs, or an overview of all the amenities or services you provide.
Putting together a business plan for your Uber business is a worthwhile endeavor. If you follow the template above, by the time you are done, you will truly be an expert. You will really understand the Uber industry, your competition, and your customers. You will have developed a marketing plan and will really understand what it takes to launch and grow a successful business.
Uber Business Plan FAQs
What is the easiest way to complete my uber business plan.
Growthink's Ultimate Business Plan Template allows you to quickly and easily complete your Uber Business Plan.
What is the Goal of a Business Plan's Executive Summary?
The goal of your Executive Summary is to quickly engage the reader. Explain to them the type of Uber business you are operating and the status; for example, are you a startup, do you have an Uber business that you would like to grow, or are you operating a chain of Uber businesses?
OR, Let Us Develop Your Plan For You
Since 1999, Growthink has developed business plans for thousands of companies that have gone on to achieve tremendous success.
Click here to see how a Growthink business planning consultant can create your business plan for you.
Other Helpful Business Plan Articles & Templates
Business Plan for Investors
Bank/SBA Business Plan
Strategic/Operational Business Plan
L1 Visa Business Plan
E1 Treaty Trader Visa Business Plan
E2 Treaty Investor Visa Business Plan
EB-1 Business Plan
EB-2 NIW Business Plan
EB-5 Business Plan
Innovator Visa Business Plan
Start-Up Visa Business Plan
Expansion Worker Visa Business Plan
Manitoba MPNP Visa Business Plan
Nova Scotia NSNP Visa Business Plan
British Columbia BC PNP Visa Business Plan
Self-Employed Visa Business Plan
OINP Entrepreneur Stream Business Plan
LMIA Owner Operator Business Plan
ICT Work Permit Business Plan
LMIA Mobility Program – C11 Entrepreneur Business Plan
USMCA (ex-NAFTA) Business Plan
Franchise Business Plan
Landlord business plan
Nonprofit Start-Up Business Plan
Cannabis business plan
Ecommerce business plan
Online boutique business plan
Mobile application business plan
Daycare business plan
Restaurant business plan
Food delivery business plan
Real estate business plan
Business Continuity Plan
Buy Side Due Diligence Services
ICO whitepaper
ICO consulting services
Confidential Information Memorandum
Private Placement Memorandum
Feasibility study
How it works
Business Plan Examples
Taxi Business Plan Sample
MAR.14, 2017
Taxi business plan for starting your own business 
Are you looking for how to start taxi service ? If yes, then this taxi service business plan is all you need. The taxi service business can be a great choice if you have a good budget for buying and maintaining vehicles. Starting a taxi services business doesn't require you to be an expert in the transportation field. The business can be started with just a few cars and drivers. Moreover, it can easily be expanded whenever you want. 
To start a business, it is important to follow a certain procedure. You need to draft a  transport business plan   for your taxi service business as the first step. For that, you can look at associated plans such as  tipper truck company business plan . If you also want to launch a mobile app to let your customers book a taxi online, you should also analyze  mobile apps business plan .
Executive Summary
2.1 about the business.
Grab A Cab will be a taxi service business owned by Benjamin Williams. The business will be based in San Francisco. The main aim of this taxi service business will be to provide trustworthy, well-timed, and safe cabs whenever and wherever someone needs them. Grab A Cab taxi service will provide cab services while integrating the operations with technology to facilitate individuals even more.
2.2 Management of Taxi business
After you have learned how to start a taxi service, it is important to figure out how to manage the taxi business operations successfully. There is no better way to plan out every aspect of your taxi service than developing a  business plan for taxi service pdf . To know how what your business plan should include, you can read the strategic plan provided here. In this taxi business plan example, we will guide you about all the components of a strong business plan so that you can develop your call taxi business plan.
It is better to hire business planning services to get a professional business plan for your startup. However, if you have the business knowledge and you want to create the business plan on your own, you can do so after doing adequate research. In that case, it is recommended to also go through a logistics company business plan .
2.3 Customers of Taxi business
Through our market survey and feasibility studies, we identified those customers that are most likely to benefit from our services. The recurring customers of the taxi service business will be:
Event planners
Retirement and care homes
Hotel and airport transfers
2.4 Business Target
The main goal of our taxi service business is to become the most-liked transportation company in the San Francisco Metro Area within three years. We aim at doing so by continuously evaluating, monitoring, and following up on customer call-ins.
Company Summary
3.1 grab a cab owner.
Benjamin Williams will be the owner of Grab A Cab taxi service business. Williams completed his MBA two years ago. After that, he pursued a position as a manager in a noteworthy company. He was quite fascinated by the cab service in his state. After a few months, he left the post to fulfill his lifelong passion of starting his own taxi service business.  
3.2 Why Grab A Cab is being started
Benjamin Williams noticed that the other cab services businesses around him used traditional and outdated methods to serve their customers. He decided to use the latest technological features to bring innovation to the business domain.
3.3 How Grab A Cab business will be started
Step1: Plan Everything
Good planning is crucial when you are going to start a business. To ensure that you plan well for your startup, you should explore how to open a taxi company in the United States.
A business plan for taxi service can best aid in planning and managing a business. To write your taxi driver business plan, you can take help from this sample taxi business plan. You can also go through other examples like truck driving business plan to get an idea of what to include when planning for a startup.
Step2: Develop a Brand
The next step in starting up a taxi companyis to highlight your business and its unique offerings. This can be achieved by creating a brand around your business idea. This will include everything from your principles to your competitive advantages.
Step3: Establish Your Office 
The next important step is to establish your business. For this purpose, Benjamin Williams decided to buy a large parking space in the main San Francisco commercial area. He made sure that the place was spacious enough to park all his cabs. Moreover, he also got a workshop constructed inside that place to maintain and repair the cabs. In this way, he reduced the expense of sending damaged cabs to other workshops. 
Step4: Establish a Web Presence
Since we are living in the Information Age, it is necessary to establish a web presence to get known. Therefore, Williams decided to develop a website for the business and establish social media presence for marketing to attract a wider audience. 
Step5: Promote and Market
The last step is developing and executing an effective marketing plan to promote your services.
Services of taxi business 
Before setting up a taxi business, you need to decide on your business's services. You may have a taxi business plan tempelate, but it might not have everything you need for your sample plan. 
You can follow this guide on how to open a taxi service to figure out what the market for the business looks like and what services are ideal to be included in your startup. 
The cost factor is necessary to keep in mind while considering your services, so you can develop a taxi service business plan startup costs pdf to keep an estimate. Since Williams started with various services, this format can be used to develop even a uber taxi business plan or an airport taxi business plan.
Door-to-Door Taxi Service 
We will provide door-to-door taxi service to our customers as it is more convenient to use. Our capable drivers will pick up customers from their homes and drop them off directly at their destinations. Our customers will be able to book a cab through our mobile app or website.
Wheelchair Accessible Cabs
Our specialized service will provide wheelchair user passengers with a ramp or a passenger lift to assist them with getting into the vehicle. This approach is used as it is far easier than transferring from a wheelchair to a car seat and dismantling the wheelchair for the journey. 
We'll also provide our professional, skilled, and highly patient cab drivers to assist seniors with their chores. Our company will provide senior citizens taxicab coupon booklets to maximize senior citizens' benefits. We will aim to provide maximum customer satisfaction. 
We will offer our clients affordable discounts that pay off in the long run with our hourly packages.
Marketing Analysis of Taxi business
Excellent work.
excellent work, competent advice. Alex is very friendly, great communication. 100% I recommend CGS capital. Thank you so much for your hard work!
When starting a taxi service business, you should have an excellent understanding of your target market. You can gain this understanding by doing an extensive market analysis as a part of your taxi business plan sample. 
Your business plan for a taxi business should also analyze the price of similar services in the market. This data should be used to forecast the prices you will set for starting your own taxi business. 
If you don't know how to open a taxi company, you can take help of this taxi cab business plan. A complete market analysis is necessary for running a taxi business. 
If you want to learn how to setup your own taxi business, then this business plan taxi service will be of great use. 
5.1 Market Trends
Taxi operations provide over 60 billion dollars a year to the general US economy. The industry employs 2,026,478 people. The growth rate of this industry has remained in step with the general growth of the country's GDP. Management feels that by maintaining a local client base, the company can continue to generate revenues despite the current deleterious economic conditions in the United States.
5.2 Marketing Segmentation
The potential customers of Grab A Cab are divided into the following groups:
5.2.1 Schools  
Our primary customers will be the school students. They are expected to avail of our regular services to go to school, travel to sports matches or class trips. 
5.2.2 Event Planners
Our second target customer will be event planners. They need to organize events, and for this purpose, they have to travel to different places. They will utilize our cab service to get maximum comfort. Our cabs will pick them up from their pickup location and drop them at their destination. 
5.2.3 Retirement and Care Homes
This will be our third target group of customers. Our taxi company will provide services to people in retirement and care homes since they may no longer be confident to drive. Our wheelchair-assessable cabs are specially designed for these customers. 
5.2.4 Hotel and Airport Transfers
Lastly, our potential customers include families and individuals on holiday and business travels. These groups don't typically mind paying a bit more for a solution that takes care of transportation in an all-in-one way. Therefore, we expect to earn a handsome amount from them.
5.3 Business Target
To become the number one taxi service throughout San Francisco and adjoining areas. 
The main target of our taxi service business is to pursue an aggressive marketing campaign and penetrate at least 75% of the market share.
To earn a net profit margin of $50.5k per month by the end of the third year.
5.4 Product Pricing
Our business plan for transportation service ensures that our prices will be economical compared to our competitors. The prices are set at a minimum to get introduced to a wider audience from the very beginning.
Marketing Strategy of Taxi business
To open taxi business, you must develop the best business plan for a taxi business. In addition, before starting up a taxi company, you also need to develop a strong marketing strategy to attract more customers.
In this taxi cab company business plan, we're providing the sales strategy of Grab A Cab. You can learn a lot from here if you aspire to make a city taxi business plan.
6.1 Competitive Analysis
We have quick customer care services. We respond to customer queries efficiently and respect their feedback to improve our services.
We have excellent customer support staff that guides our customers in choosing the best traveling package according to their budget. 
Through our 24/7 online presence, customers can inquire about our services. 
We will also implement ideas from roadside assistance business plan to prevent any inconvenience to our customers. 
6.2 Sales Strategy
We'll advertise our services through social media platforms like Facebook and Instagram.
We'll give a free ride to our first 50 customers
We'll offer a 25% discount to school and college students.
6.3 Sales Monthly
6.4 Sales Yearly
6.5 Sales Forecast
Personnel plan of taxi business
There are a lot of taxi services in the world. But only those are popular that make customers happy and satisfied. This taxi service business plan sample has all the details regarding the startup of the taxi service business. 
Understanding the importance of good staff, William included some essential features as a part of employee hiring criteria in the taxi cab advertising business plans. He also formed a list of employees necessary for running his business. This list can be seen in this taxi business plan pdf.
7.1 Company Staff
1 Operations Manager
1 Customer Support Officer
1 Marketing Officer
10 Drivers 
2 Mechanics
1 Web Developer to manage online sites
7.2 Average Salary of Employees
Financial plan of taxi business.
It is essential to manage your operations timely to earn profits. A detailed financial analysis is necessary to ensure that your business is not getting into a loss. To ensure that you make a detailed financial plan, you should include all the components that we have mentioned in this taxi business sample plan pdf.
The  taxi service business plan startup costs are also important for your financial plan. Moreover, in your financial plan, you must identify when and how you'll cover your investment amount with the earned profits. This approach would also help to analyze your yearly expenses to determine the possibilities of reducing them.
Here we're providing the detailed financial plan made for Grab A Cab so that you can get an idea of the business finances.
8.1 Important Assumptions
8.3 Projected Profit and Loss
8.3.1 profit monthly.
8.3.2 Profit Yearly
8.3.3 Gross Margin Monthly
8.3.4 Gross Margin Yearly
8.4 Projected Cash Flow
  8.5 projected balance sheet, 8.6 business ratios.
How do I start a taxi business?
To start a taxi business, you need to develop a good sample business plan for taxi service. The above business plan taxi company will detail how to do that.
How does the taxi business work?
The taxi business works by purchasing some taxis, procuring a large parking area, and hiring staff to run and manage services. In this taxi top advertising business plan we have explained all these three aspects in detail. If you want to set up this business, you can take help from this taxi service business plan. 
How would you describe a taxi service?
The taxi service provides transportation facilities to people without facing public transport problems. Business plan taxi provides details for setting up taxi business.
Download Taxi Business Plan Sample in pdf
OGSCapital's team has assisted thousands of entrepreneurs with top-rate business plan development, consultancy and analysis. They've helped thousands of SME owners secure more than $1.5 billion in funding, and they can do the same for you.
Add comment
E-mail is already registered on the site. Please use the Login form or enter another .
You entered an incorrect username or password
Comments (0)
mentioned in the press:
Search the site:
OGScapital website is not supported for your current browser. Please use: