The 7 Elements of a Successful Business Plan
When you are ready to get to work on your dreams and write your business plan, it can be helpful to have a guide to get the ideas flowing and make sure you have your bases covered for your business. In this guide, we'll provide a high level overview of the 7 essential elements of a successful business plan.
The 7 Elements of a Successful Business Plan (Template Available!)
If you are ready to jump right into business planning, you'll find the template here .
1. Executive Summary
The executive summary describes the overall mission of your business. It's the 60 second elevator pitch or short paragraph on the who, what, when, where and why for your business. Keep in mind who you are writing the executive summary for. If your business plan is being used to secure investment, make sure to tailor it towards what an investor or bank would want to see.
In a few sentences, are you able to catch their attention? There is no room for fluff in the executive summary. Get to the meat and bones of your business in a precise manner.
2. Business History, Background and Objectives
For people to get to know your business, it's very helpful to know where you have been and what your experience is. This is the place to talk about how long you have been in business, what your previous experience is, how your business has evolved overtime and where you plan on taking it. If you are new to your industry, this is a way to get ahead of any hesitations or objections and explain how your experience prepares you for this new role. This is also a great way to lay out your key objectives, setting the scene for the rest of the business plan.
3. Products and Services
Now it's time to talk about your products and services. This is where you can list out the various ways that you plan to generate revenue. You can start off by listing out all of the products and services that you provide and then dig deeper. Describe your product and services in detail. What makes your products unique? Why are people going to pay you for these services?
4. Marketing Planning
The marketing plan is an important part of your business, so much so that we think it deserves probably deserves it's own handbook (keep following us, and you might just find one!) However, for the purpose of the business plan, you can keep the marketing section concise. By now it's clear that you have a great product, but how will you get the word out to the people that would purchase your products? The best way to start is by asking, who is my ideal customer? Where do they hangout? What do they do? What do they like?
Once you know and understand your customer, it makes it much easier to figure out the rest of the marketing plan. Use what you know about your customer to develop your branding statement, decide on what channels to market your business and types of promotions to invest in.
Some aspects of the marketing plan include:
Ideal customer profile - Who is your ideal customer, where do they live, what do they do, etc.?
Branding - what are the values of your business and what does it stand for?
Channels and promotion - through what channels will you market and promote your business?
Location - where are you and your customers located? Is e-commerce an important aspect of your business plan, or will all of your sales take place in person?
There are a lot of little things that you can do to boost your marketing for little to no cost: creating a social media presence,  registering your business on google, asking your friends for a shoutout, or attending a local farmers market. 
For example, imagine a yoga studio: How do people typically find yoga studios? They might ask a friend or search on Google, so think about how you can position your company on Google to take advantage of all of the people searching for yoga studios. Or, you might setup a referral program so that your current customers are more likely to tell their friends to come to yoga with them.
5. Competition
In today's world, there is no doubt that consumers have options. You have to find a way to differentiate yourself. 
The first thing that you want to do is scope out your competition. Try to find out more about their business. What products and services do they sell? Who are their ideal customers? Then start to think about what the gaps in the market are. What is missing in your community?
One easy way to scope out the competition is to put yourself in the shoes of your potential customer. For example, if you are starting a pizza shop, search Google for "pizza shops near me." Check out each company's website, menu and maybe even visit the store. 
Identify the strengths and weaknesses of your competition. Think about how your business can fulfill the gaps in the market. Differentiating your business is easier than taking your competition head on, and makes you appear more trustworthy.
6. Operational Plan
The operational plan is laying out the "how" of your business. Explain the logistics of your business, starting from the beginning of your supply chain. Where do your supplies, ingredients, and equipment come from? How do you turn those inputs into your final product? What employees and resources do you need to deliver your product? 
While you are thinking through your operational plan, look at your supply chain and find places where you can optimize it. Where can you save time or money? How can you be most efficient? Coming up with creative ways to save money through your supply chain can be a competitive advantage, but you must also weigh savings against potential loss of quality. Bear in mind that if you have a great concept but fail to outline a solid operational plan, you may want to spend more time solidifying how you're going to turn your business into a reality before pursuing financing.
7. Financial Planning
Financial planning can be tough for new businesses. It requires a lot of research. The key to  financial forecasting  is finding reliable data to work off of. The easiest part is figuring out your costs. What equipment, supplies, ingredients, etc. do you need to be able to run your business? You can find the price of your inputs by calling a supplier or doing a quick web search. 
To estimate how much revenue you will make is a bit trickier. You have to start by listing out the different ways that you can generate revenue. Then, figure out how much you will charge for each product or service. Then, estimate how much of each product or service you intend to realistically sell per day, per month, or per year. This is where you need to get creative. If you are opening a brick and mortar shop, you can look at the foot traffic or you can look at a similar shop nearby. How many people pass by your shop? How many will likely come to shop? How much will they spend? What will they buy? 
If you're able to answer all of the questions we've laid out, and create a plan that addresses fully each section, you'll be in a much better position to get your business off the ground. You can always reach out to the Mainvest team for help and direction towards resources, and you can use our template to write your business plan.
What can Mainvest do for your business?
Mainvest allows you to raise capital from your community, without giving up any ownership or control in the process. By running a Mainvest campaign, you can engage the community and get buy-in from local stakeholders. If you are ready to take the next step as an entrepreneur,  reach out to us here .
This post was contributed by a guest author. Mainvest does not guarantee the accuracy of information in this post and does not provide legal, tax, or accounting advice.
posted January 20, 2020
Share this post.
Select one or more filters to access resources for your specific needs.
Finance & Accounting
Human Resources
Infographic
Featured Articles
Relevant resources, get to know nfib.
NFIB is a member-driven organization advocating on behalf of small and independent businesses nationwide.
Or call us today 1-800-634-2669
© 2001 - 2023 National Federation of Independent Business. All Rights Reserved. Terms and Conditions | Privacy
Need a hand creating engaging content? Try Buffer for free →
The 7 Components of a One-Page Business Plan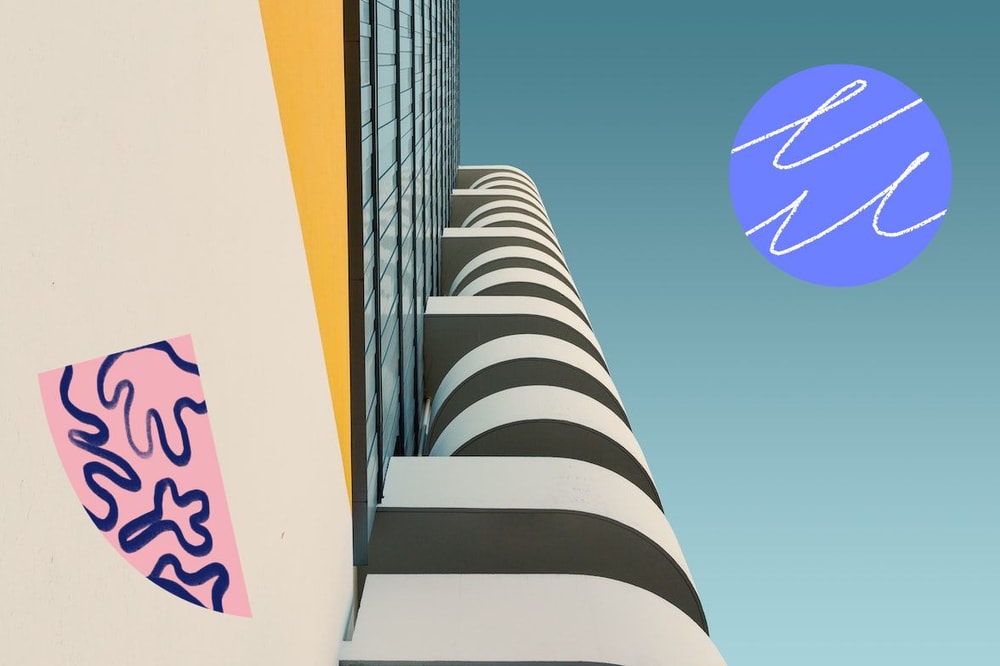 So, you have a business idea. Next step: take it to investors. But to convince them to invest, you'll need a punchy proposal. That proposal is called a one-page business plan or a written document that describes your company's core objectives and how you aim to achieve them. Your business plan doesn't need to be lengthy—often, a one-page business plan is more than enough to describe your company's core objectives and how you aim to achieve them. There are seven components to a proper one-page business plan:
Business objectives
Competitive analysis
Target market
Business structure
Products and services
Marketing plan
Financial analysis
Here, we break down what goes into these seven components and guide you through how to complete a one-page business plan.
1. Business objectives
Business objectives are the specific and measurable results a company aims to achieve over a specific period. Setting strong business objectives lets you clearly define what your business needs to succeed and helps to rally teams around a shared goal. If you are seeking a funding opportunity, objectives also let you make a case for funding and the impact the investment will make. It's best to write SMART objectives (specific, measurable, attainable, realistic, and time-based). The purpose of SMART objectives is to give your teams a sense of a unified purpose and direction that can be tracked over time. Imagine you want to open an online vintage clothing store. You know the bottom line is to make a profit, but how will you get to that point? Draft SMART objectives to guide you toward a profitable business model, like:  
Gain 10 consignment sellers by end of Q3.
Earn a net income of $30,000 by end of Q4.
Sell inventory at a sustained rate of 60%.
2. Competitive analysis
A competitive analysis gives you a snapshot of who your top competitors are, along with their strengths and weaknesses. Competitive analyses show you the viability of your business in relation to other, similar companies. There's a lot that goes into a full competitive analysis , from tracking a business's organizational structure to its pricing model. But for a one-page business plan, you just need a high-level summary. The best starting point for identifying your top competitors is to google the keywords you want to bid on or are currently bidding on. Look at the websites of businesses that show up on the first page and identify their strengths and weaknesses. For a one-page business plan, translate your findings into short bullet points. If we think back to our online vintage clothing store example, your bullet points might look like:
Beacon's Closet : New York-based curated vintage store with a large social media following
The RealReal : An upscale secondhand e-commerce site with a focus on designer goods
Depop : An affordable online marketplace for younger consumers
3. Target market
Your target market consists of the people most likely to purchase your products or services—your ideal customers. Think about it: You can't sell a product or service until you know there are customers willing to buy it. Define your target market to find out who your customers are and why they need your product. Investors want to see you've thought about your target market and that you have a keen understanding of who you'll be selling to—an understanding that can help guide your marketing decisions down the line. Recently, we walked through how to create a buyer persona for your business. Typically, a buyer persona is its own one-page document, profiling an imaginary person who embodies your ideal customer. For a one-page business plan, you don't have the space to share your full buyer personas. Instead, list your buyer personas as one-sentence descriptions. From there, identify your target market based on the qualities or characteristics that unite your buyer personas. To continue with our vintage clothing store example, our buyer personas might look like:
Nancy the retiree , 66, comes in weekly to shop special deals on nostalgic clothing from the 1950s when she was a child.
Colin the student , 20, loves the act of rummaging through racks of clothing for unique disco-inspired pieces he can share on TikTok.
Tobi the collector , 50, has an impressive collection of vintage leather bags and shops weekly for new pieces to add to their collection.
4. Business structure
Investors want to see that the people leading your business have the knowledge and experience to succeed. Your business plan should include a description of key personnel and how they work to build a thriving business. Even if you're the only person in your company, flesh out this section to provide a snapshot of how your business operates. Develop brief bios for each person who leads your company, and list each person out in a bulleted list. Consider our vintage clothing store example. The business structure might look something like:
Ellen Smith , owner and operations manager: Smith received an MBA from Columbia in 2006. Smith previously founded dog food company, PupWorks, growing it into a national franchise in under a decade.
Lilly Barnes , buyer and marketing manager: Barnes studied fashion merchandising at FIT, earning a BA in 2008. Previously, Barnes served as director of marketing at Kate Spade.
5. Products and services
The products and services section of your one-page business plan is your chance to describe the products or services your business offers and the impact they have on the market. Detailing your products and services highlights your company's value and demonstrates its competitive advantage over other businesses. Investors interested in your company will look to this section to understand what niche your business offerings fill. You're tight on space with a one-page plan, so don't focus your energy on listing every product you offer. Instead, describe the logic behind why you offer certain products or services, explain your pricing model, and share how your offerings differ from competitors'. In our vintage clothing store example, the high-level view of your offerings is simple: vintage goods. But to paint a full picture, you might consider a short paragraph that explains what kinds of goods you'll carry, how you'll get inventory, your pricing structure, and how you'll fulfill online orders. Here's a sample:
"We buy and sell vintage goods, specializing in designer clothing and accessories from the 1950s to the Y2K fashions of the early 2000s. Our inventory comes directly from individual sellers, and we offer cash for their products immediately. Our inventory sells for 30% below market value. Online orders are filled within 72 hours of purchase, and customers receive up-to-date tracking once their items have shipped."
6. Marketing plan
Your marketing plan, also called a marketing strategy, is a detailed view of how you'll reach new customers with information on your products or services. Use this section as an opportunity to teach potential investors how you'll reach new customers in your market. Think back to our vintage clothing shop example: It doesn't matter if you carry in-demand Chanel and Dior if no one knows you exist. Outline the ways you'll market your products or services with a simple bulleted list. Be sure to address:
Marketing budget
Your company's marketing channels, like email and social media
Promotional efforts, like special discounts or offers
Advertising, like Google ads
Printed materials, like flyers or business cards
7. Financial analysis
A financial analysis in a one-page business plan provides a snapshot of your business's current and future financial health. Your financial analysis tells investors whether your business is or will become profitable. This section may be the toughest for you to condense because there are so many metrics that are useful for understanding a business's profitability. That's why we recommend you focus on business ratios that highlight your financial projections.
Net profit margin: How much revenue you receive and how much revenue you count as income
Accounts payable turnover: A look at your bills and how quickly you're able to pay them
Total debt to total assets: Compares the total amount of debt to assets
Put your one-page business plan into action
A one-page business plan guides you toward your goals and can be used as a springboard for action. If you've drafted a one-page plan, you have a roadmap for success right at your fingertips. Next, work toward your business objectives and put your marketing plan into use. Use Buffer Start Page as an interim landing page to test language, services, and branding ideas before pushing them to your actual website. Start Page is designed to be flexible to your changing business needs and is customizable to your branding. As a bonus, Buffer members get free access to Start Page with their membership.
Did you find this article helpful? You might also like our all-you-need social media toolkit.
The all-you-need social media toolkit
Publish Flawlessly. Analyze Effortlessly. Engage Authentically.
Buffer is the all-you-need social media toolkit that lets you focus on doing what you love for your business.
Related Articles: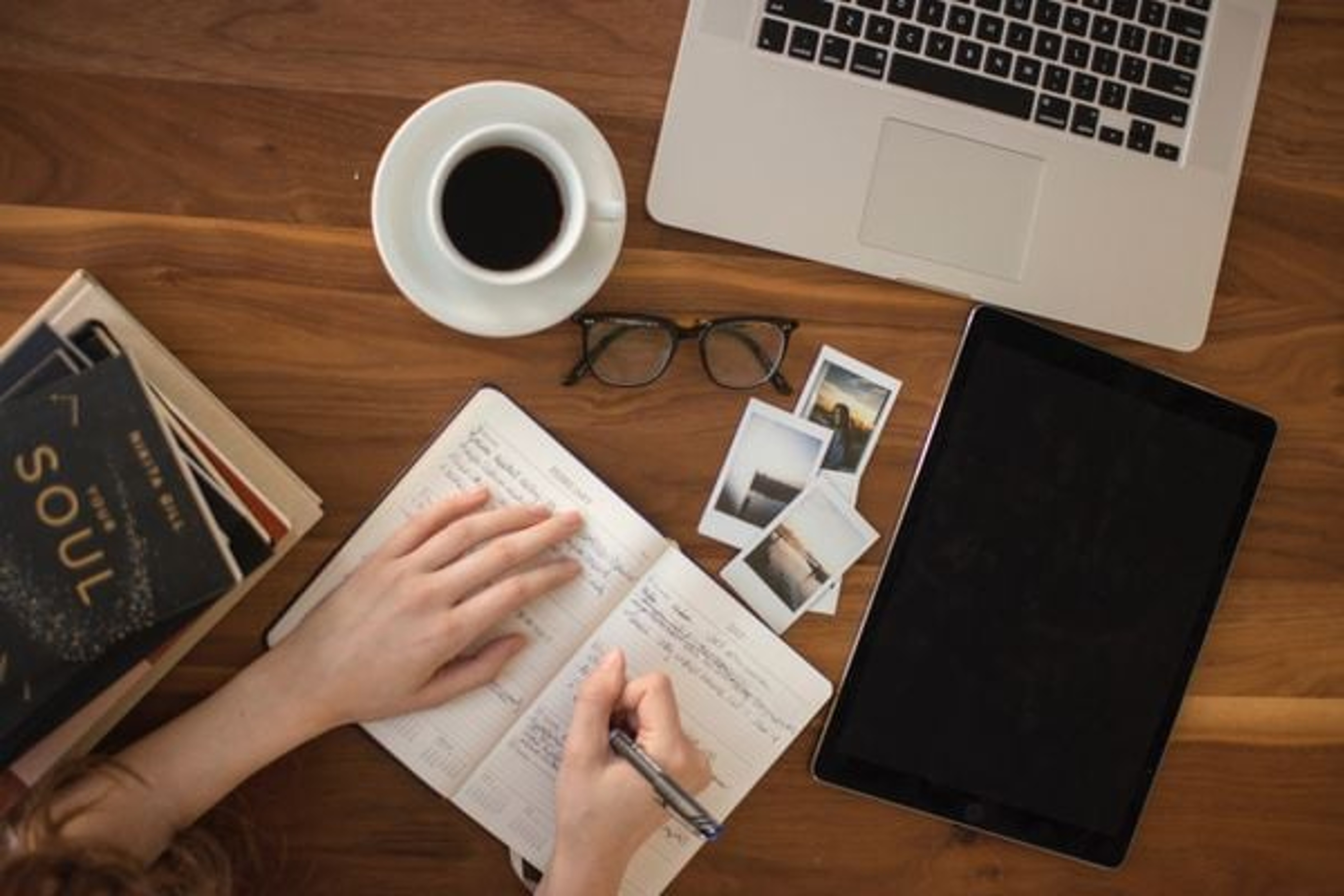 A Practical Guide to Writing Website Copy For People Who Aren't Professional Copywriters
To really make your brand stand out, you need to effectively communicate the story behind your small business to your audience. While you can connect...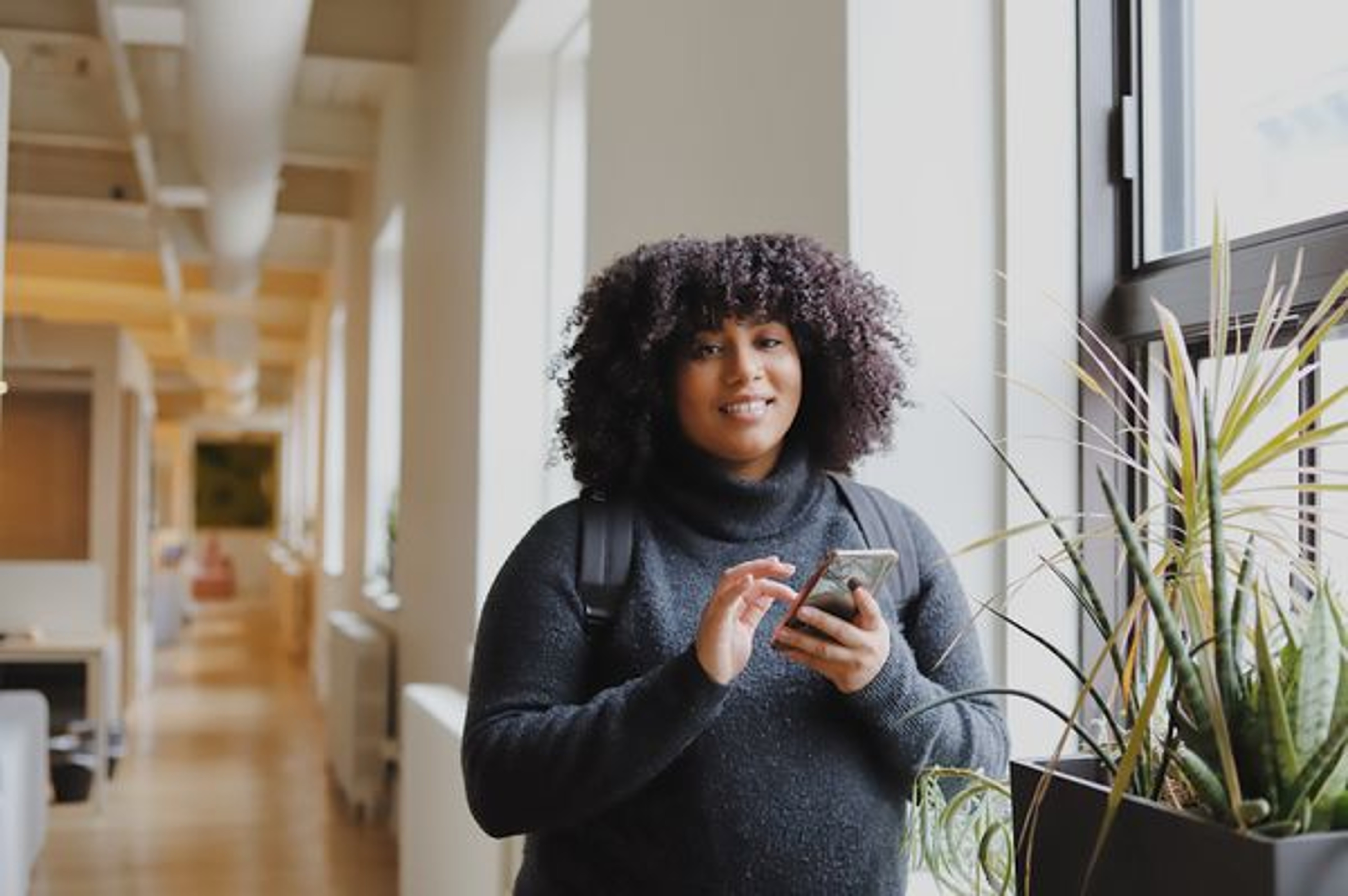 How to Use TikTok for Business: A Beginners Guide
This article will show you how to get started using TikTok for business and leverage the platform's free marketing tools and resources designed specifically to help businesses succeed on the platform....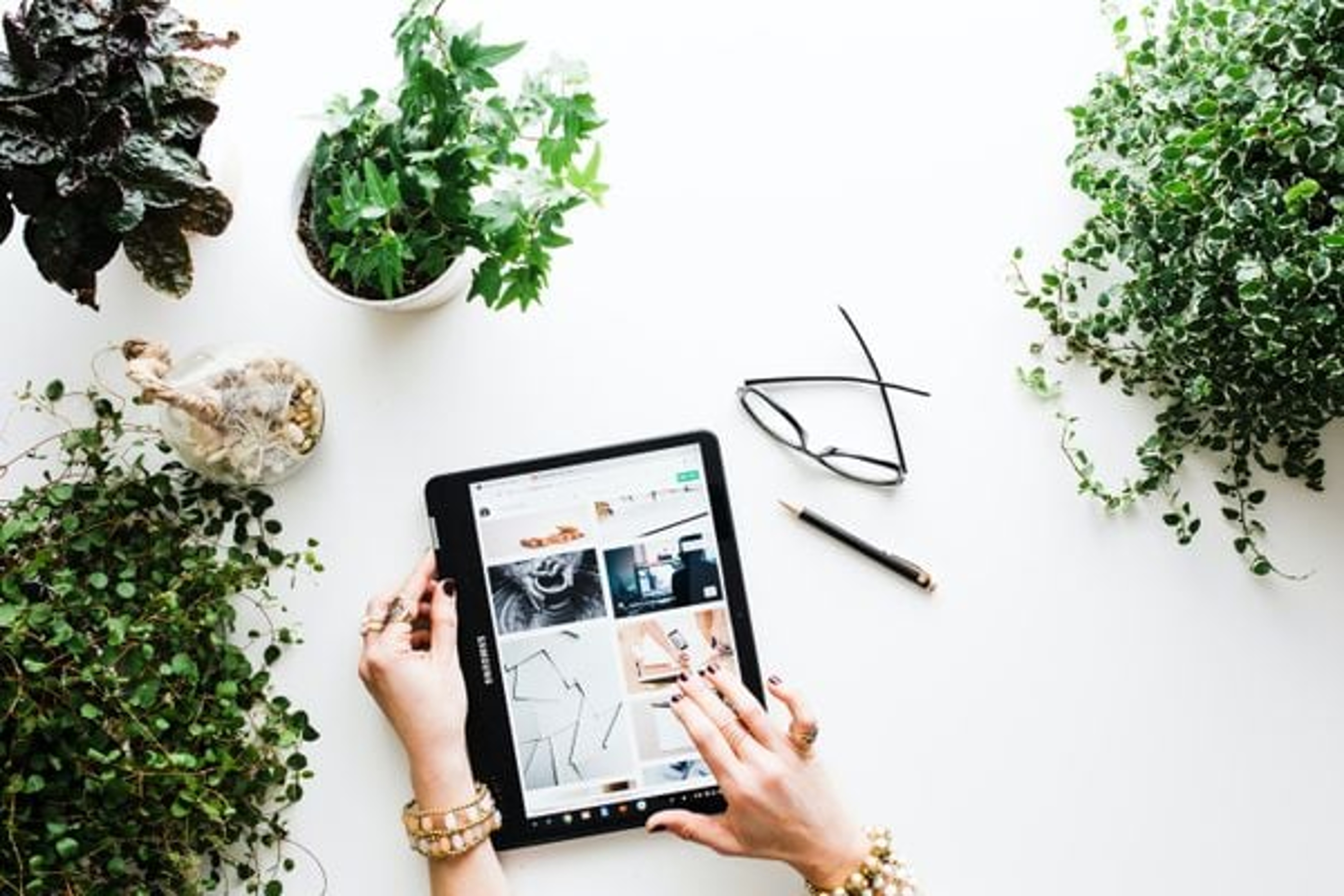 How to Use Social Commerce to Generate Sales for Your Small Business
Social commerce is creating opportunities for small businesses to reach more consumers like never before....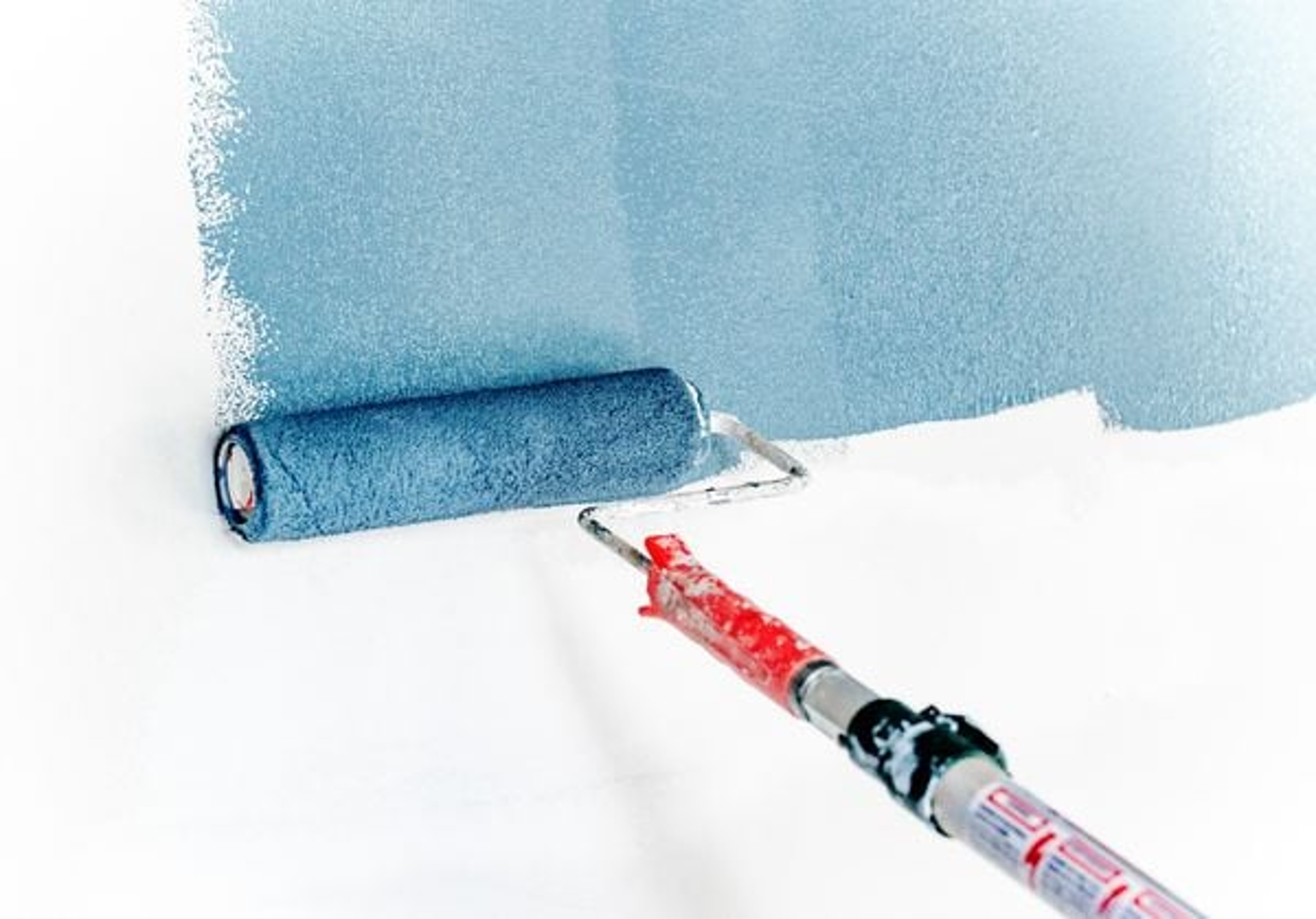 How to Create a Landing Page for Your Small Business in Hours
The best thing about a landing page is that you can create one by yourself, in some cases within minutes — without coding skills or a large budget. This step-by-step guide will show you how....
140,000+ small businesses like yours use Buffer to build their brand on social media every month
No credit card required
Cancel anytime
May we suggest
Picked for you.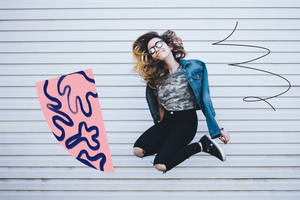 Social Media Image Sizes in 2021: Guidelines for Posts on 5 Major Networks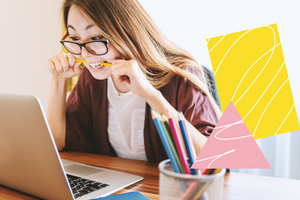 15 Instagram Stories Design Tips to Create Stunning Visuals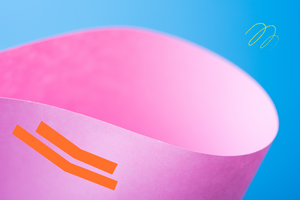 Best Time to Post on Facebook in 2023: A Complete Guide
Restaurant Management: The 7 elements of a Business Plan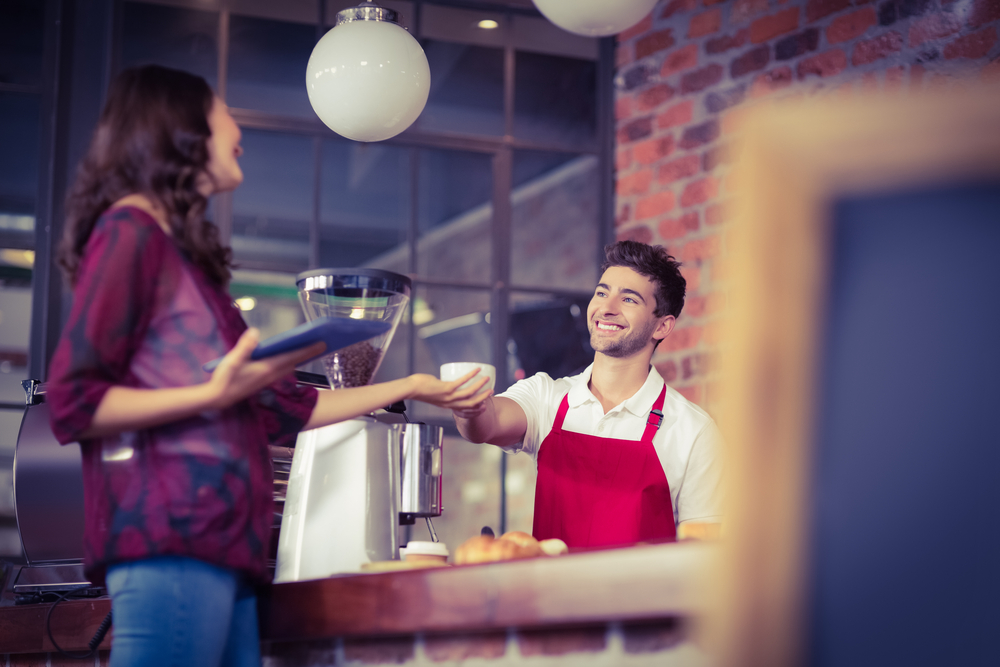 Unless you are self-funding your food business, you will need to find investors. To woo investors, you will need a business plan that outlines the essentials of your food business. Time spent creating your business plan more than pays you back by making your idea easy to understand by people who can help you launch your dream.
Here's what you need to know about creating a food business plan.
The 7 elements of a Business Plan
Business plans follow a template, which means you don't need to reinvent the wheel to come up with your business plan for a food concept. All you need to do is understand what is expected in each aspect of the business plan and then pull together the information that will help you complete the section correctly.
While you can include more elements to make your case, as long as your plan covers these seven topics, you're in good shape.
1. Give an overview through an executive summary
The point of the executive summary is to give context to the rest of your business plan with a high-level overview -- essentially an elevator pitch. Entrepreneurs frequently complete the executive summary last, because it sums up what's in the rest of the business plan.
Business owners often talk about the mission of their business idea, as well as the history of the business founders. A value proposition is usually found in the executive summary as well, which explains how the new business idea differs from other companies on the market, which could be competing for the same audience.
For instance, someone who wants to open a coffee shop might talk about their experience as a barista, their connections with coffee farmers in a given region, and what sets their coffee shop apart from others, such as a line of vegan breakfast pastries or a planned coffee educational component for customers.
2. Help to understand the case through a business description
While you want to tease out your business in the Executive Summary, the Business Description section lets you go into full detail on your food business concept.
No two business descriptions are exactly alike, since no businesses are quite the same. Questions to guide your thinking in writing this section include:
Where are you located?
What products will you sell?
Who are your target customers?
What is your projected growth?
What opportunities does your business have?
Who are the principal partners in your business?
What factors give you a competitive advantage vis-a-vis your concept?
The Business Description can be a powerful motivator for you as you hustle to open your business. Read it over anytime you need to remember the end goal of all your hard work!
3. Define the markets with a market analysis
To succeed in business, you need to know who your competitors are and where you fit in the market. In a Market Analysis, you'll need to outline where your business fits in the market, for instance whether your coffee shop targets college students who need a late-night study hangout or the morning commuter crowd, who want healthy breakfast items and strong coffee.
As you describe your target market, you might include profiles or personas of your ideal customers.
Who are they?
what else do they like to do?
why would they choose your new coffee shop over others in the same neighborhood?
You might also include a SWOT analysis, in which you discuss the strengths, weaknesses, opportunities, and threats affecting your business. An opportunity might be a trending neighborhood location where there are no other coffee shops, where a threat might be a neighborhood saturated with cafes. A strength could be your coffee education; a weakness might be the lack of a coffee education, to be overcome with smart hiring.
Going into depth this way will show investors that you understand your customer and have anticipated their needs within your business model. If you have customer testimonials -- for instance, if you tested out your concept with a coffee cart and gained a following -- you can include this information here.
The last section of the market analysis includes research, which looks at the chief trends within the industry and geographic area. For instance, third wave coffee is a major trend, thus a new coffee shop would want to offer high-quality beans sourced directly from coffee farmers. Wellness foods are another major trend, thus vegan pastries with superfoods could be a hit.
4. Show your own organization and management structure
You're not starting your business alone. This section of the business plan lets you show off the superstar talent who are going to help you launch your new cafe.
Perhaps you've heard the saying "it's not what you know, it's who you know."
Well, that holds true in many pitch rooms, because funders value your management and leadership connections more than, say, your connections to the best Nicaraguan coffee farmers (although they'll want to hear about that, too).
Funders place such a high value on management, because they know that an effective management team has the experience to weather tough storms. A good manager can help you pivot your concept if there's something that's not working -- say, your vegan pastries aren't a hit.
Spend time talking about the different players on your team, highlighting the qualifications, experience, and education of everyone who plays a role in your venture.
5. Define a clear sales and marketing strategy
Your idea won't be a hit unless you hit your sales and marketing goals. That means funders won't bite unless you show them how you've got creative ideas to push your product.
Start by discussing your price point.
How much will your beverages and food cost?
How does the price point relate to everything else you're doing?
How does it relate to the competition?
If your coffee drinks cost more than others in the neighborhood, be prepared to explain why you're charging more money.
After you situate your products on the market, you should talk about the promotional strategies you're using while launching the business and any great ideas you want to try later. While you're not open yet, perhaps you're teasing your coffee company on social media or writing a press release to announce that you've secured a location. Detail these strategies along with anything you're planning for your grand opening and beyond.
Don't forget to talk about your business website, including your SEO (search engine optimization) strategy, or any customer loyalty strategies, like a student discount.
6. Display your funding
Finally, the money you need to open your business comes into play. In this section, you talk about how much money you need to open your business.
This section can be stressful for business owners, but as long as you are being realistic and backing up your ask with data, you will be in good shape. Look for funding data on the type of business you want to open to guide your thinking. Coffee shops cost anywhere from $200,000 to $500,000 to open and can enjoy a profit margin as high as 25 percent. After three years in operation, a successful coffee shop can earn annual revenues of $1 million.
If you're not 100 percent sure how much money you need, a range is acceptable. If you are giving a range rather than a precise figure, make sure to include best-case and worst-case scenarios that explain why your maximum and minimum are set where they are.
Along with financials, you'll want to include a timeline, so anyone who invests understands when you plan to open and what needs to happen between now and then. In the timeline, you can talk about your location, build-out, licenses and permits, business insurance, inventory sourcing, hiring, employee training, and more.
The more detail you include in this section, the more impressed funders will be. When they see that you know your stuff and have thought through everything that needs to happen, they'll be more likely to sign on.
7. Give an outlook through financial projections
You may have thought the last section covered all your financials, but there's one more thing you need to cover: projections for the future.
Draw on market trends and projected revenue growth to talk about how profitable your business will be. Point out when investors would be repaid. Talk about the cash flow you will develop, then paint a picture of how your cash flow will help you grow.
To ace this section, you'll need to connect the dots between all the other information in your business plan, from your sales strategies to trends in the market to revenue growth. If you've had any earlier successes, such as a well-received trial run with a coffee cart, describe these here.
If you have a small food business and are seeking expansion funds, you'll also want to dwell on your successful track record, pointing out things like profitability, repeat customers, media attention, and more.
Got a story to share? Become an EHL Insights contributor
Four Seasons Athens: Lessons from the field on Talent Management Systems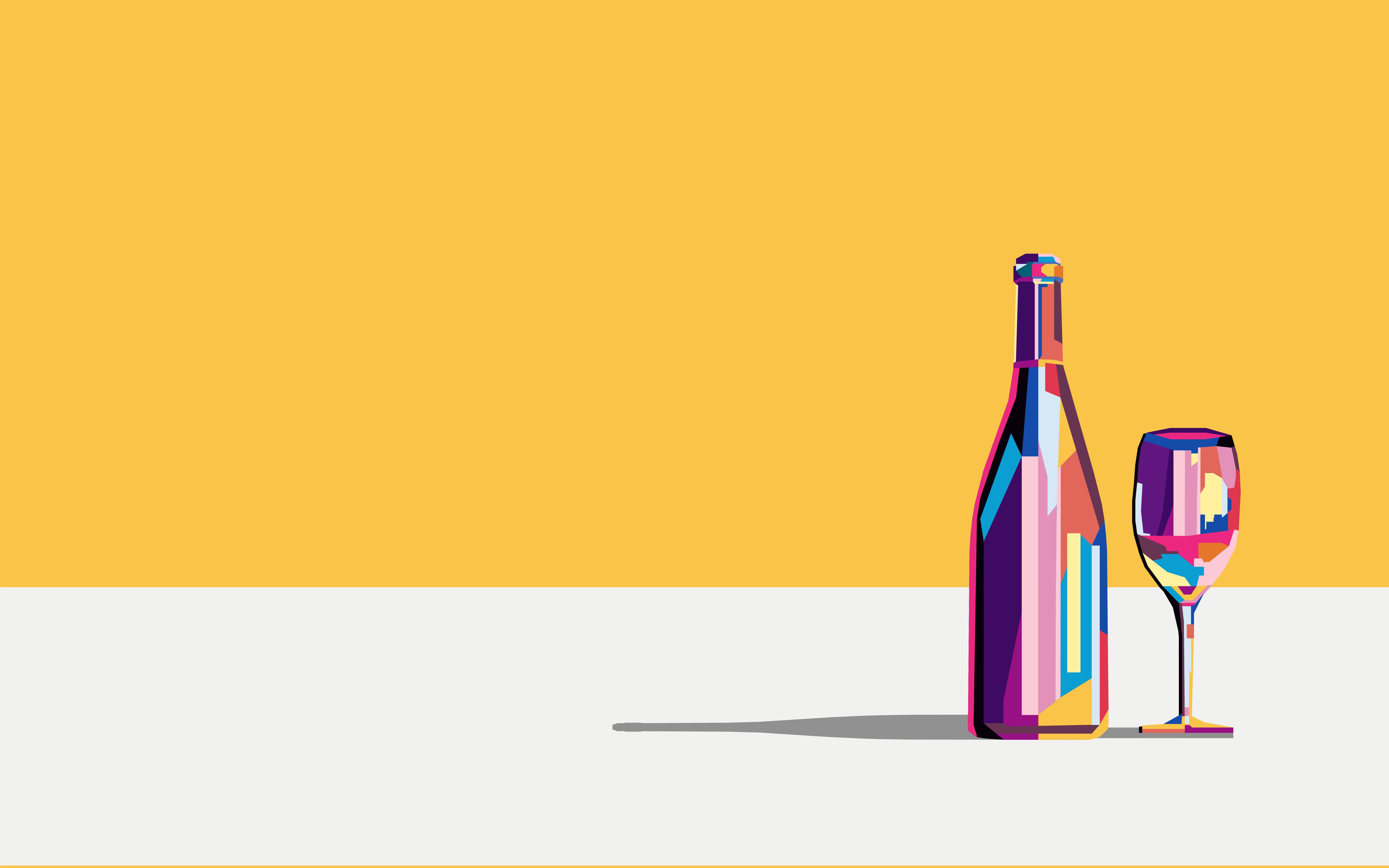 Best practice for pairing wine with art in the classroom: A synesthetic approach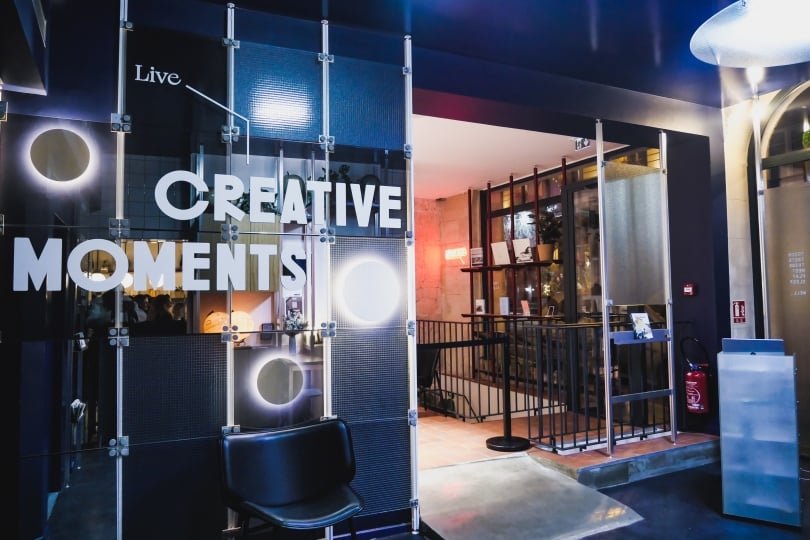 The 7 components of designing a hotel concept
Would you like to have your own hotel business one day?
Download the brochure to learn more about the Swiss Professional Degree in Hotel and Restaurant Management
EHL Group Route de Cojonnex 18 1000 Lausanne 25 Switzerland
Privacy Policy
Legal terms
© 2023 EHL Hospitality Business School, Switzerland, all rights reserved.
Seven Elements of a Business Plan
If you are serious about your business, you need to have a written business plan.
Not only is your plan an overview of your business; it is also the framework for the detailed actions you will need to undertake to build the business. The process of developing the plan should allow you to define the strengths and uncover the hurdles you will need to overcome to be successful.
Your business plan is also a living document; the strategic plan should be revisited at least annually and updated, as necessary. Every team member should understand the plan and how they fit into its execution.
1. The Executive Summary This is a brief overview of the plan, generally no more than two pages. It should include paragraph summaries of each of the operational sections of the plan: history, market and competition, products and/or services, management experience, and the financial outlook. If you are seeking funding, include a brief explanation of the needed financing and how it will be used. Remember, you are writing this to who might not be acquainted with the facts of the business so be clear, but brief.
2. Mission Statement An enthusiastic statement that defines the company's purpose, what you offer, and your overall goal. and how others including clients, employees, and if appropriate, the community benefit. Generally, mission statements are brief, no more than a few sentences. For example: Microsoft's original mission statement was: A computer on every desk and in every home. Cradle to Crayon's mission is: Provides children from birth through age 12, living in homeless or low-income situations, with the essential items they need to thrive – at home, at school and at play.
3. Company Description and History If the business is already established, tell the story of how the business started and how it progressed since that time. Include past, present, and future services and products which have been sold, and the reason why you possess a competitive edge on similar businesses. This section should include information on the business' legal structure (incorporation, sole proprietorship etc.), the location, and staff size. For a new business, describe how you developed your idea for the business and how your background will help the business.
4. Market Analysis This is the analysis of the market, including competition, target clients and demographics. Outline future market growth (both overall and for your company), and trends that may affect greater interest in your services and goods. Describe your competition, and where possible include a description of specific companies you compete with, and an analysis of their strengths and weaknesses.
Key here is to define what sets you apart from your competition.
5. Marketing Plan What is your service or product? What are the benefits, and what problem(s) does it solve? What is your plan to communicate this to your customers; what are your marketing and sales channels. Define why people make purchasing decisions (price, quality, trust etc.) when it comes to your product and how your product will satisfy those needs. Explain again why someone would buy from you instead of your competition.
6. Management Summary and Personnel Plan Describe the organizational structure from the company and job descriptions of every person. Define the essential positions and how they fit into the structure. If you are solo professional, determine what you can outsource to ensure that you are focused on the right priorities – spending time on ancillary activities may save money, but may also keep you from growing the company.
7. Financial Reports This section covers the financial statements and projections. It should include the Balance Sheet, Profit and Loss, and Cash flow statements. Depending on the business this may also include sub-schedules for Capital Expenses and other major items. This section should include a summary schedule; projected detailed monthly financial statements for at least the first year, and annual projections to cover the next 3 years of the business. If you are raising capital, the most important schedule is one detailing how the money will be spent. Investors need to see that their money will be used to build a business – not a lifestyle.
Randy Miller
As an Outsourced CFO, Randy brings over 35 years of experience to his work with privately held companies; building better organizations for growth; and maximizing value for a sale or re-capitalization. He specializes in strategic planning, organizational development, and accounting and finance management services for businesses. His passion is working with Owners/ CEOs/Presidents to maximize enterprise value by sharing his knowledge gained from working with start-ups, growth companies, and turnarounds for over thirty-five years. His role is to build the accounting and support functions to allow the owner to focus on the business, not the back office. Visit RMM Accounting .
SHARE THIS POST
Small Business Trends
7 parts to a winning business plan.
Starting a business is an exciting venture. To make it an absolute success, getting all the details right from the very beginning is absolutely crucial. This is where a business plan becomes relevant.
Please enable JavaScript
Parts of a Business Plan
Executive summary.
An executive summary briefly outlines the goals and objectives of the business. It summarizes a description of the business, the products and/or services provided, growth potential, funding requirements, a proper plan on how you will repay loans, if any, etc.
Description of the Business
Analysis of market opportunities and competition.
A thorough market research is crucial for your business. This research should analyze the buying habits of customers, purchasing cycle, their willingness to accept new products and services etc. In short, you would need to determine whether there is a viable market for the products and/or services your business will offer.
Marketing and Sales
Your plan should include the techniques that you will implement to generate leads, increase conversion and retain customers. These should be actionable and based on facts.
Additionally, the business plan should be inclusive of proper funding options for expansion and growth.
Contingency Plan
Setting up in the UK
Start-up business
A growing business
Maturing company considering exit strategy
An individual
Bookkeeping & accounting
Choosing the right structure
Corporate finance
Forensic accounting & litigation
Mergers, acquisitions & disposals
Profit & cashflow forecasting
Raising finance
Share schemes
Strategic planning
Corporate tax planning
Estate planning
Personal tax planning
R&D tax credits
Self assessment
The patent box
Trust & executorships
VAT planning and compliance
Agriculture
Contracting
Estate & letting agents
Family enterprise
Hospitality
Legal practices
Pension schemes
Property & construction
Our Approach
There are no suggestions because the search field is empty.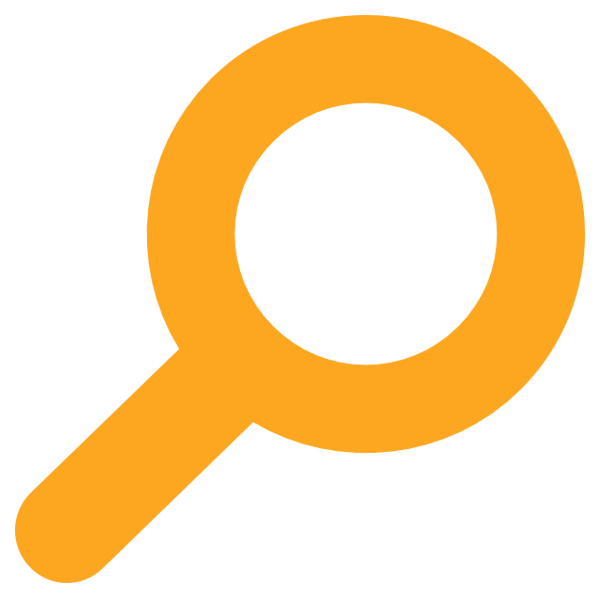 This section should contain details of things such as your goals and the customers you will service. What are the products and services you will offer to your customers? You'll need to provide an overview of them and how they will address customers' needs and wants?
You've come up with this great business idea , but how will it do in the market? Or, more importantly, what is the market for it? How well do you know the market? What does a typical buyer look like, what is their income level? Does the business have the hallmarks of disruptive innovation ?
This is the time to research and determine who your target market is and ask specific questions that relate to your product or service. Put you idea to the test. What have others done before you and what can you do differently and better? Analyse what information you've uncovered and outline it's potential impact in your plan.
Create a detailed list of your strengths, weaknesses, opportunities and threats. This needs to be done with an open and honest approach, keep emotions out of it, focus on being objective when analysing your business and those of your competitors.
Any strengths you uncover will represent internal, positive factors in your business that are within your control. Weaknesses are also internal, but are negative factors that need to be improved.
Both opportunities and threats are external factors. While opportunities will potentially positively impact on your business, threats represent negative factors beyond your control. For example, are there high barriers to entering the market? Does a competitor have the market cornered due to brand loyal customers? These could harm your enterprise, so you need to strategise for it in your plan.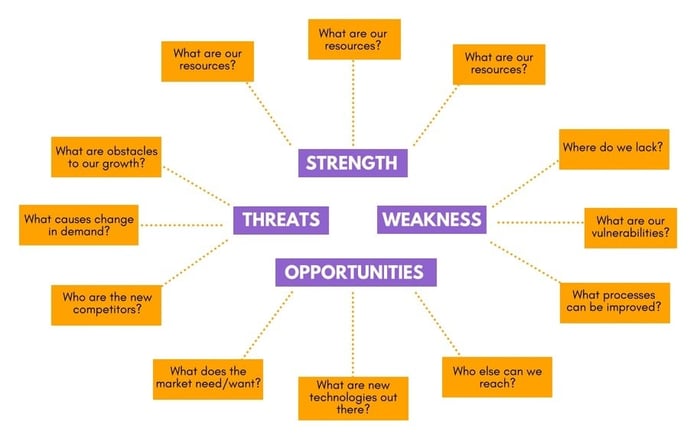 5. The management team and personnel
Who will run the business, who are the directors in the business? What are the skills of the management team and how do their different responsibilities make maximum use of their abilities. What is the chain of command in terms of decision making?
Also use this section to identify how the management team, and taking on employees will help maximise strengths, while addressing identified weaknesses to help improve the business.
Finally, which of the UK's business structures will you choose to operate through?
Limited company
Partnership
Limited liability partnership
In this section you need to detail what will be produced and how it will be sold. You should explain how your product or service will meet a particular need in the marketplace, and how you'll get customers returning to make repeat purchases. Repeat custom is after all the lifeblood of many a good business.
Who will you rely on, in terms of suppliers, to help you assemble your products? What intellectual property, patents or copyright do you own, or might you be at risk of potentially infringing?
What is the branding to your business? What are the key messages you want to communicate with your target market and how will you go about reaching them? How will you achieve market share and at what cost in terms of your budget?
8. Let's talk money: A financial plan
Ideas are great, but how will you make them a reality and sustain a viable business. Creating a financial plan will give you the opportunity to address your financial concerns and talk money, think about start-up costs, financial projections , funding and investor pitches.
You'll need to list how much your start-up will cost, everything from stationary to leases should be outlined and balanced against your financial projections.
Don't fear change, your business plan isn't written in stone
It's important to remember that your business plan isn't written in stone. This is a document that you and your staff can improve and update as the business grows and changes. Your plan should be reviewed regularly.
Consider implementing a monthly review to track progress or make adjustments to your strategy. Accountability and motivation are key in making sure your goals are met, think about the people involved and what can you do to keep them inspired.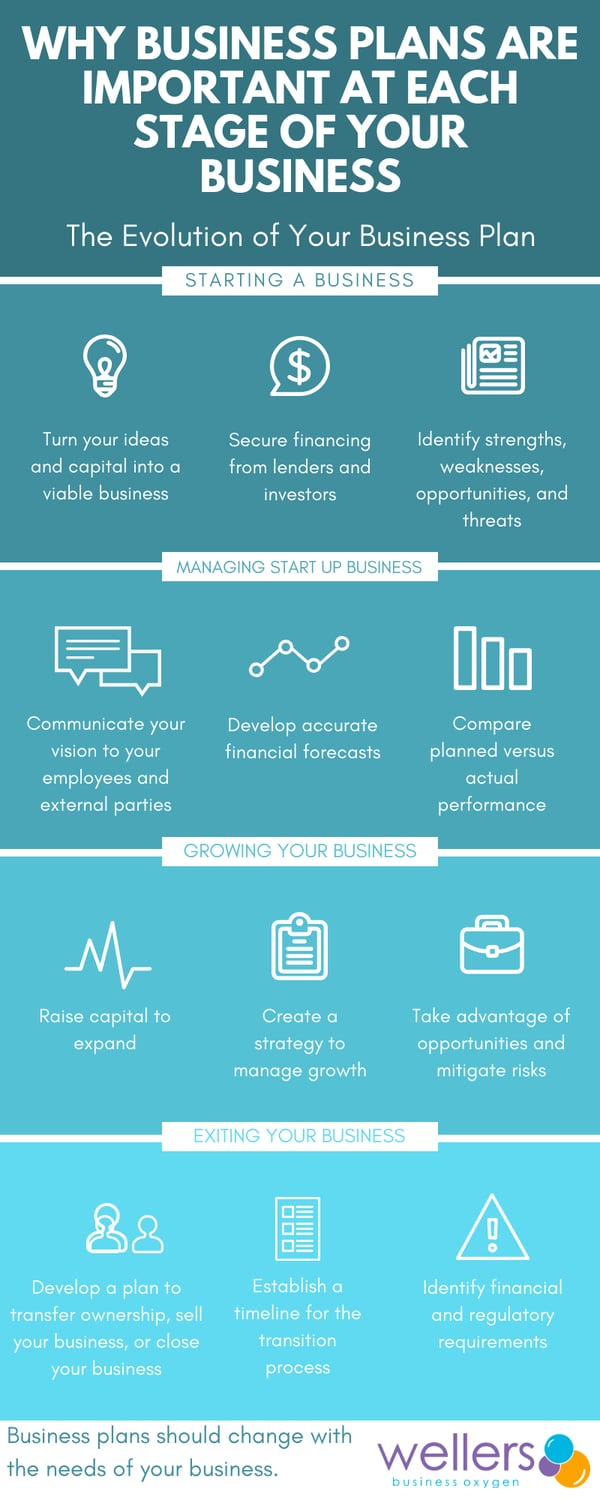 This post was created on 26/06/2018 and updated on 18/02/2022.
Please be aware that information provided by this blog is subject to regular legal and regulatory change. We recommend that you do not take any information held within our website or guides (eBooks) as a definitive guide to the law on the relevant matter being discussed. We suggest your course of action should be to seek legal or professional advice where necessary rather than relying on the content supplied by the author(s) of this blog.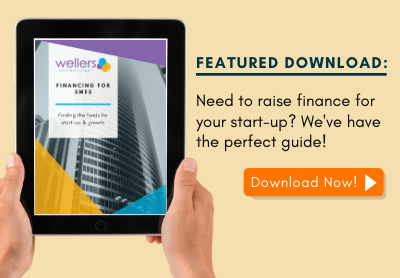 Related posts -
Leave a comment -, subscribe to email updates, popular posts, posts by topic.
Business insight (77)
Personal Tax (46)
Hospitality (43)
Tax developments (42)
Click below for office location details
Wellers London
Wellers Oxford
Wellers Thame
Wellers Banbury
Business Services
Specialist Sectors
Privacy Policy
Cookie Policy
subscribe to newsletter
Connect with us.