Research Proposal
Research-oriented genre.
Often the first research-oriented genre that students will encounter in their coursework is the research proposal. Unlike an academic journal article , whose goal is to disseminate the results of new research, the research proposal's job is to convince people to support a new research project. That means that it will discuss data collection efforts that have not yet begun, and in such a way that the reader will be convinced that these new efforts are a good idea.
The audience will include people with the power to allow a new data-collection project to proceed. Possible audience-members include grant-funding agencies (although grant applications are often a little different in structure and rules), university institutional review boards (IRBs), and also community partners whose help we might need in finding participants or administering the data-collection process. All of these groups have limited time or resources, and will be reluctant to let a new project move forward—unless we can demonstrate that it deals with an important issue or problem, that it would provide new knowledge that we don't already have, and that it can be completed without causing ethical problems, or incurring too many expenses. Most of these audiences will have some expertise in the subject matter, so we can often save space by avoiding definitions of very common terms. However, audiences may include practitioners as well as researchers (community partner organizations are often run by practitioners, for example), so it is often important to be sure to define highly specialized technical terms, particularly if they are used differently by different researchers. These audiences have read quite a few journal articles, and will be looking to situate our work among other work on the same topic, so it is important to begin by contextualizing the study, establishing how it fits with (or alters) what we already know. It is also worth noting that social work clients or members of the general public will likely not read either the proposal or any report of the results, so we should be gearing our work to address social work professionals.
The overall argument is that our work will make a useful contribution to knowledge in the topic area. Because this is a research-oriented genre, aimed at improving "what we know," the topic will often need to be very specific and very clearly defined. We will usually need to make a few key decisions before embarking on an outline and a draft: First, we will need to choose whether we are collecting more data about a problem, or testing an intervention. These two types of study are very different, and will strongly shape how we go about our library research. Then, we will need to decide whether we want to do a qualitative, quantitative, or mixed-methods study. This decision will change what kinds of research question we can ask, and how (see Variants , below, for further explanation). The draft's structure has similar pieces to some that we might find in other genres (and these pieces each have their own argument and conventions, so this section will include links to the separate "subgenres" with more details):
Introduction: We will usually need to convince the audience that the time is right for this kind of research by establishing that the topic area is important—that a problem is serious, for instance, and has wide-reaching effects, and that it has (or should have) been an object of study for researchers. We need to establish exigency for new research. See the introduction subgenre for more information. For the purpose of the research proposal, the introduction should often be brief and specific, and should make the project's high stakes very clear. If it accomplishes its goal, the reader will acknowledge that the problem or issue under consideration is indeed worth researching, and will continue reading. If it fails, the reader may decide that the problem or issue is not as important as others, and may decline to support the project, and/or stop reading altogether.
Literature Review: We will also usually need to convince the audience that our research can add to available knowledge, and to do that, we need to convey a sense of what is currently known about the topic, and where there are gaps in the knowledge—what is not currently known. Usually we want to set up the lit review so that our study is positioned to fill a gap—if we are gathering more data about the problem, we need to show which data are needed; and if we are testing an intervention, we need to show why we would want to do that intervention with this kind of population, and what prior interventions have been tested. The literature review should be organized thematically, or by the issues, rather than going study by study. See the literature review subgenre for more information. For the purpose of the research proposal, the lit review lays the groundwork for the data-collection project we want to propose, so it should establish clear gaps in the literature, and give a clear sense of where more data-collection is needed. If it accomplishes its goal, the reader will agree that we need to know more about the topic or issue than we do so far, and will keep reading, hoping to see that our subsequent sections will show how our project will do that. If it fails, the reader may decide that we already know enough about this part of the problem, or that the gaps in the literature are not very important, and may decline to support the project, and/or stop reading altogether.
Relevance to Social Work: Not all research proposals include this section, but it does appear in many versions of the research proposal assignment. Some readers, particularly those with social work backgrounds, such as community partners, will want to know that the new data-collection project is not just gathering data for data's sake. The data should serve to improve social work practice or advocacy in some concrete, clear way, so this section should argue that meaningful improvements will result if the data collection project can be completed. It is also worth noting that clients or members of the public will not be likely to read either the proposal or any report of the results, so "raising awareness" is not usually an implication for a data-collection project. Our readers will be social-work professionals.
Ethical Issues: Not all research proposals include this section, but it does appear in many versions of the research proposal assignment. Readers such as IRB members will need to know that the researchers have thought through all of the potential ethical pitfalls or risks associated with the research project. This section will need to make clear claims about what risks might arise, and how the data-collection project will try to avoid them. The content of this section will vary from project to project, therefore, but it will likely include a discussion of any vulnerable populations involved with the study, matters of participants' consent and risks of coercion, any potentials for mandatory reporting issues, and any and all dangers to participants, should they choose to participate.
Study Purpose & Methods: We need to declare clearly what our data-collection project is going to do, and how, so that readers know exactly what we are proposing to do. See the methods subgenre for more information. For the purpose of the research proposal, however, this section should be framed in the future tense, describing things we will do , rather than things we did , since we are proposing a new data-collection project that we have not done yet. Some versions of this assignment do not require us to write out a complete methods section, so it is worth checking the assignment instructions carefully. If these final three sections are successful, the readers will decide that the study is not only desirable, but also has practical implications, and is ethically feasible—and then they might allow the study to move forward!
The journal article should draw upon other academic sources, particularly in the lit review and discussion, and may also need reliable public data in either the lit review or the introduction. In the lit review, it is also often necessary to indicate what underlying theories of human behavior or intervention are structuring the development of new knowledge. For that purpose we may need to rely upon academic books, in addition to journal articles.
Theoretical Writing
The introduction and lit review are generally conducted on a "theoretical" footing, referring primarily to reliable public data and other academic sources; only in the methods section, and in a few sentences that describe the project itself, does the "we" become appropriate, when it designates the researchers (although some venues may require the third person, "the researchers" or "the study").
"Research Paper": This is sometimes used as another name for this genre. See the " research paper " section for more information about other uses of this term.
Qualitative Research Project: This version of the research proposal specifies that we must use qualitative methods to answer an appropriate research question—that is, a question about subjective human experiences, "what it is like."
Quantitative Research Project: This version of the research proposal specifies that we must use quantitative methods to answer an appropriate research question—that is, a question aiming to ascertain facts about a larger population, using statistical analyses.
Mixed Methods Project: This version of the research proposal specifies that we must use both quantitative and qualitative methods to answer an appropriate research question. Here, it is important to show how the quantitative and qualitative components relate to one another, and there are three common options to choose from: a.) We might start with qualitative interviews or focus groups to establish the dimensions of the issue, and then use the results to help us design a larger-scale quantitative survey; b.) we might start with a quantitative survey, and then follow up with qualitative interviews with a subset of participants, to learn more about why they answered the survey the way they did; or c.) we might undertake both components simultaneously, to capture different dimensions of the problem or issue (and in this case we would need to specify which parts of the study try to get which data elements).
Note: Exact requirements may vary from instructor to instructor and from assignment to assignment!
So check the instructions carefully!
Back to Index
Writing Guide: Student Edition
What Can I expect?
Common Assignments in Social Work Education
What is social work research?
How do I start? Part 1: Prewriting
How do I start? Part 2: Writing
Why revise?
Why proofread?
More Resources
Common assignments
Read More About Specific Advocacy-Oriented Genres
Address School of Social Work Box 19129 501 W. Mitchell Street Arlington, TX 76019-0129
Phone (Local): 817-272-3181 | (Toll Free): 866-272-3181 Fax : 817-272-5229
The School of Social Work Admissions office is located in Suite 203 in the Social Work and Smart Hospital Building (501 W. Mitchell Street, Arlington, TX 76019).
Follow us on social media
Faculty/Staff Resources
Parking Pass Request
Request Information
Conference Room/Classroom Reservation
Special Event Request
Student Forms & Resources
Writing Resources
Have a language expert improve your writing
Run a free plagiarism check in 10 minutes, generate accurate citations for free.
Knowledge Base
Starting the research process
How to Write a Research Proposal | Examples & Templates
How to Write a Research Proposal | Examples & Templates
Published on October 12, 2022 by Shona McCombes and Tegan George. Revised on January 3, 2023.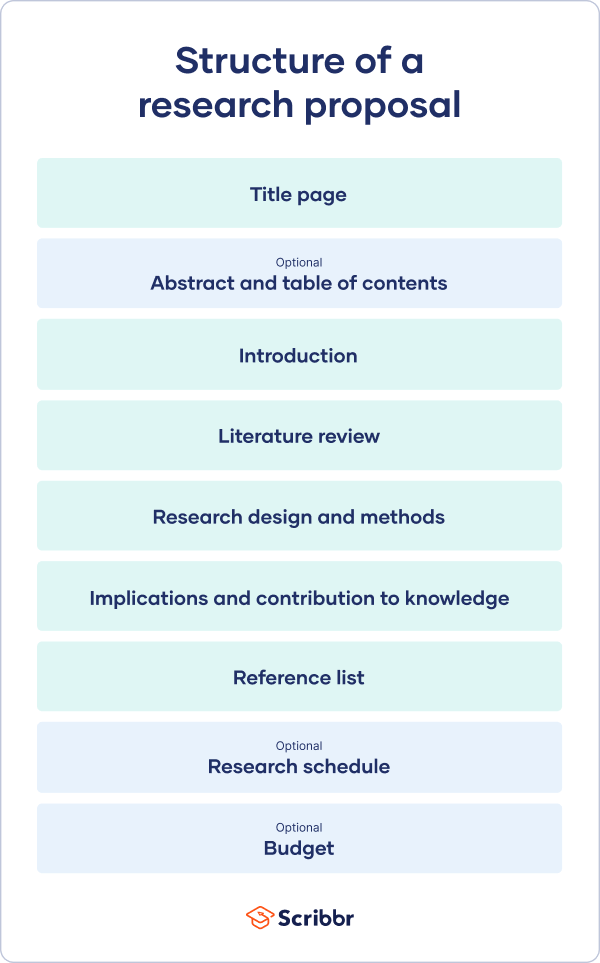 A research proposal describes what you will investigate, why it's important, and how you will conduct your research.
The format of a research proposal varies between fields, but most proposals will contain at least these elements:
Introduction
Literature review.
Reference list
While the sections may vary, the overall objective is always the same. A research proposal serves as a blueprint and guide for your research plan, helping you get organized and feel confident in the path forward you choose to take.
Table of contents
Research proposal purpose, research proposal examples, research design and methods, contribution to knowledge, research schedule, frequently asked questions about research proposals.
Academics often have to write research proposals to get funding for their projects. As a student, you might have to write a research proposal as part of a grad school application , or prior to starting your thesis or dissertation .
In addition to helping you figure out what your research can look like, a proposal can also serve to demonstrate why your project is worth pursuing to a funder, educational institution, or supervisor.
Research proposal length
The length of a research proposal can vary quite a bit. A bachelor's or master's thesis proposal can be just a few pages, while proposals for PhD dissertations or research funding are usually much longer and more detailed. Your supervisor can help you determine the best length for your work.
One trick to get started is to think of your proposal's structure as a shorter version of your thesis or dissertation , only without the results , conclusion and discussion sections.
Download our research proposal template
Writing a research proposal can be quite challenging, but a good starting point could be to look at some examples. We've included a few for you below.
Example research proposal #1: "A Conceptual Framework for Scheduling Constraint Management"
Example research proposal #2: "Making Healthy Connections: Mentoring, Monitoring and Measurement"
Example research proposal #3: "Medical Students as Mediators of Change in Tobacco Use"
What can proofreading do for your paper?
Scribbr editors not only correct grammar and spelling mistakes, but also strengthen your writing by making sure your paper is free of vague language, redundant words, and awkward phrasing.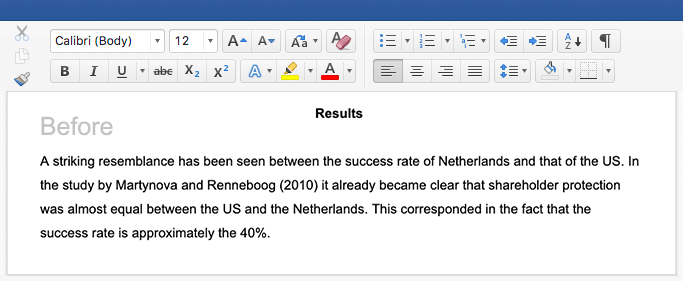 See editing example
Like your dissertation or thesis, the proposal will usually have a title page that includes:
The proposed title of your project
Your supervisor's name
Your institution and department
The first part of your proposal is the initial pitch for your project. Make sure it succinctly explains what you want to do and why.
Your introduction should:
Introduce your topic
Give necessary background and context
Outline your  problem statement  and research questions
To guide your introduction , include information about:
Who could have an interest in the topic (e.g., scientists, policymakers)
How much is already known about the topic
What is missing from this current knowledge
What new insights your research will contribute
Why you believe this research is worth doing
As you get started, it's important to demonstrate that you're familiar with the most important research on your topic. A strong literature review  shows your reader that your project has a solid foundation in existing knowledge or theory. It also shows that you're not simply repeating what other people have already done or said, but rather using existing research as a jumping-off point for your own.
In this section, share exactly how your project will contribute to ongoing conversations in the field by:
Comparing and contrasting the main theories, methods, and debates
Examining the strengths and weaknesses of different approaches
Explaining how will you build on, challenge, or synthesize prior scholarship
Following the literature review, restate your main  objectives . This brings the focus back to your own project. Next, your research design or methodology section will describe your overall approach, and the practical steps you will take to answer your research questions.
To finish your proposal on a strong note, explore the potential implications of your research for your field. Emphasize again what you aim to contribute and why it matters.
For example, your results might have implications for:
Improving best practices
Informing policymaking decisions
Strengthening a theory or model
Challenging popular or scientific beliefs
Creating a basis for future research
Last but not least, your research proposal must include correct citations for every source you have used, compiled in a reference list . To create citations quickly and easily, you can use our free APA citation generator .
Some institutions or funders require a detailed timeline of the project, asking you to forecast what you will do at each stage and how long it may take. While not always required, be sure to check the requirements of your project.
Here's an example schedule to help you get started. You can also download a template at the button below.
Download our research schedule template
If you are applying for research funding, chances are you will have to include a detailed budget. This shows your estimates of how much each part of your project will cost.
Make sure to check what type of costs the funding body will agree to cover. For each item, include:
Cost : exactly how much money do you need?
Justification : why is this cost necessary to complete the research?
Source : how did you calculate the amount?
To determine your budget, think about:
Travel costs : do you need to go somewhere to collect your data? How will you get there, and how much time will you need? What will you do there (e.g., interviews, archival research)?
Materials : do you need access to any tools or technologies?
Help : do you need to hire any research assistants for the project? What will they do, and how much will you pay them?
Once you've decided on your research objectives , you need to explain them in your paper, at the end of your problem statement .
Keep your research objectives clear and concise, and use appropriate verbs to accurately convey the work that you will carry out for each one.
I will compare …
A research aim is a broad statement indicating the general purpose of your research project. It should appear in your introduction at the end of your problem statement , before your research objectives.
Research objectives are more specific than your research aim. They indicate the specific ways you'll address the overarching aim.
A PhD, which is short for philosophiae doctor (doctor of philosophy in Latin), is the highest university degree that can be obtained. In a PhD, students spend 3–5 years writing a dissertation , which aims to make a significant, original contribution to current knowledge.
A PhD is intended to prepare students for a career as a researcher, whether that be in academia, the public sector, or the private sector.
A master's is a 1- or 2-year graduate degree that can prepare you for a variety of careers.
All master's involve graduate-level coursework. Some are research-intensive and intend to prepare students for further study in a PhD; these usually require their students to write a master's thesis . Others focus on professional training for a specific career.
Critical thinking refers to the ability to evaluate information and to be aware of biases or assumptions, including your own.
Like information literacy , it involves evaluating arguments, identifying and solving problems in an objective and systematic way, and clearly communicating your ideas.
The best way to remember the difference between a research plan and a research proposal is that they have fundamentally different audiences. A research plan helps you, the researcher, organize your thoughts. On the other hand, a dissertation proposal or research proposal aims to convince others (e.g., a supervisor, a funding body, or a dissertation committee) that your research topic is relevant and worthy of being conducted.
Cite this Scribbr article
If you want to cite this source, you can copy and paste the citation or click the "Cite this Scribbr article" button to automatically add the citation to our free Citation Generator.
McCombes, S. & George, T. (2023, January 03). How to Write a Research Proposal | Examples & Templates. Scribbr. Retrieved March 2, 2023, from https://www.scribbr.com/research-process/research-proposal/
Is this article helpful?
Shona McCombes
Other students also liked, how to write a problem statement | guide & examples, writing strong research questions | criteria & examples, how to write a literature review | guide, examples, & templates, what is your plagiarism score.
Postgraduate
Examples of Research proposals
Find a course
Accessibility
Examples of research proposals
How to write your research proposal, with examples of good proposals.
Research proposals
Your research proposal is a key part of your application. It tells us about the question you want to answer through your research. It is a chance for you to show your knowledge of the subject area and tell us about the methods you want to use.
We use your research proposal to match you with a supervisor or team of supervisors.
In your proposal, please tell us if you have an interest in the work of a specific academic at York St John. You can get in touch with this academic to discuss your proposal. You can also speak to one of our Research Leads. There is a list of our Research Leads on the Apply page.
When you write your proposal you need to:
Highlight how it is original or significant
Explain how it will develop or challenge current knowledge of your subject
Identify the importance of your research
Show why you are the right person to do this research
Research Proposal Example 1 (DOC, 49kB)
Research Proposal Example 2 (DOC, 0.9MB)
Research Proposal Example 3 (DOC, 55.5kB)
Research Proposal Example 4 (DOC, 49.5kB)
Campus and facilities
How to find us
London Campus
Academic Schools
Working with the community
Donate or support
Policies and documents
Admissions documents
Access and Participation Plan
Academic dates
Programme specifications
Module documents
Quality gateway
Welcome guide for new students
Back to the top
York St John University, Lord Mayor's Walk, York, YO31 7EX | Phone: 01904 624624 | Media: 01904 876466
Freedom of information
Accessibility statement
Modern slavery and human trafficking statement
© York St John University 2022
How to Write a Research Proposal

Once you're in college and really getting into  academic writing , you may not recognize all the kinds of assignments you're asked to complete. You know what an essay is, and you know how to respond to readings—but when you hear your professor mention a research proposal or a literature review, your mind might do a double take. 
Don't worry; we've got you. Boiled down to its core, a research proposal is simply a short piece of  writing that details exactly what you'll be covering in a larger research project. You'll likely be required to write one for your  thesis , and if you choose to continue in academia after earning your bachelor's degree, you'll be writing research proposals for your master's thesis, your dissertation, and all other research you conduct. By then, you'll be a research proposal pro. But for now, we'll answer all your questions and help you confidently write your first one. 
Here's a tip: Want to make sure your writing shines? Grammarly can check your spelling and save you from grammar and punctuation mistakes. It even proofreads your text, so your work is extra polished wherever you write.
Your writing, at its best Grammarly helps you communicate confidently Write with Grammarly
What is the goal of a research proposal?
In a research proposal, the goal is to present the author's plan for the research they intend to conduct. In some cases, part of this goal is to secure funding for said research. In others, it's to have the research approved by the author's supervisor or department so they can move forward with it. In some cases, a research proposal is a required part of a graduate school application. In every one of these circumstances, research proposals follow the same structure.
In a research proposal, the author demonstrates how and why their research is relevant to their field. They demonstrate that the work is necessary to the following:
Filling a gap in the existing body of research on their subject
Underscoring existing research on their subject, and/or
Adding new, original knowledge to the academic community's existing understanding of their subject
A research proposal also demonstrates that the author is capable of conducting this research and contributing to the current state of their field in a meaningful way. To do this, your research proposal needs to discuss your academic background and credentials as well as demonstrate that your proposed ideas have academic merit. 
But demonstrating your research's validity and your personal capability to carry it out isn't enough to get your research proposal approved. Your research proposal also has to cover these things:
The research methodology you plan to use
The tools and procedures you will use to collect, analyze, and interpret the data you collect
An explanation of how your research fits the budget and other constraints that come with conducting it through your institution, department, or academic program
If you've already read our post on literature reviews , you may be thinking that a research proposal sounds pretty similar. They're more than just similar, though—a literature review is part of a research proposal. It's the section that covers which sources you're using, how you're using them, and why they're relevant. Think of a literature review as a mini-research proposal that fits into your larger, main proposal. 
How long should a research proposal be?
Generally, research proposals for bachelor's and master's theses are a few pages long. Research proposals for meatier projects, like Ph.D. dissertations and funding requests, are often longer and far more detailed. A research proposal's goal is to clearly outline exactly what your research will entail and accomplish, so including the proposal's word count or page count isn't nearly as important as it is to ensure that all the necessary elements and content are present. 
Research proposal structure
A research proposal follows a fairly straightforward structure. In order to achieve the goals described in the previous section, nearly all research proposals include the following sections:
Introduction
Your introduction achieves a few goals:
Introduces your topic
States your problem statement and the questions your research aims to answer
Provides context for your research
In a research proposal, an introduction can be a few paragraphs long. It should be concise, but don't feel like you need to cram all of your information into one paragraph. 
In some cases, you need to include an abstract and/or a table of contents in your research proposal. These are included just before the introduction. 
Background significance
This is where you explain why your research is necessary and how it relates to established research in your field. Your work might complement existing research, strengthen it, or even challenge it—no matter how your work will "play with" other researchers' work, you need to express it in detail in your research proposal.  
This is also the section where you clearly define the existing problems your research will address. By doing this, you're explaining why your work is necessary—in other words, this is where you answer the reader's "so what?" 
In your background significance section, you'll also outline how you'll conduct your research. If necessary, note which related questions and issues you won't be covering in your research. 
Literature review
In your  literature review , you introduce all the sources you plan to use in your research. This includes landmark studies and their data, books, and scholarly articles. A literature review isn't merely a list of sources (that's what your bibliography is for); a literature review delves into the collection of sources you chose and explains how you're using them in your research. 
Research design, methods, and schedule
Following your research review, you'll discuss your research plans. In this section, make sure you cover these aspects:
The type of research you will do. Are you conducting qualitative or quantitative research? Are you collecting original data or working with data collected by other researchers?
Whether you're doing experimental, correlational, or descriptive research
The data you're working with. For example, if you're conducting research in the social sciences, you'll need to describe the population you're studying. You'll also need to cover how you'll select your subjects and how you'll collect data from them. 
The tools you'll use to collect data. Will you be running experiments? Conducting surveys? Observing phenomena? Note all data collection methods here along with why they're effective methods for your specific research.
Beyond a comprehensive look at your research itself, you'll also need to include:
Your research timeline
Your research budget
Any potential obstacles you foresee and your plan for handling them
Suppositions and implications
Although you can't know your research's results until you've actually done the work, you should be going into the project with a clear idea of how your work will contribute to your field. This section is perhaps the most critical to your research proposal's argument because it expresses exactly why your research is necessary. 
In this section, make sure you cover the following:
Any ways your work can challenge existing theories and assumptions in your field
How your work will create the foundation for future research
The practical value your findings will provide to practitioners, educators, and other academics in your field
The problems your work can potentially help to fix
Policies that could be impacted by your findings
How your findings can be implemented in academia or other settings and how this will improve or otherwise transform these settings
In other words, this section isn't about stating the specific results you expect. Rather, it's where you state how your findings will be valuable. 
This is where you wrap it all up. Your conclusion section, just like your conclusion paragraph for an essay , briefly summarizes your research proposal and reinforces your research's stated purpose. 
Bibliography
Yes, you need to write a bibliography in addition to your literature review. Unlike your literature review, where you explained the relevance of the sources you chose and in some cases, challenged them, your bibliography simply lists your sources and their authors.
The way you write a citation depends on the style guide you're using. The three most common style guides for academics are MLA , APA , and Chicago , and each has its own particular rules and requirements. Keep in mind that each formatting style has specific guidelines for citing just about any kind of source, including photos , websites , speeches , and YouTube videos .
Sometimes, a full bibliography is not needed. When this is the case, you can include a references list, which is simply a scaled-down list of all the sources you cited in your work. If you're not sure which to write, ask your supervisor. 
Here's a tip: Grammarly's  Citation Generator  ensures your essays have flawless citations and no plagiarism. Try it for citing journal articles in MLA , APA , and Chicago  styles.
How to write a research proposal
Research proposals, like all other kinds of academic writing, are written in a formal, objective tone. Keep in mind that being concise is a key component of academic writing; formal does not mean flowery. 
Adhere to the structure outlined above. Your reader knows how a research proposal is supposed to read and expects it to fit this template. It's crucial that you present your research proposal in a clear, logical way. Every question the reader has while reading your proposal should be answered by the final section. 
Editing and proofreading a research proposal
When you're writing a research proposal, follow the same six-step writing process you follow with every other kind of writing you do. 
After you've got a first draft written, take some time to let it "cool off" before you start proofreading . By doing this, you're making it easier for yourself to catch mistakes and gaps in your writing. 
Common mistakes to avoid when writing a research proposal
When you're writing a research proposal, avoid these common pitfalls: 
Being too wordy
As we said earlier, formal does not mean flowery. In fact, you should aim to keep your writing as brief and to-the-point as possible. The more economically you can express your purpose and goal, the better.   
Failing to cite relevant sources
When you're conducting research, you're adding to the existing body of knowledge on the subject you're covering. Your research proposal should reference one or more of the landmark research pieces in your field and connect your work to these works in some way. This doesn't just communicate your work's relevance—it also demonstrates your familiarity with the field. 
Focusing too much on minor issues
There are probably a lot of great reasons why your research is necessary. These reasons don't all need to be in your research proposal. In fact, including too many questions and issues in your research proposal can detract from your central purpose, weakening the proposal. Save the minor issues for your research paper itself and cover only the major, key issues you aim to tackle in your proposal. 
Failing to make a strong argument for your research
This is perhaps the easiest way to undermine your proposal because it's far more subjective than the others. A research proposal is, in essence, a piece of persuasive writing . That means that although you're presenting your proposal in an objective, academic way, the goal is to get the reader to say "yes" to your work. 
This is true in every case, whether your reader is your supervisor, your department head, a graduate school admissions board, a private or government-backed funding provider, or the editor at a journal in which you'd like to publish your work. 
Polish your writing into a stellar proposal
When you're asking for approval to conduct research—especially when there's funding involved—you need to be nothing less than 100 percent confident in your proposal. If your research proposal has spelling or grammatical mistakes, an inconsistent or inappropriate tone, or even just awkward phrasing, those will undermine your credibility. 
Make sure your research proposal shines by using Grammarly to catch all of those issues. Even if you think you caught all of them while you were editing, it's critical to double-check your work. Your research deserves the best proposal possible, and Grammarly can help you make that happen.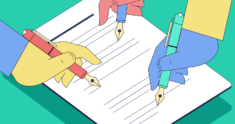 Practical Tips
Inspiration
Personality
Self-Confidence
Achieving & Setting Goals
College & University Students
Entrepreneurs
Managing Money
Budget Tips
Financial Goals
Saving & Spending
Fitness Tips
Brain Health
Emotional Health
Natural Health
Men's Health
Relationships
Sample Thesis Proposal – Master of Social Work (MSW)
On my recent blog post  Should You Go to Grad School for a Master of Social Work (MSW) , a reader asked how to write a thesis proposal for the social work application. So, here is the thesis proposal I wrote when I applied to UBC (the University of British Columbia) a few years ago.
My MSW program was two years because my first undergrad degree is in Psychology and my second degree is in Education. If I had an undergrad social work degree, it would've only taken one year to get my MSW.
If you're worried you won't be accepted to the university or program of your choice, read  How to Get Into Grad School – Master's or PhD Programs .
And here's what I wrote for my grad application for UBC…
Sample Thesis Proposal – Master's of Social Work (MSW) Program
Social Issue and Research Question
I wish to study internalized oppression in foster children. Specifically, I'd like to explore how social workers can empower and encourage foster children to overcome negative self-beliefs, stereotypes, and misinformation to reach their full potential and create meaningful, fulfilling lives.
According to the American Academy of Child and Adolescent Psychiatry, children in foster care:
blame themselves and feel guilty about being "taken" from their birth parents
wish to return to birth parents even if they were abused
feel unwanted
feel helpless about multiple changes in foster parents
have mixed emotions about attaching to foster parents
feel insecure and uncertain about their future
reluctantly acknowledge positive feelings for foster parents
Self-blame, guilt, confusion, fear, insecurity, and fear can lead these kids to believe they aren't as intelligent, capable, worthy, or "good" as their peers. How foster kids perceive themselves and their role in the world has a significant impact on how they think, behave, and treat others.
Negative self-beliefs can develop even if the foster care system (or foster families, birth families, peers, etc) don't directly "oppress" youth. Foster kids are at risk of developing destructive self-perceptions simply because of their situations – not necessarily how they're treated.
Research indicates that children in foster care tend to be more disengaged and exhibit more problem behaviours than other children. Further, they are at greater risk of dropping out or being forced out of high school (Satchwell, 2006). This is pertinent to social services, and directly affects society as a whole. Disengagement, problem behaviours, and negative self-perceptions influence the decisions and choices that foster children make. This directly and indirectly affects their families, schools, friends, and the community at large.
Rationale  
I lived in three foster homes as a child, between bouts of living with my single mother. She suffered from severe paranoid schizophrenia and the effects of "treatments" such as electroconvulsive therapy and psychotropic medications. I grew up in a culture of mental illness, poverty, powerlessness, and the stigma of being a foster child.
As a result, I held two specific beliefs about myself: 1) I wasn't smart or "good" enough to go to university; and 2) I wasn't lovable enough to be in a healthy relationship.
When I was 11, I was matched with a Big Sister through the Big Brothers/Big Sisters organization. While I can't pinpoint the exact effect she had, I now have two undergraduate degrees and am happily married. My Big Sister changed my life – and all she had to do was show up once a week.
In my work as a Mentoring Coordinator with Big Brothers, I see firsthand how mentoring changes lives. Research shows that mentoring increases self-worth, improves relationships with others, and is connected to measurable gains in school attendance and academic achievement (Satchwell, 2006).
My goal is to combine my professional and personal experiences, and empower foster kids to transcend their self-limiting beliefs.
Annotated Bibliography
Axner, M. (2011). Healing from the effects of internalized oppression. Retrieved from The Community Toolbox https://ctb.ku.edu/en/tablecontents/sub_section_main_1172.aspx. This online resource describes discrimination versus internalized oppression, and offers practical strategies for recognizing and helping individuals overcome internalized oppression. The tools are effective, practical ways to empower people struggling with oppression.
Baskin, C. (2007) Structural determinants as the cause of homelessness for aboriginal youth.  Critical Social Work , Vol 8, No 1. Retrieved online from https://www.uwindsor.ca/criticalsocialwork/structural-determinants-as-the-cause-of-homelessness-for-aboriginal-youth. A paper that describes how the cycle of oppression caused by social systems leads to the loss of self-identity in Aboriginal youths in the foster care system. This loss of self-identity leads to unhealthy development and an increased risk of homelessness.
Bishop, Anne. (2002). Becoming an ally: Breaking the cycle of oppression in people. Halifax:Fernwood Publishing. Bishop's premise is that no one form of oppression stands alone. All oppressions are interdependent, and none can be solved in isolation. She is "looking for mechanisms that cause us to reproduce oppression, generation after generation" (page 71), and encourages readers to form alliances (as opposed to "just" fighting one's own oppression).
Freire, P. (2000). Pedagogy of the oppressed. New York,NY: Continuum International Publishing Group. This book was first published in 1968; this is the 30 th anniversary edition. Freire describes how oppressors "dehumanize" oppressed groups, who become incapable of recognizing their own oppression. This would be a solid foundation from which to base my research on overcoming internalized oppression.
Geenen, S. & Powers, L. (2007). "Tomorrow is another problem": The experiences of youth in foster care during their transition into adulthood. Children and Youth Services Review . 29(8), 1085-1101. Retrieved from https://www.sciencedirect.com.ezproxy.tru.ca/science/article/pii/S0190740907000680#sec3.1. This study gathered information from foster youth, case workers, foster parents, educators and other professionals on the experiences of transitioning from youth to adulthood. It revealed that youth in foster care need more opportunities to control and direct their own lives, to take responsibility and ownership for their futures. The authors also found that caring, long-term relationships are more important than accessing formal services, and that a flexible, individualized and creative approach to transition is necessary.
Kirk, R. & Day, A. (2011). Increasing college access for youth aging out of foster care: Evaluation of a summer camp program for foster youth transitioning from high school to college. Children and Youth Services Review . 33(7), 1173-1180. Retrieved from https://www.sciencedirect.com.ezproxy.tru.ca/science/article/pii/S0190740911000648#sec3.6.4.  The School of Social  Work at Michigan State University developed a campus-based learning program to help foster youth transition to college. Foster care alumni offered peer support, role modeling, mentoring and active learning sessions. This intervention increased college-related knowledge and information, enhanced perceptions of life skills, self-concept, empowerment and a sense of purpose.
Krebs, B. and  Pitcoff, P. (2006) Beyond the foster care system: The future for teens .Chapel Hill, NC: Rutgers University Press. Written by the co-founders of the Youth Advocacy Center in New York City, this book offers inspiring, real-life accounts of what it's like to live in foster homes and illustrates how the foster care system sets teens up to fail by inadequately preparing them for adult life. The authors also offer practical improvements to empower teens.
Satchwell, K. (2006). Mentoring literature review. Retrieved from Government of Alberta Human Services website: https://www.child.alberta.ca/home/929.cfm Mentoring_Lit_Review_Final[1].pdf. An excellent overview of mentoring that goes beyond "just" a case for mentoring. This report includes volunteer mentor recruitment, training tips, matching considerations, best practices, and more.
van Wormer, K. (2004). Confronting oppression, restoring justice: From policy analysis to social  action Alexandria, VA: CSWE Press. This is a guide that doesn't just explain internalized oppression and social justice theory, it describes what is needed to confront oppression for human services practitioners, students, and educators on the "front lines."
After being accepted to the MSW program at UBC, I discovered that writing a thesis is a choice grad students have. I've decided not to write one, as I'd rather focus on getting as much practical, hands on experience as I can. Plus, I don't plan (at this point) to go into a PhD program, so writing a thesis for my MSW isn't necessary.
If you get into a grad program, you'll probably need to secure a practicum placement! For tips, read  Sample Field Placement Request – Master's of Social Work at UBC .
Need encouragement? Stay in touch! Get my free weekly email
Leave a reply cancel reply.
Your email address will not be published. Required fields are marked *
Notify me of follow-up comments by email.
Notify me of new posts by email.